Throughout Michigan and the Midwest, prolonged wet weather and flooding in spring 2019 put farmers in a difficult financial position. Many farmers delayed planting and greatly adjusted management practices. Some fields were not planted at all. Due to these conditions, farmers face a unique set of challenges this fall making harvest and related decisions.
MSU Extension's statewide network of agricultural educators have responded to this situation by tracking growing conditions, working individually with farmers, hosting crop update sessions and writing educational articles detailing how farmers could adjust to inhospitable conditions, make difficult choices and apply for crop damage assistance. Because this issue has the potential to greatly affect farm income, educational efforts included programming dedicated to assisting farmers under stressful conditions.
MSU Extension provides programming dedicated to serving farmers under stress - whether it be physical, financial, emotional or some combination of pressures. If you're a farmer who is struggling, find an MSU Extension expert who can help you or ask a question online so we can connect you to proper resources.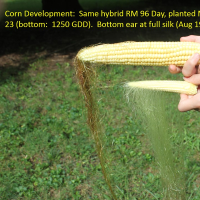 The U2U tool developed by several Midwest land grant universities can help assess and predict corn maturity.
Delayed Planting and Harvest Decision Articles
Published on April 16, 2020
Delay Plant and Harvest Decision Tools
Published on September 27, 2019
Forage Supply Management Articles
Published on May 28, 2020

Published on September 26, 2019
Delayed Planting and Harvest Decision Videos
Guides for Financial and Farm Management
Published on September 27, 2019
Guides for Managing Stress on the Farm
Podcasts About Delayed Planting Decisions
Published on June 5, 2019


Your browser does not support the audio element.