Southeast Michigan vegetable update – June 24, 2020
Field activities and irrigation continue. Downy mildew has been detected in the west side of the state.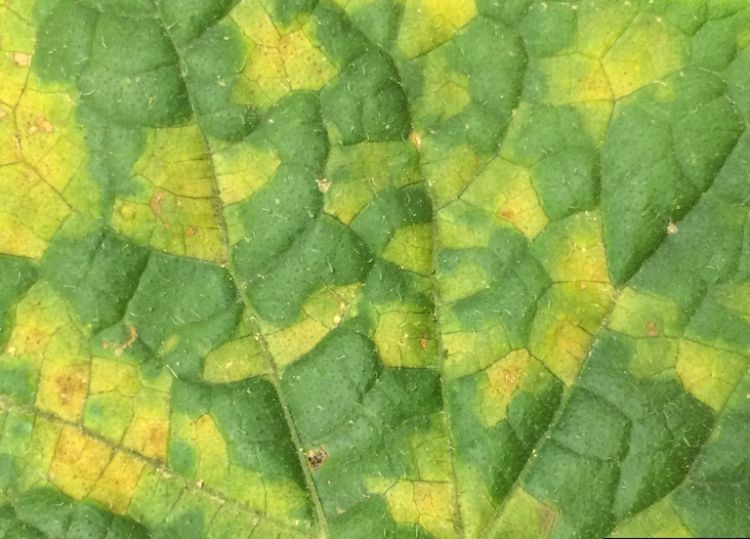 Weather
The easternmost parts of Monroe and Wayne counties are abnormally dry according to the U.S. Drought Monitor. Other parts of the region received a quarter to half inch of rain earlier this week. The best chance for rain this week is Saturday, June 27, as our next weather front moves into the region. Medium range guidance is calling for warmer than normal temperatures leading up to the fourth of July
The table below shows rainfall totals for the Michigan State University Enviroweather stations in southeast Michigan, as well as degree-days calculated using the Baskerville-Emin Method. Degree-day average for Commerce and Hudson is over five years, while Deerfield is over four years. Rainfall is in inches. For a refresher on degree-days and how to get this information in your area, see "Accessing growing degree days with Enviro-weather" from MSU Extension.
Rainfall and degree day totals as of June 17, 2020

Station

Degree days (base 42)

Degree days (base 50)

5-year degree day average (base 50)

Rainfall since April 1

Commerce

1255

744

795.8

8.47

Deerfield

1399

846

935.4

7.05

Hudson

1253

737

867.3

9.02
General notes
The Michigan Department of Agriculture & Rural Development (MDARD) is beginning inspections of produce farms with more than $250,000 in gross annual sales. If you have questions on the Produce Safety Rule or want help getting prepared for an inspection, contact me.
As more crops start to flower, it is a good time to brush up on best practices for protecting bees and other pollinators. A nice rundown of this, which includes considerations for different crops and types of pesticides, is in "Vegetable pesticide series: Should I use it during bloom?."
Crop updates
In cole crops, there has been an increase in imported cabbageworm activity in some fields. Cabbage heads continue to size up, broccoli, kale, collards and radishes are being harvested.
Cucumber and melon growers should note that the state's first confirmed case of downy mildew has been found in Berrien County. Spores are being detected in eastside spore traps in traps in Bay and Saginaw. I have not seen any downy locally in the cucumber fields I've scouted, but we've had winds, humidity and some cloud cover, all of which favor downy mildew development and movement. Scout and consider an application of a general protectant fungicide, such as chlorothalonil or mancozeb. See "First cucumber downy mildew outbreak of 2020 confirmed in Berrien County" for tips on identifying downy mildew and this year's recommended fungicides.
Hoop house cucumber fruit are sizing up. Cucumbers on plastic are flowering and vines are starting to run, and bare ground cucumbers started from seed are on the verge of flowering.
Strawberry harvest continues with strong consumer demand. See Bob Tritten's "East Michigan fruit update - June 23, 2020" for information on some common fruit issues being seen in the area.
Early sweet corn is starting to tassel. The MSU Enviroweather station at Deerfield models suggest we are reaching the end of the flight period for the first generation of European corn borer. The caterpillars of this generation are most likely to be in early corn. Check for stem boring, windowpane feeding and broken tassels when scouting.
Depending on when direct seeded vine crops were planted, note that you may be reaching the end of the four to six week window of activity of seed treatments. Cucumber beetle pressure is varied.
Greenhouse tomatoes are being harvested; cherry tomatoes grown in hoops will be ready soon. Staking and tying continues for outdoor tomatoes on plastic.
Reach out
Please contact me at schuhmar@msu.edu or 517-264-5309 with questions, concerns or to schedule a field visit. I have the ability to do field visits on a limited basis.
Great Lakes Vegetable Producer's Network
The Great Lakes Vegetable Producer's Network is a live weekly roundtable discussion during the growing-season for commercial vegetable producers in the Great Lakes and Midwest region. It is broadcast live via Zoom at 12:30 ET/11:30 CT every Wednesday from the first week of May to the first week of September. Listen live or later. If you have a pressing vegetable production issue that you would like discussed, simply email it, along with your phone number, to greatlakesvegwg@gmail.com.