Southeast Michigan vegetable regional report – August 31, 2016
Rain impedes harvest and throws off spray schedules, but pest and disease problems remain minimal.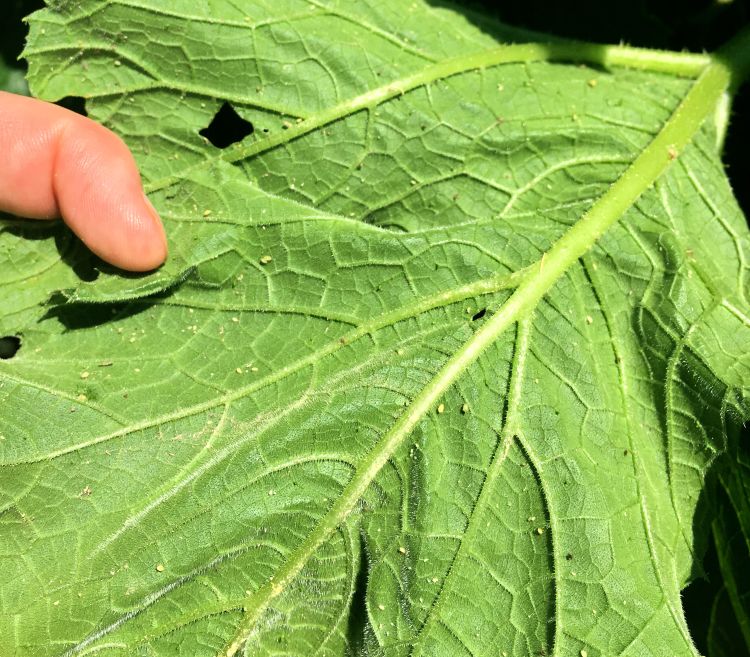 Weather
The forecast calls for conditions through the end of this week that resemble early fall, and beyond that we will likely see a warmer and wetter fall than average. The cool, wet weather in the last week has created a window for increased weed growth, though control options at this point in the year are limited to mechanical removal or mowing.
The table below presents rainfall (in inches) for the Michigan State University Enviro-weather stations in southeast Michigan. Degree-day is base 50 degrees Fahrenheit since March 1 for 2016 and the average degree-day accumulation at this point in the growing season in past years.
Rainfall and degree-day totals as of Aug. 31, 2016

Weather station

Rainfall (in) last week

Rainfall (in) since April 1

Degree-days

5-year range

Commerce

0.81

13.65

2,343

2,139.2

Blissfield

2.27

14.48

2,594

N/A

Hudson

1.12

10.31

2,432

2,290.2

Petersburg

2.43

11.91

2,433

2,305.4
Crops
Sweet corn harvest continues. I've heard reports of minimal moth catches in traps while nearby fields have suffered major corn earworm damage. As long as you have green silks on your corn, especially in August, monitoring for corn earworm is key. If you are seeing a discrepancy between trap catches and field pressure, check your trap placement and pheromone age. MSU Extension suggest placing your trap somewhere the wind will blow the pheromone from your trap into your corn field, which will lure male moths from your field and into the trap. You will also want to place the trap away from trees and in an area where there is not vegetation blocking the bottom of the trap.
Pheromone lures last roughly two weeks, so change them out regularly to make sure your trap will attract moths. It may also be your trap type; Heliothis traps are more affordable and commonly used, but not as efficient as wire Hartstack traps, sometimes referred to as "Texas" traps, which can be pricier (though may be built if you are handy).
Cabbage harvest continues.
Cucurbit crops are likely at risk of downy mildew in all areas, as there are reports in Hillsdale County as well as Fulton and Sandusky counties in Ohio. Remember that there is no cure for downy mildew, the only tool available is prevention.
Potato harvest has begun and the tubers coming out look good. The Michigan Late Blight Risk Forecasting model predicts variable late blight risk across southeast Michigan in the coming days, with low risk in Lenawee and Washtenaw counties, medium risk in Hillsdale County and high risk in Monroe County.
Processing tomato harvest continues, as does fresh market tomato harvest. Some staked tomato fields have been abandoned. Most of the damage I've seen in staked tomatoes this year came in the form of growth cracks, which makes sense as this was a year of drought followed by heavy rains, the perfect conditions for rapid tomato growth that results in the cracks in the tomato skin.
Pumpkins in many fields and across varieties are ripening early. There are concerns about aphids, which I saw appear in fields this last week. Aphids can spread viruses that lead to bumpy or irregularly spotted pumpkins if infection occurs during fruit set, while during post-fruit set the aphids will secrete a sugary substance that can cause sticky black mold to grow on pumpkins in the field. Luckily, there are lots of beneficial insects that feed on aphids, and I have seen a fair number of these insects present in pumpkin fields this year. Managing aphids will depend on what stage your pumpkins are at, what your market is, and the number of beneficial insects in your field. According to "Winter Squash and Pumpkin IPM Field Guide," Rutgers Cooperative Extension recommends action if 20 percent of leaves have more than five live aphids. Spot treatment may also be appropriate for control.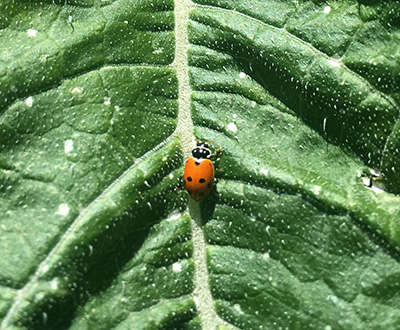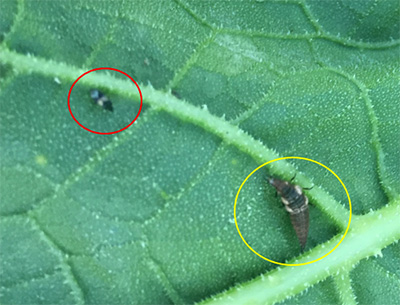 In minor crop news, downy mildew has popped up on basil in southeast Michigan. This is a newer disease and a different fungus than the downy mildew that infects cucurbits. This disease will appear on basil as yellow on the surface of the leaf, but its real calling card is charcoal gray, fuzzy spores on the underside of the leaf. These spores can be rubbed off with your finger. This disease will eventually kill the plant and can spread to nearby plantings.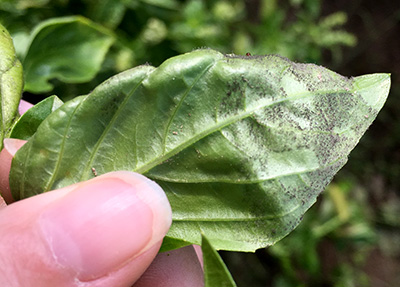 If you find this disease on your basil, remove the affected plant material so the spores cannot spread to un-infected plants or other plantings. To prevent the disease in the future, look for disease-free seed, try a more resistant variety, as sweet basil is the most susceptible, and keep the planting relatively weed-free to increase air flow. Cornell University's "Expect and Prepare for Downy Mildew in Basil" contains a wealth of knowledge on this disease.
If you have any plants that you believe may have a disease, please contact me at schuhmar@msu.edu or 517-264-5309 to schedule a pickup, or send the affected plant parts to MSU Diagnostic Services.
Meetings