Southwest Michigan field crops update – Aug. 19, 2021
Recent warm temperatures and rainfall pushed crop development through the middle of reproductive stages, but drier conditions in the coming week may limit grain fill on lighter rainfed fields.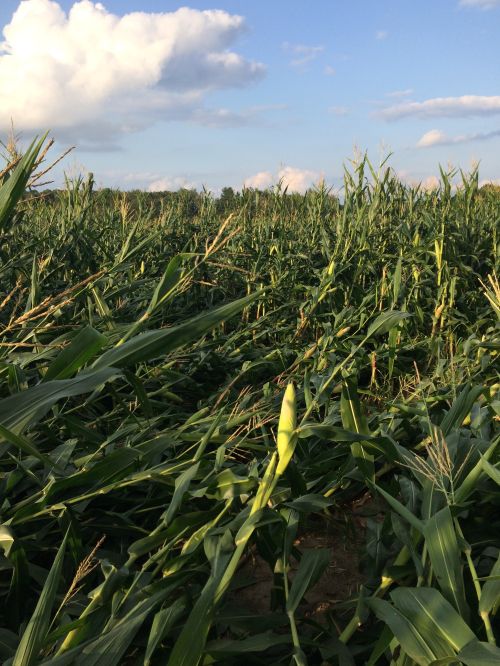 Weather
Temperatures in south central and southwest Michigan started cooler than normal earlier this month but with the tropical airmass that brought hot and humid air, we ended up being warmer than normal by 2–4 degrees. Currently, temperatures are hovering just above normal, and we are roughly one week ahead in heat units. We picked up 150 growing degree days (GDD) base 50 this past week (220 base 40 for alfalfa) and are expecting an additional 170 GDD base 50, or 240 base 40, this coming week. The forecasted reference evapotranspiration is predicted to be about normal with 1.12–1.2 inches for the coming week.
An upper air troughing feature is developing over the Great Lakes region that will bring cooler and dry conditions during the last week of August, but it will be temporary according to Michigan State University Extension agriculture climatologist Jeff Andresen. The 8–14 day outlook calls for cooler than normal conditions while the 6–10 day outlook provides no clear guidance either way as the troughing feature develops.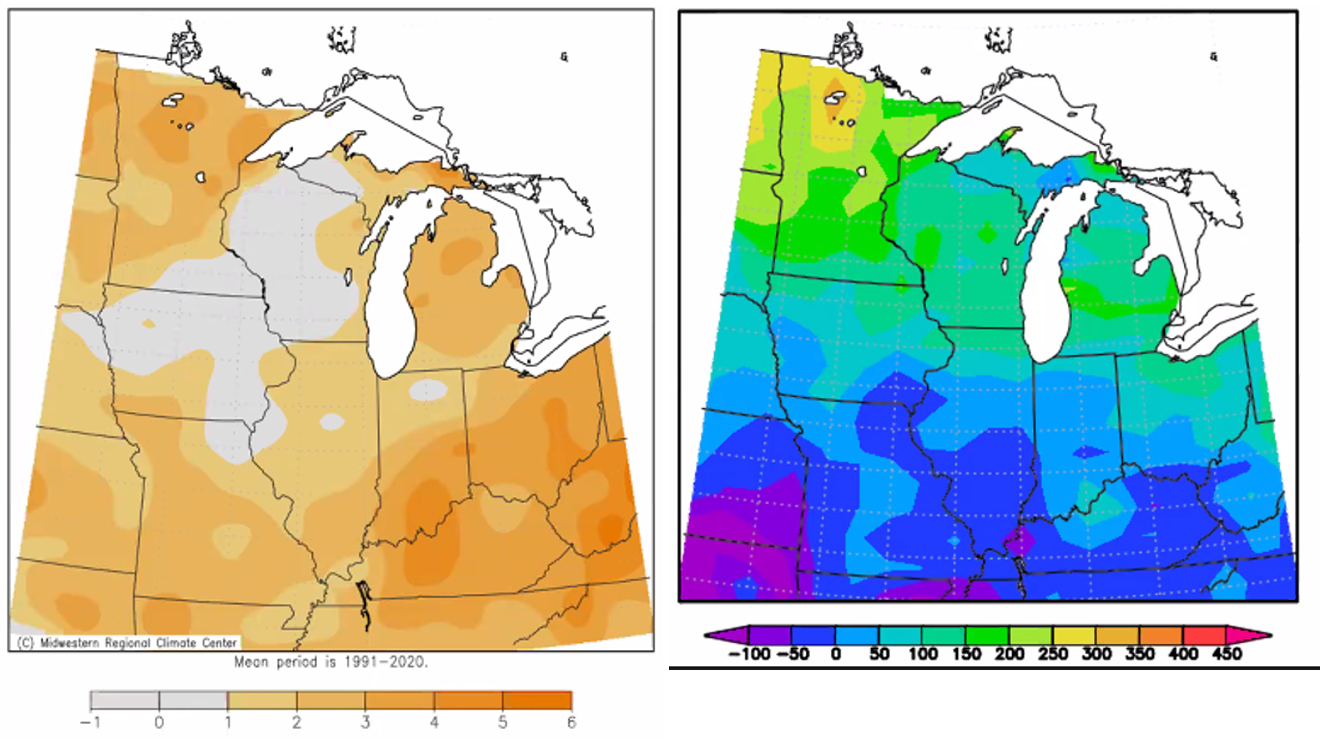 Precipitation in the first half of August has ranged from over 25% below normal to over 200% of normal with most in the region receiving 0.5 to 3 inches more than normal. The forecast for the coming week is for less than 0.5 inch of rain. The 8–14 day outlook predicts drier than normal conditions as we finish up the month of August.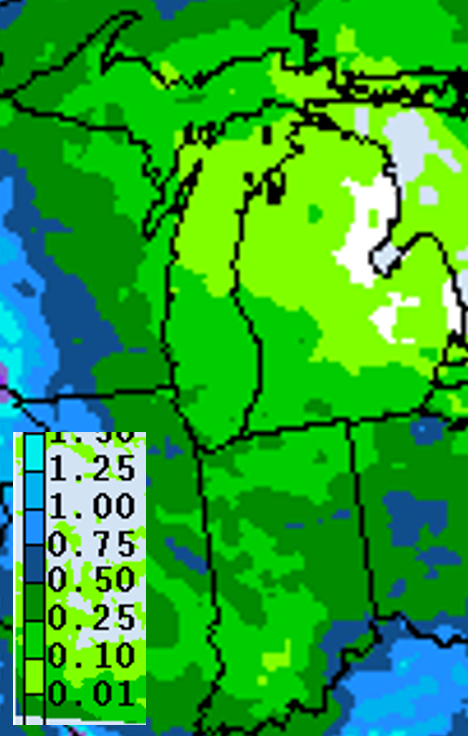 For many in St. Joseph County and surrounding areas, the main story this past week was the straight-line winds that came through and wreaked havoc. You likely have seen news reports and pictures of (or are living through) the devastation—below are a few photos Lyndon Kelley and Eric Anderson took in the area. Although some crop damage is evident, particularly in corn fields, most of the damage was to trees and consequently power lines and buildings.
The following was a summary report from the National Weather Service about the event:
"All damage appears to be related to straight line winds or downbursts. The greatest damage has been reported in portions of St. Joseph, Branch and Hillsdale counties in Michigan. Significant damage appears to have occurred in eastern St. Joseph County in a swath from White Pigeon and Constantine northeast to Centreville, Sturgis and Colon…. widespread tree damage between Sturgis and Centreville has caused damage to over 15 miles of power lines and over 40 power poles being snapped. Ground and aerial pictures of the damage clearly indicate strong downburst winds snapping or leveling areas of trees, numbering well over 100 in spots. Wind speeds in these areas are estimated between 85 to over 90 mph."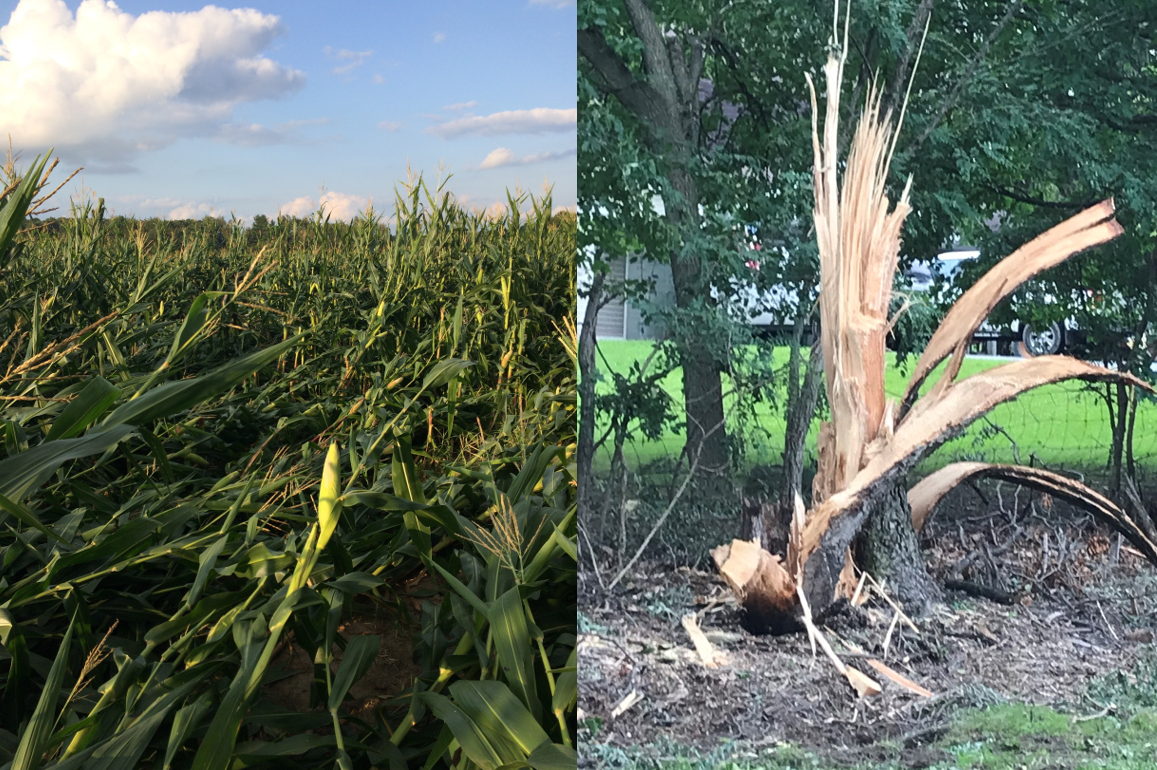 Crops and pests
Corn in the region is mostly in the dough stage (R4) with some still at late milk stage (R3) while some have been found at very early dent (R5). According to the most recent USDA Crop Report, crop health continues to be strong with 76% of the corn crop in the state rated good or excellent (additional 20% fair).
Soybean ranges from beginning seed (R5, seed is 1/8 inch long in the pod at one of the four uppermost nodes on the main stem) to full seed (R6, pod containing a green seed that fills the pod capacity at one of the four uppermost nodes on the main stem). Soybean crop health ratings are essentially identical to those for corn. Both crops will require roughly 1.3–1.4 inches this coming week.
According to the USDA's most recent crop forecast, Michigan's average corn yield is expected to be 169 bushels per acre, 15 bushels above last year. If realized, this will be a record high by 7 bushels. Soybean yield is forecast at 48 bushels per acre, up 1 bushel from last year. Total production is forecast at 110 million bushels, up 7% from last year. If realized, this will be a record production.
Harvest for soybeans and corn is likely to be all over the board this year because of the wide variety of planting dates for the crops. Be sure to monitor your fields for grain maturity going into harvest and be prepared to harvest crops when they become ready. Soybeans will begin to split open pods after a few wetting and drying cycles once they dry out fully. Corn should be checked for stalk strength if tar spot was active in your fields.
Use this time to get your combines in top working order to get the crops out of the field. Make sure you harvest fields that have unique weed problems last and be prepared to clean out the combines as much as you can to reduce carrying seeds from field to field. Don't forget to clean out the stone traps, as they are a common challenge area for holding seeds.
This early harvest year may provide an excellent opportunity to try some cover crops on your fields to improve soil health and quality. The earlier the cover crop is planted, the more likely it is that it will become well established and provide nutrient uptake and erosion protection. Cover crops have been shown to help reduce challenges with fall-germinating marestail (horseweed) by competing for light, moisture and nutrients. Visit the MSU Extension Cover Crops website for more information on establishment, benefits, seed mixes and termination of cover crops on your farm.
Western bean cutworm moth trapping has now ended for the season. The peak flight was the week of July 13–20 with heavy "shoulder" flight activity the week before and after that. At this point, scouting should focus on looking at ears for bore holes, opening up husks and assessing for feeding damage. These wounds, in addition to making a mess of the ear, open the door for ear molds with the potential for impacting grain quality and toxin production.
MSU Extension field crops entomologist Chris DiFonzo, along with her counterpart at Ohio State Kelly Tilmon, have co-authored a just-finished version of the MSU-OSU Field Crops Insect Pest Management Guide. It is not available yet online or in print—contact us for more information.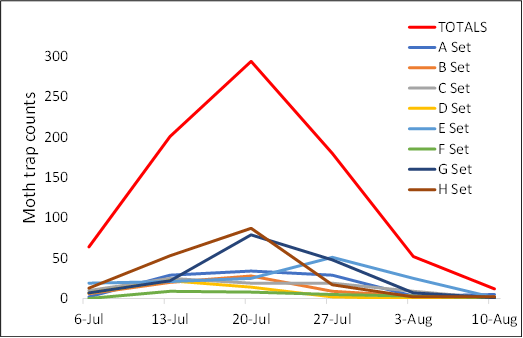 Corn tar spot infections have increased in the past couple of weeks due to rain events coupled with high humidity and heavy morning fog and dew. So far, most lesions remain low in the canopy with only a "sprinkling" on upper leaves. Severity has been highly variable from field to field, so be sure to hop out of the truck and walk a ways into your fields and do some scouting.
We are past the window for optimum fungicide application timing—VT–R1, maybe as late as R3, although according to MSU Extension field crops pathologist Marty Chilvers at the recent field day near Centreville, one study they conducted showed that an R4 application timing did result in significant reduction of disease severity. It will be challenging at this point to make another ground application with as tall as the corn has gotten this year. Knowing the disease severity in your fields may help in knowing when to time harvest to avoid potential lodging issues.
Warm and wet conditions also favor other diseases such as northern corn leaf blight and gray leaf spot in corn and white mold, frogeye leaf spot, Cercospora leaf blight, and several others in soybean. The dry weather coming up will give you a good opportunity to scout.
Soybeans are beginning to show more signs of diseases. See more in last week's report for scouting during the soybean scouting sweet spot. Sudden death syndrome, which did not show severe symptoms in many fields earlier in the growing season, can be found in areas now. Some of the early symptomology of the disease is mottled, yellowing patterns on the upper leaves. In late or mild infections, the plants often do not show the classic yellow and brown leaf patterns.
It is possible that dry conditions early in the season reduced early infection of the plants, which tend to lead to more significant disease and symptoms. Another thing that is commonly being seen is yellow spotting on the leaves. This is most likely symptoms of downy mildew infections which generally happen when the leaves are saturated for long periods of time. These infections rarely cause significant yield impacts.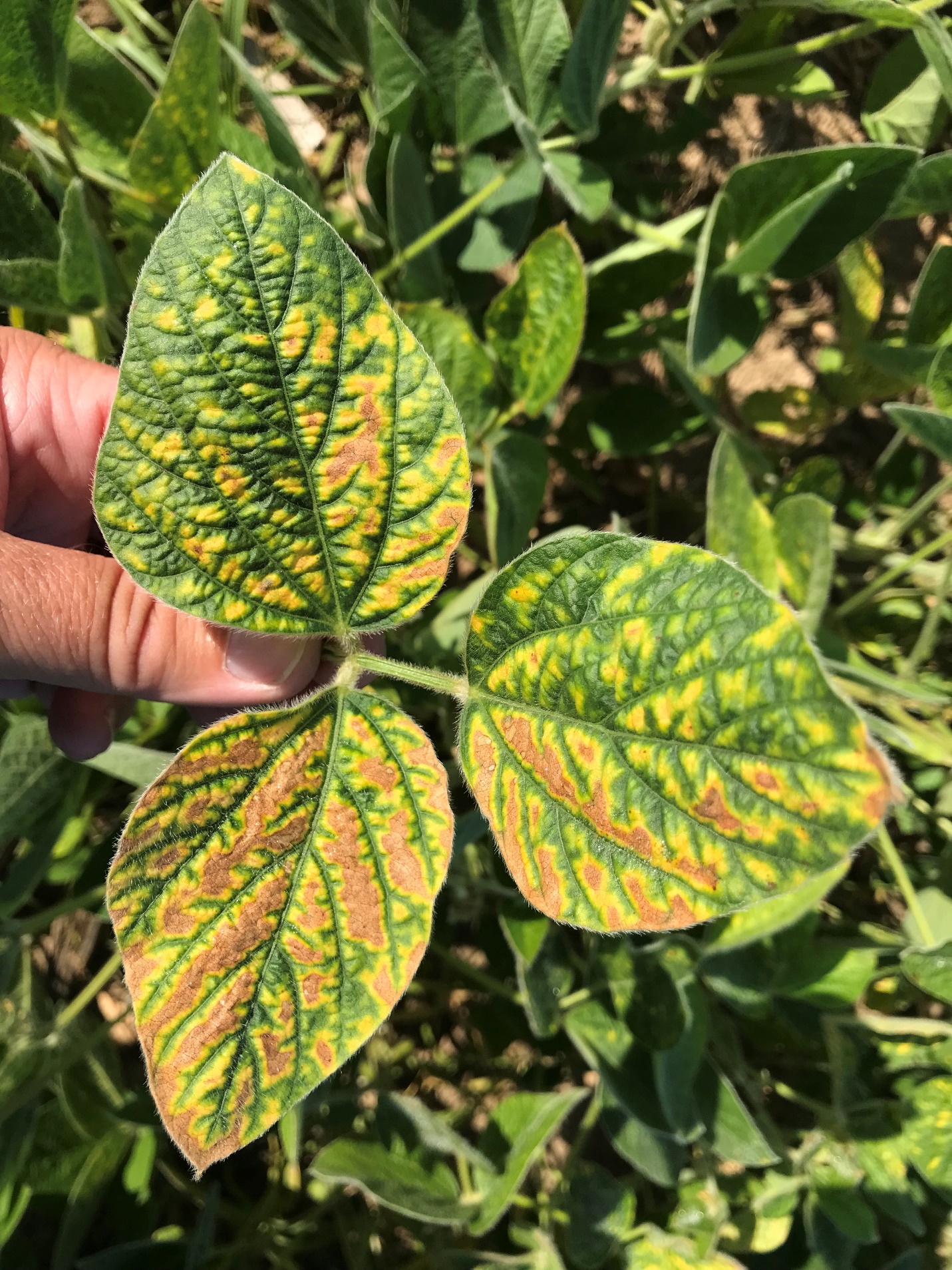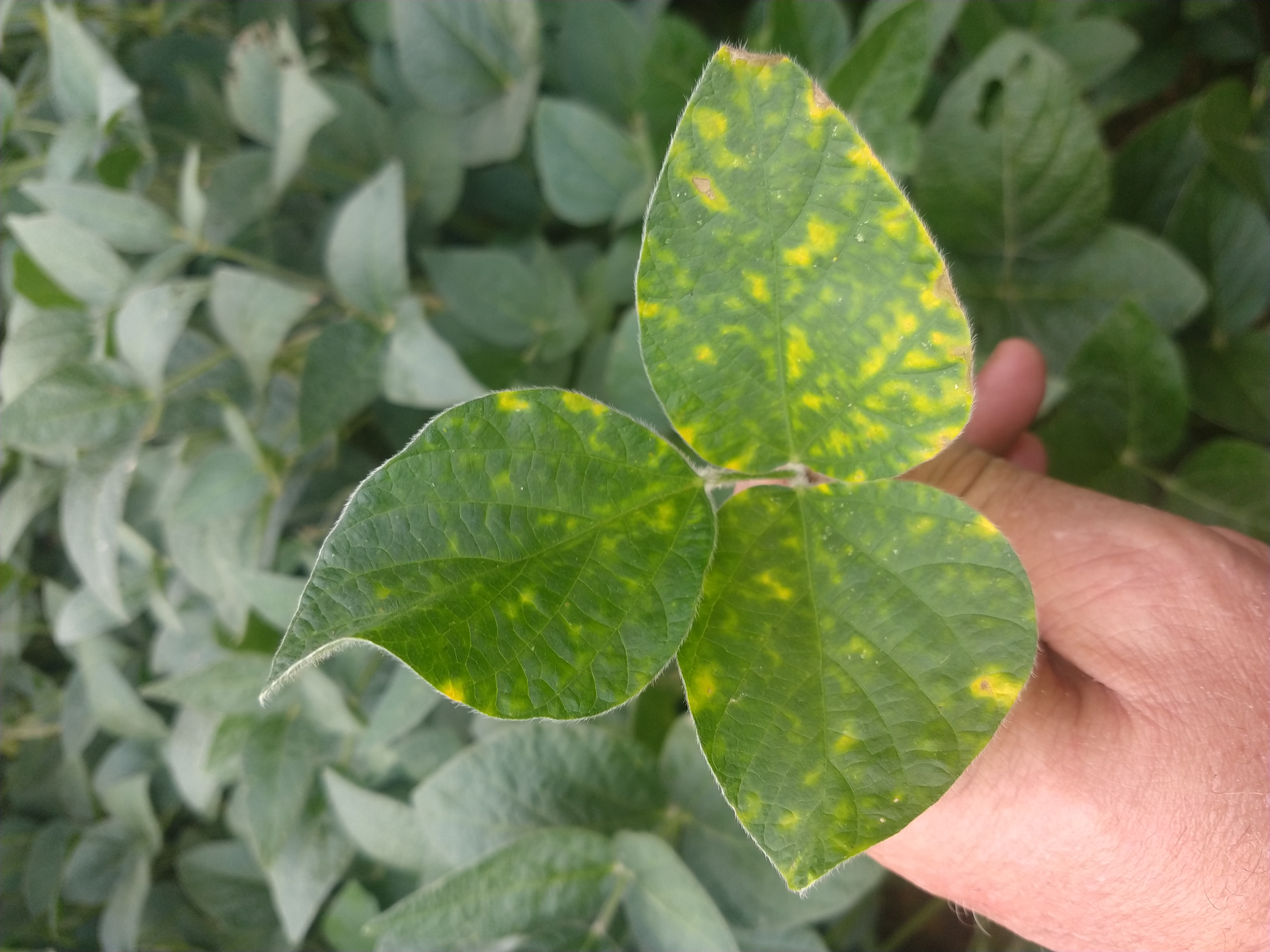 Irrigation
Join us for the next MSU Irrigation Webinar on Sept. 1. Topics will include timing the last irrigation, timing and designing your project for minimized cost, and considering growing cereals under irrigation. Cost is free, register online to receive the link which will be used for all episodes in the series that air every other Wednesday through Sept. 15.
Local meeting
Most of the MSU Extension field crops team in southwest Michigan will be presenting at the Cass County MAEAP Field Day on Aug. 25, hosted by the Cass County Conservation District. It will be held at Kelsey Lake Farms, 22599 Kelsey Lake Street, Cassopolis MI from 5:30–8:30 p.m. Download the program flier. Scott's Pig Roast is serving their smoked chicken and fixings for dinner. Call 269-445-8641 ext. 5 to let them know you plan on attending so they can better plan for dinner. We hope to see you there.