Southwest Michigan fruit update – Aug. 17, 2021
Peach harvest is moving quickly. Bartlett pear harvesting for the processing market is starting in southwest Michigan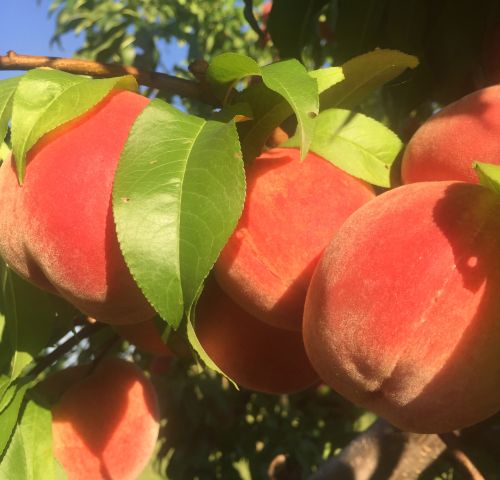 Weather
Last week started warm and humid, with high temperatures in the mid- to upper 80s. Scattered thunderstorms were common due to the unsettled air mass. Most areas saw 1-2 inches of rain with an area in central Berrien County receiving over 3 inches. A front passed through the area on Thursday, brining cooler, drier air. By the weekend, high temperatures were in the upper 70s.
This week will be in the mid-80s. There will be chances of scattered rain starting Wednesday, continuing into the weekend.
With warm, humid week, we picked up an above average number of growing degree days (GDD) last week: 218 GDD base 42 and 162 GDD base 50.
Southwest Michigan GDD summary from March 1 – Aug. 15, 2021

Station

GDD 42 F

GDD 45 F

GDD 50 F

Benton Harbor (SWMREC)

3146

2751

2147

Lawton (Lawton)

3139

2741

2125

Fennville (TNRC)

2890

2508

1927

Average for the SW region

3099

2705

2101

Average last week

2881

2509

1939
Tree fruit
Brown marmorated stink bug nymphs and adults are beginning to be caught. Orchard edges, especially bordering woods and buildings are generally the first locations where this insect can be detected.
Peach varieties Messina, Glowingstar, Allstar, July Prince, Loring, Blushingstar and Coralstar are being harvesting in central Berrien County. Suspected earwig feeding damage is showing up on sutures, tips and other weak parts of peach fruit. Bacterial spot lesions are appearing on green twigs of the current season's growth. These infected twigs can the starting point for next year's disease cycle. The current oriental fruit moth flight catches are at a low point, with another peak expected to begin in late August.
In plums, Castleton European plum is being harvested. This variety generally has a light crop this year due to frost problems earlier. Brown rot is becoming more noticeable.
Early season apple variety Zestar is developing noticeable sugar with harvest coming soon. Retain treatments for harvest management timing should be timed according to the variety type. Retreatment for sooty blotch and flyspeck is needed following heavy rains. Cedar apple rust symptoms on apple leaves are being reported. Infection occurred much earlier this season—as this is controlled with fungicide sprays from pink to third cover.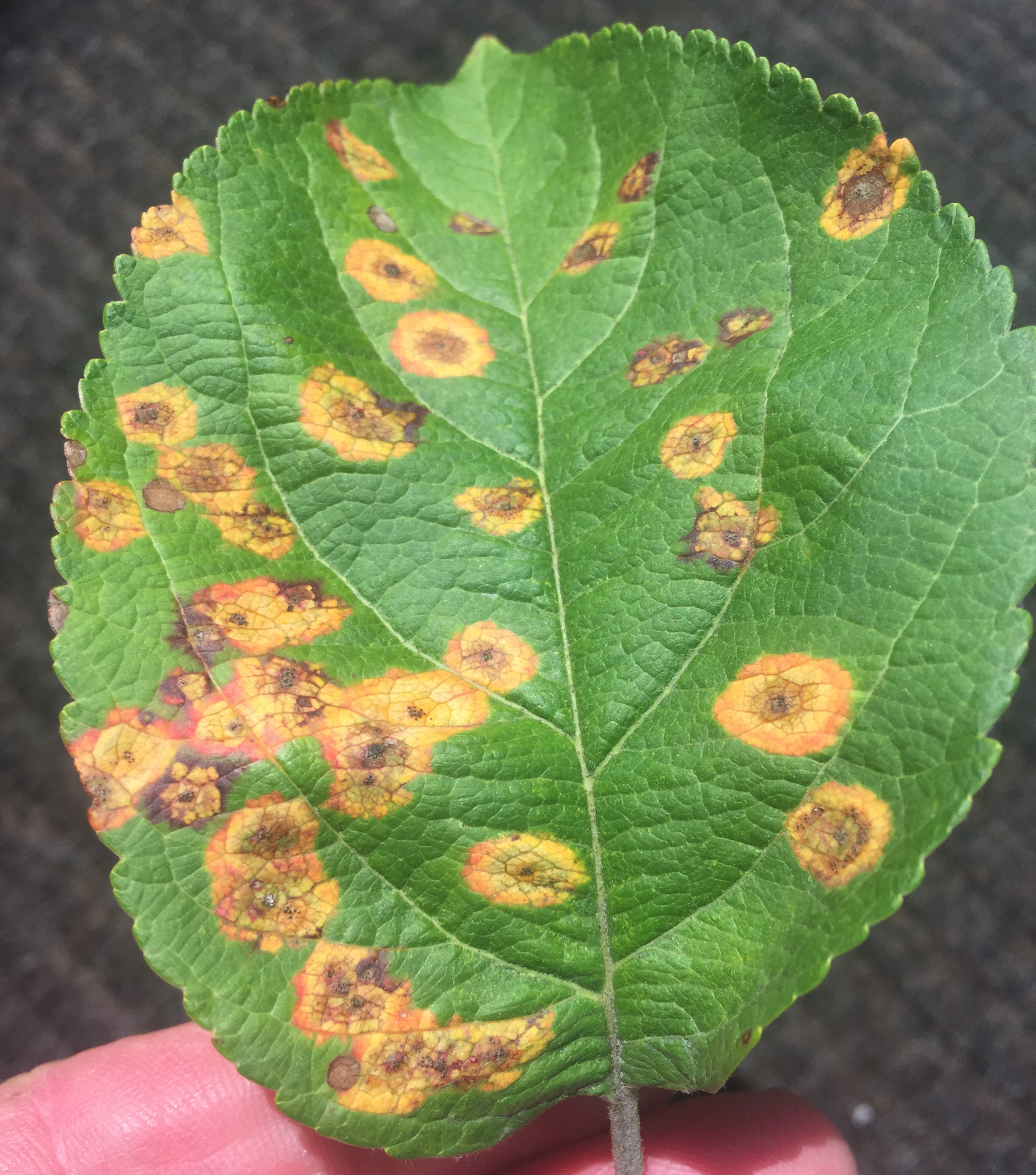 In pears, harvest of summer pear variety Bartlett for processing is starting this week in southwest Michigan. Pear maturity can be tested with a pressure tester using a 5/16-inch plunger, with pear skin off. For Bartlett, firm ripe is 15 to 16 pounds. Brown foliage on pears may be due to earlier rust mite populations. Rust mites are too small to see with the unaided eye. Russeting by rust mites can be confused with pear psylla damage, however damage by rust mites will not have black stains typical of pear psylla.
Small fruit
Spotted wing Drosophila (SWD) numbers are increasing. This pest builds to very high numbers in August and September.
In grapes, veraison is well underway. For grape berry moth, May 25-27 (50% wild grape bloom) is the grape berry moth biofix in southwest Michigan. The grape berry moth model on Enviroweather, predicted egglaying of the third generation began two weeks ago. The third generation emerges over a long period of time and can cause significant loss. Treatments that target the second half of this generation may be necessary.
Protectant fungicide sprays to control downy mildew, and powdery mildew are the disease focus now. Downy mildew develops rapidly with heavy dews every morning. August is when growers focus are controlling this disease, which can defoliate the vines before harvest. Wine grape growers will want to include botrytis in their disease management plans, especially in tight bunched varieties.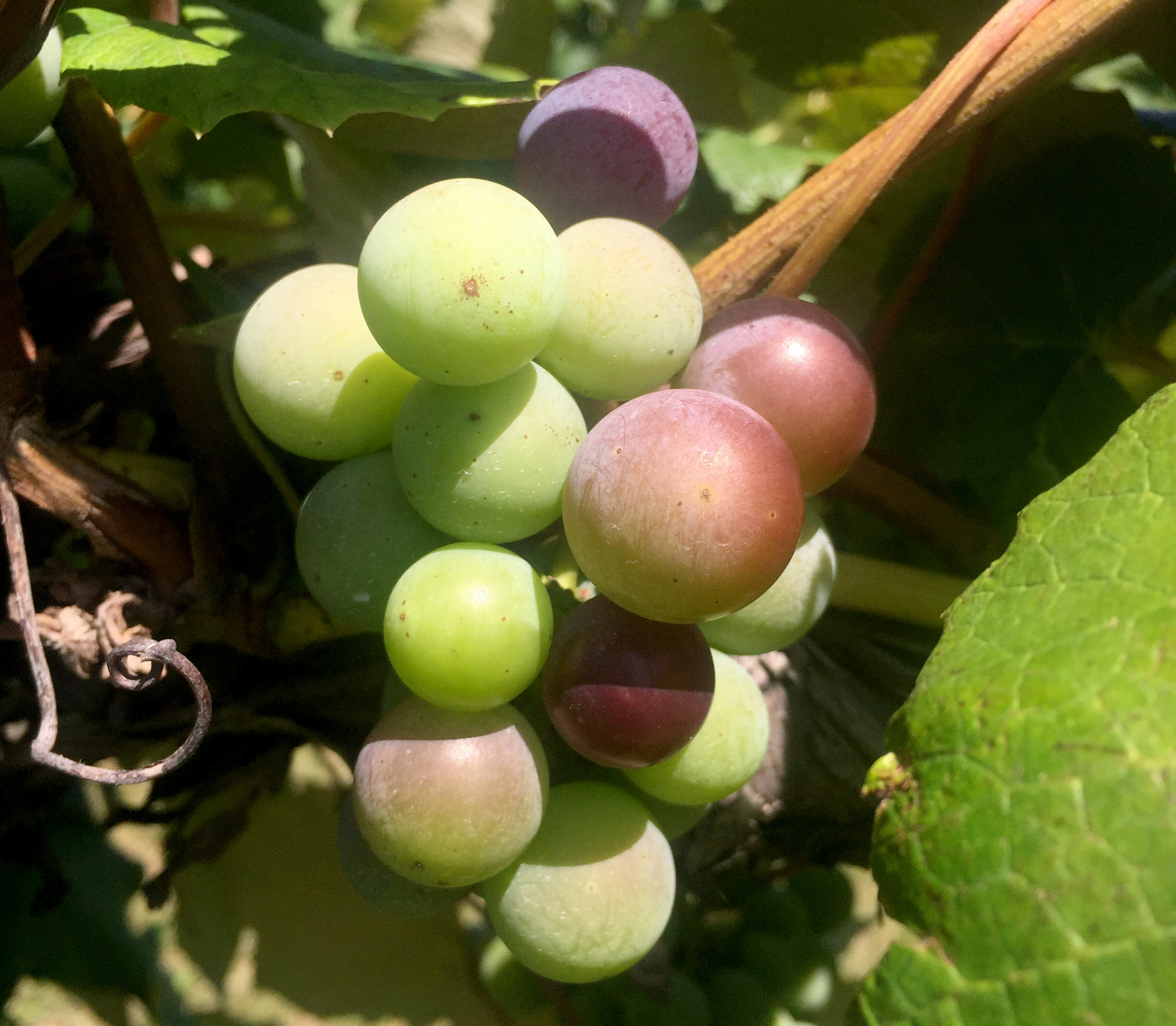 Blueberry harvest is moving quickly with Elliott and other end of season varieties.
SWD numbers have increased sharply in the last two weeks with a typical August surge. Some harvested fields are beginning to look weak, and growers should increase their irrigation in harvested fields to maintain good plant health and promote flower bud formation at the end of the season.
Strawberry fields are looking good.
Bramble harvest continues. Blackberry harvest is underway. Fall bearing raspberries are blooming and fruit are forming. SWD catches in monitoring traps are increasing sharply. Fruit needs to be protected as it begins to color and ripen.
Miscellaneous crops
Hop harvest has begun.
Cranberry fruit is sizing.
Paw paw are sizing well. Crop is light. This is likely due to the spring freezes.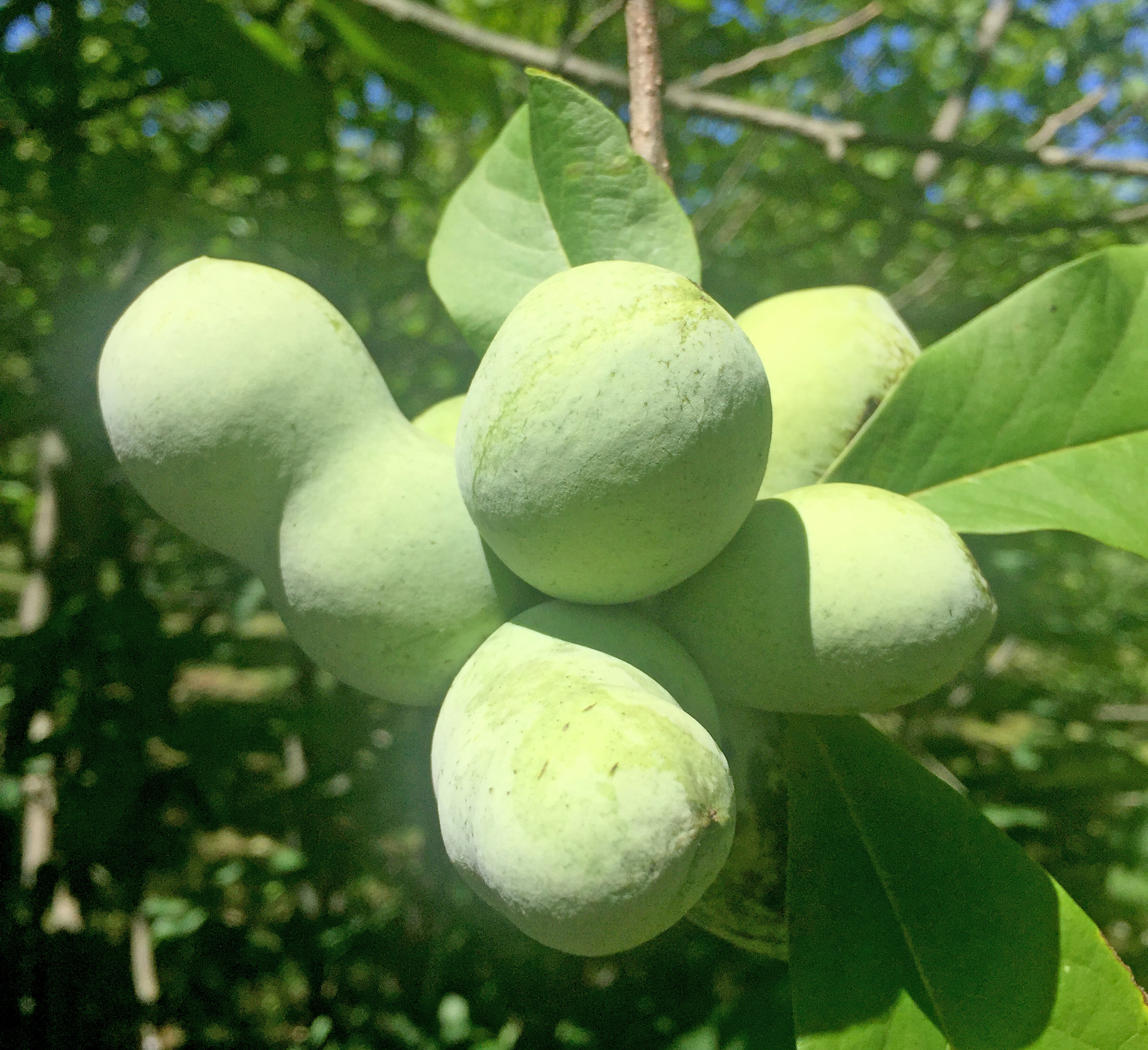 Upcoming events
Michigan Grape Society will be sponsoring one last evening Grower's Social event before harvest begins. This event will be hosted by Michigan State University Extension at the Southwest Michigan Research and Extension Center on Thursday, Aug. 26. The event will begin at 6 p.m. with a discussion about season extension and winter protection through the use of high tunnels in grape production. Food and drink will follow. There will be limited attendance. Pre-registration is highly recommended.
Related articles