Southwest Michigan fruit update - Aug. 6, 2018
A hot dry week moves fruit and pests quickly.
Weather
Last week started cool with highs in the 80s. Temperatures rose through the week into the weekend when highs were in the 90s. Thunderstorms and showers crossed the region on Tuesday and Thursday. Small amounts of hail -- some marble-sized, but somewhat cube-shaped -- was reported in central Berrien County from Thursday's storm.
Rainfall totals ranged from a trace to over an inch with an average of about a half inch. Sandy soils in the region were becoming very dry. Lawns are brown in many areas and forest trees have started to shed older leaves as a water conservation measure. The heat was broken by the passage of a cold front Monday, which brought wide spread rain and thunder showers. Monday's rains brought a quarter to over an inch of rain, with an average of half an inch. Highs this week will be cooler than last weekend. Highs will be near 80 with lows in the 60s. There is chance of thunderstorms most of the week. We continue to be about two weeks ahead of normal.
Southwest Michigan GDD Summary from March 1 through August 5, 2018
| | | | |
| --- | --- | --- | --- |
| Station | GDD 42 F | GDD 45 F | GDD 50 F |
| Benton Harbor (SWMRC) | 2729 | 2400 | 1878 |
| Lawton (Lawton) | 2757 | 2426 | 1902 |
| Fennville (TNRC) | 2595 | 2274 | 1768 |
| Average for the SW region | 2735 | 2405 | 1883 |
| Accumulation last week | 206 | 189 | 154 |
Tree fruit
Peach and tart cherry growers have noticed unusually pronounced deep sutures on fruit this season. In tart cherries, this caused some downgraded assessments at processing plants. Michigan State University Extension advises this deep suture may be due to dry conditions in summer 2017 when flower buds for 2018 formed.
San Jose scale trap catches have been high for the past three weeks. San Jose scale females can produce young for many weeks making it difficult to control with a single spray. Apple maggot numbers have been high for four weeks. Growers' insecticide choices should include materials effective against apple maggot. Brown Marmorated Stink Bug (BMSB) adults are still rare, but numbers will increase over the next month. Spotted wing Drosophila (SWD) numbers continue to climb.
Peach and nectarine: Maturing of Redhaven, Starfire, PF9A-007, and PF14NJ varieties has been slower than expected in some orchards. Fruit firmness testing is recommended for judging peach ripening, especially for varieties with high levels of red blush hiding the background color. Brown rot is more prevalent in orchards with mummified young fruit that did not fall during June drop. Fungicide treatments for brown rot are needed as fruit background color loses its green color. Leaf drop of older leaves due to early season bacterial spot infection is common on susceptible varieties. Oriental fruit moth numbers are up in some orchards. This is the third generation flight. Peak egg laying for this generation should be occurring this week and next.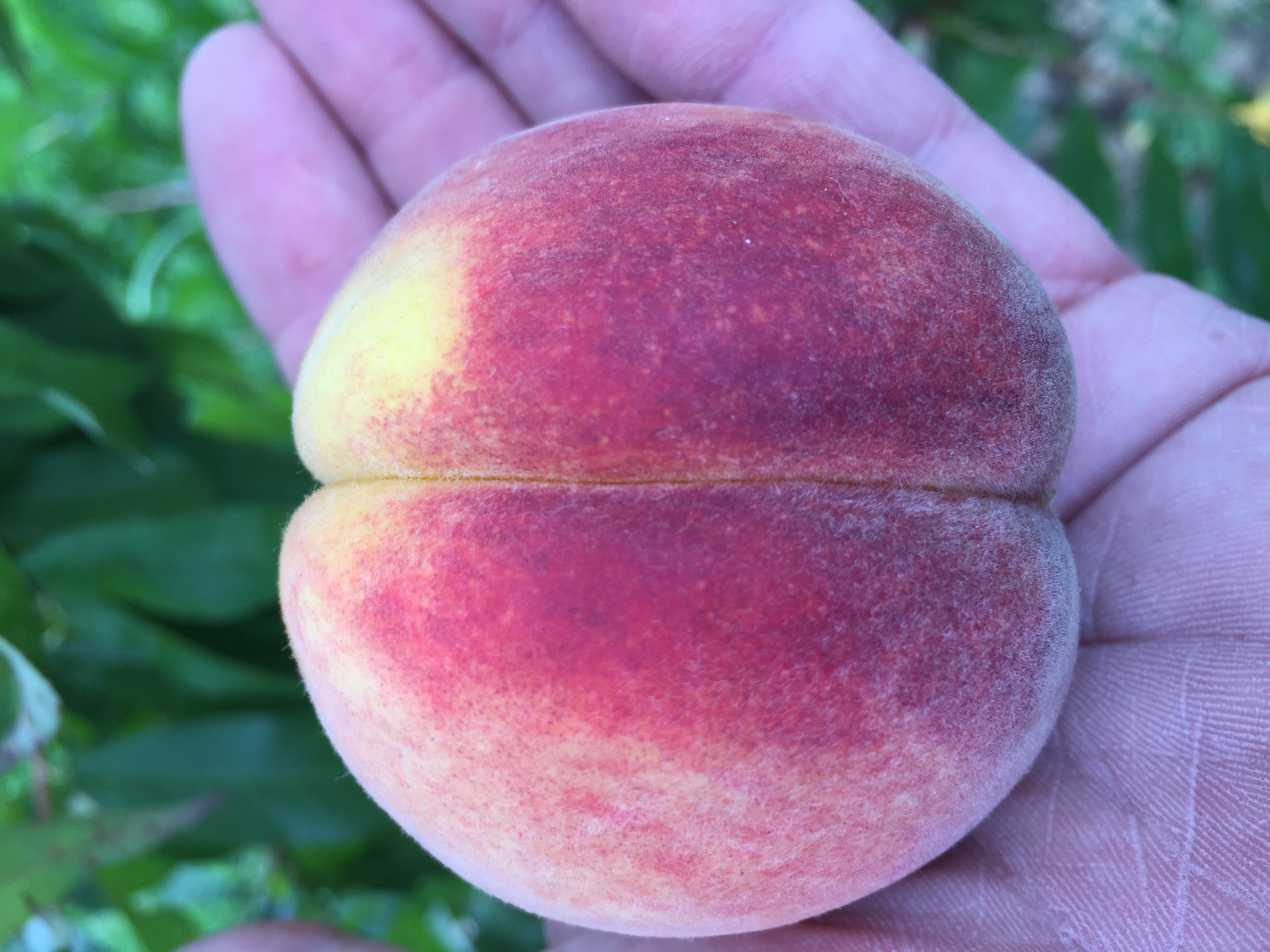 Deep sutures in peach fruit probably caused by hot dry temperatures in 2017 when the flower buds were forming for 2018. Photos by Bill Shane, MSU Extension.
In cherries, modest pruning of mature tart and sweet cherries can be done in August into early September. Some tart cherry orchards have lost many leaves to cherry leaf spot. Growers should maintain fungicide protection to preserve the remaining leaves.
In plums, the harvest of Japanese plums continues. Bacterial spot and brown rot are problems. Ripening plums should be protected against apple maggot. Apple maggot numbers have been high for the four weeks at the Trevor Nichols Research Center. Codling moth and oriental fruit moth can also attack plums. SWD can attack plums as they ripened, with their thin skins and soft flesh. Plums become susceptible when they soften to approximately 3 lb firmness, measured without skin. Use a fruit firmness gauge fitted with a pear tip.
In apples, wind gusts on Thursday caused damage to some tree fruit planting, in Berrien County snapping posts and graft unions. Frequent rains have reduced fungicide coverage necessary for controlling sooty blotch and fly speck. A model for estimating risk for these diseases is available on Enviroweather. Catches of both oriental fruit moth and codling moth adults continue at relatively low levels in some orchards. At this point we should be in the third generation flight of oriental fruit moth and the second generation of codling moth. The second generation of obliquebanded leafroller is also flying and egg laying has begun in some orchards. Apple maggot numbers continue to be high. Growers should be sure that their insecticide choices include materials effective against apple maggot.
Necrotic leaf blotch symptoms are showing up in Golden Delicious. Necrotic leaf blotch appears in Golden Delicious and other apple varieties with Golden Delicious as a parent, such as Gala. Affected leaves have yellow, green and dead blotches and fall from the tree. These symptoms usually occur following a rain, which ended a long a dry period.
Pears become attractive to codling moth attack when they soften close to harvest in August. Pears need to be protected from the second generation flight which is occurring now.
Small fruit
Grapes will soon be entering veraison when the berries begin to change color and soften. The hot dry weather has slowed diseases. Most varieties are now resistant to black rot fruit infection. Vinifera and hybrid grapes fruit should be protected for another few weeks until veraison. Growers should scout for powdery mildew and downy mildew on the leaves. New downy mildew lesions on leaves will become more common as heavy morning dews become common and the leaves of susceptible varieties should be protected.
The third generation of grape berry moth is flying and laying eggs. The Enviroweather grape berry moth model predicted the start of egg laying last week across the region. Typically for this time of year, only a few moths being trapped. Growers need to check vineyards for stings and decide if additional sprays are needed to control the third generation around mid-August. Egg laying in early August when day lengths are longer than 14 hours, will result in a partial fourth grape berry moth generation in Southwest Michigan. Japanese beetles, Brown marmorated stink bug nymphs, grape and potato leafhopper are scarce. SWD numbers are high, but no treatment is needed until the grapes reach veraison.
Blueberry harvest continues with Jersey and other late season varieties. Harvest is moving quickly. Growers are struggling to keep up with fruit ripening and have complained of soft fruit. This is probably due to repeated episodes of high heat causing rapid ripening. Yields are variable due to small fruit. Some growers report they will be finished early due to low yields in Elliott. Growers are applying fungicides and insecticides to protect ripening fruit against fruit rots and spotted wing drosophila (SWD). SWD numbers are high. Smaller growers have reported berries rejected for SWD. Growers should maintain their irrigation to maintain berry firmness. During the summer, blueberry fields need an inch of water every 3 or 4 days. The average rainfall across the region in the three storms last week was less than an inch.
The blueberry variety Jersey is being harvested now. Jersey was one of the first improved blueberry varieties released in 1928. Its fruit is tasty but small compared to newer varieties. Michigan has about 6,000 acres of Jersey about a third of the total acreage in the state. Photo Mark Longstroth, MSU Extension.
Strawberries are making good growth after renovation. Growers need to irrigate maintaining good soil moisture and good growth. As new leaves emerge they should be protected from leaf diseases and potato leaf hopper which stunt plant growth.
Bramble harvest continues. Red summer raspberries harvest is winding down. Some fall raspberry harvest has begun. Blackberry harvest is going strong. Raspberries and blackberries are the preferred host for SWD and the fruit always needs to be protected.
Upcoming meetings
There is a Michigan Grape Society Grower Social on Wednesday August 8 at 4 PM hosted by Mike Deschaaf at 1936 Meadowbrook Farm. This meeting is and will focus on vineyard floor management and crop adjustment. It will include a tour of Mike's herbicide free vineyard and include:

Discussion of cover crop options by Dean Baas, MSUE Cover Crop Educator
Fall cover crop plans by Mike Deschaaf
Crop Adjustment by Mark Longstroth, MSUE Small Fruit Educator
Jesus Units by Mike Moyer, Vine and Viticulture Director at Lake Michigan College.
Following the vineyard tour there will be a pig roast and wine tasting. The cost of the meeting is $25. RSVP by August 6 to Mike Deschaaf at 269.326.0430. 1936 Meadowbrook Farm is located at 4352 Meadowbrook Road, Benton Harbor, MI

The Annual Trevor Nichols Research Center Field Day is Tuesday, September 25, 2018 from 1 to 4 PM at the Trevor Nichols Research Complex west of Fennville.
Related Articles:
Michigan State University Spotted Wing Drosophila website
Southwest Michigan Fruit Update July 30, 2018
Post-harvest cherry leaf spot applications
Monitoring and management strategies for apple maggot in 2010
Using the MSU Enviroweather grape berry moth model in 2018
Irrigating Michigan blueberries