Southwest Michigan fruit update – July 11, 2023
With ripe fruit comes ripe rots and ripe insect pests.
Weather
Last week started warm with high temperatures close to 90 degrees Fahrenheit on Tuesday and Wednesday. A cold front passed through the area Wednesday afternoon bringing scattered storms that were intense at times. Some locations saw over an inch of rain. Others saw a tenth or less. For the rest of the week, temperatures stayed in the 70s F. Nighttime lows were in the upper 50s F for many but dipped into the low 50s F for some locations. Another round of scattered showers brought around a tenth of an inch of rain on Saturday morning.
With the cooler weather, we collected fewer than average number of degree days last week, 167 GDD base42 and 109 GDD base50, respectively. We are still close to the long-term seasonal average.
Southwest Michigan GDD Summary from March 1 through July 10, 2023

Station

GDD 42 F

GDD 45 F

GDD 50 F

Benton Harbor (SWMREC)

1911

1635

1226

Lawton (Lawton)

1921

1645

1236

Fennville (TNRC)

1741

1476

1089

Average for the SW region

1858

1586

1187

Average last week

1691

1437

1068
The dry air associated with a high-pressure system allowed the temperatures to climb on Monday back to the upper 80s F. This dome of air will be pushed out beginning Tuesday bringing temperatures back down to near 80 F. Rain enters the forecast on Wednesday with good chances of rain accumulation. Less significant chances of rain continue through the weekend. With the rain, expect more humid conditions than we have been getting most weeks lately.
Tree fruit
Second generation oriental fruit moth trap catches continue to increase at the Trevor Nichols Research Center. The next generation flight of San Jose scale males has started at Trevor Nichols Research Center. Catch of Japanese beetle in the Trevor Nichols trap line is continuing to increase. Catches of spotted wing drosophila (SWD) flies have been low so far, and low numbers of larvae have been seen in fruit. According to Michigan State University entomologist Rufus Isaacs, wild berries in woods are loaded with SWD larvae.
Apple insects of concern are leafrollers, oriental fruit moth, San Jose scale, and codling moth. Red marks on fruit due to first generation San Jose scale are being seen. Wooly apple aphid colonies are present on limbs in some orchards. Apple maggot trap catches began 2 weeks ago at the Trevor Nichols Research Center. This insect is more common on sandy sites, with trap catches higher following rains. Diseases of concern are sooty blotch and flyspeck.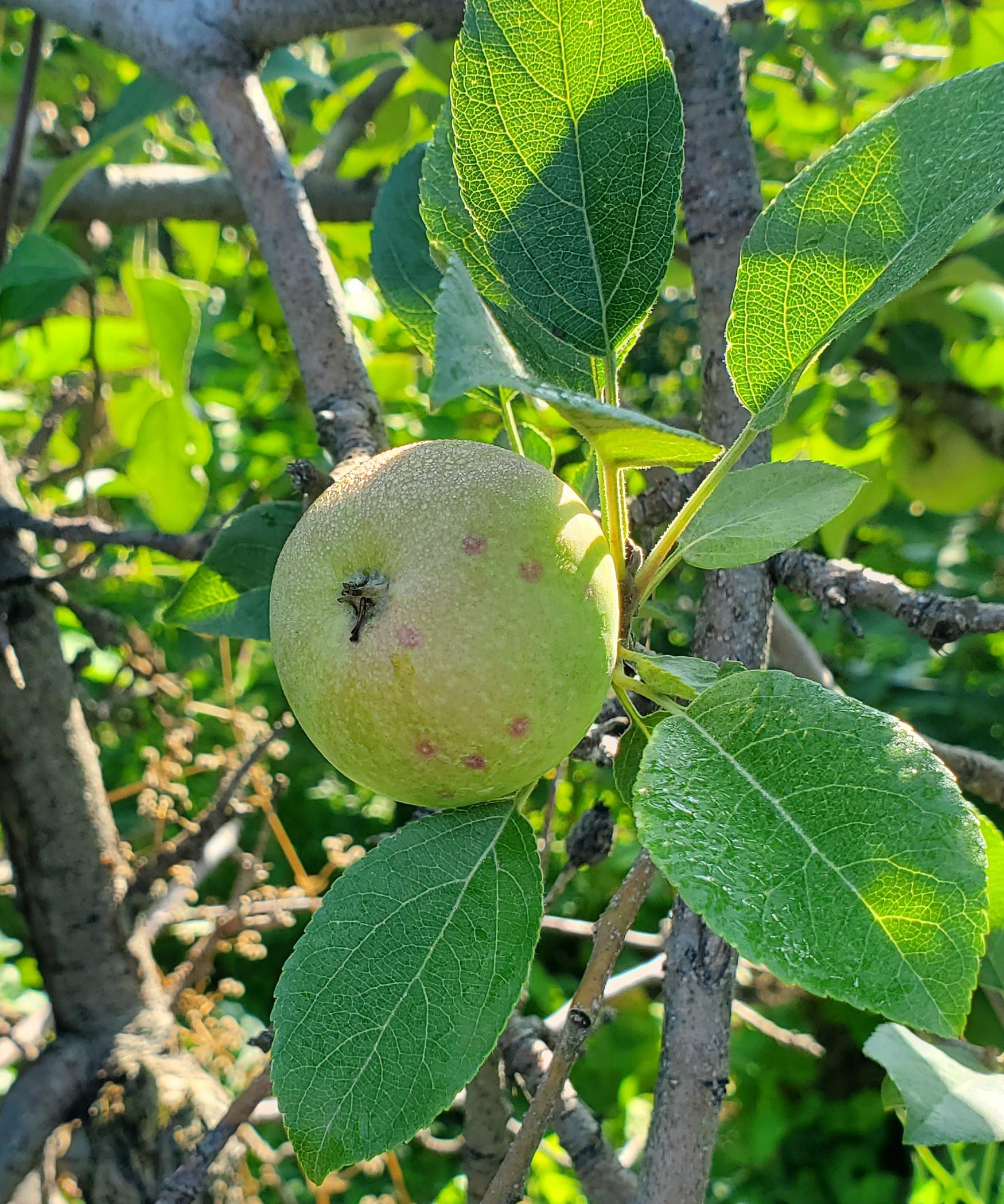 Peach harvests of Desiree, Harrow Diamond, PF5B, and Earlystar are underway in the region. Rains over the last few weeks stimulated a new flush of terminal growth on trees in sandy sites without supplemental irrigation. Split pits are common in some early varieties. Protection against the second generation of Oriental fruit moth is needed now.
Apricot harvest of midseason varieties Goldcot, Harostar, and Veecot is underway. This is one of the better crops that we've seen in recent years. Quality is good.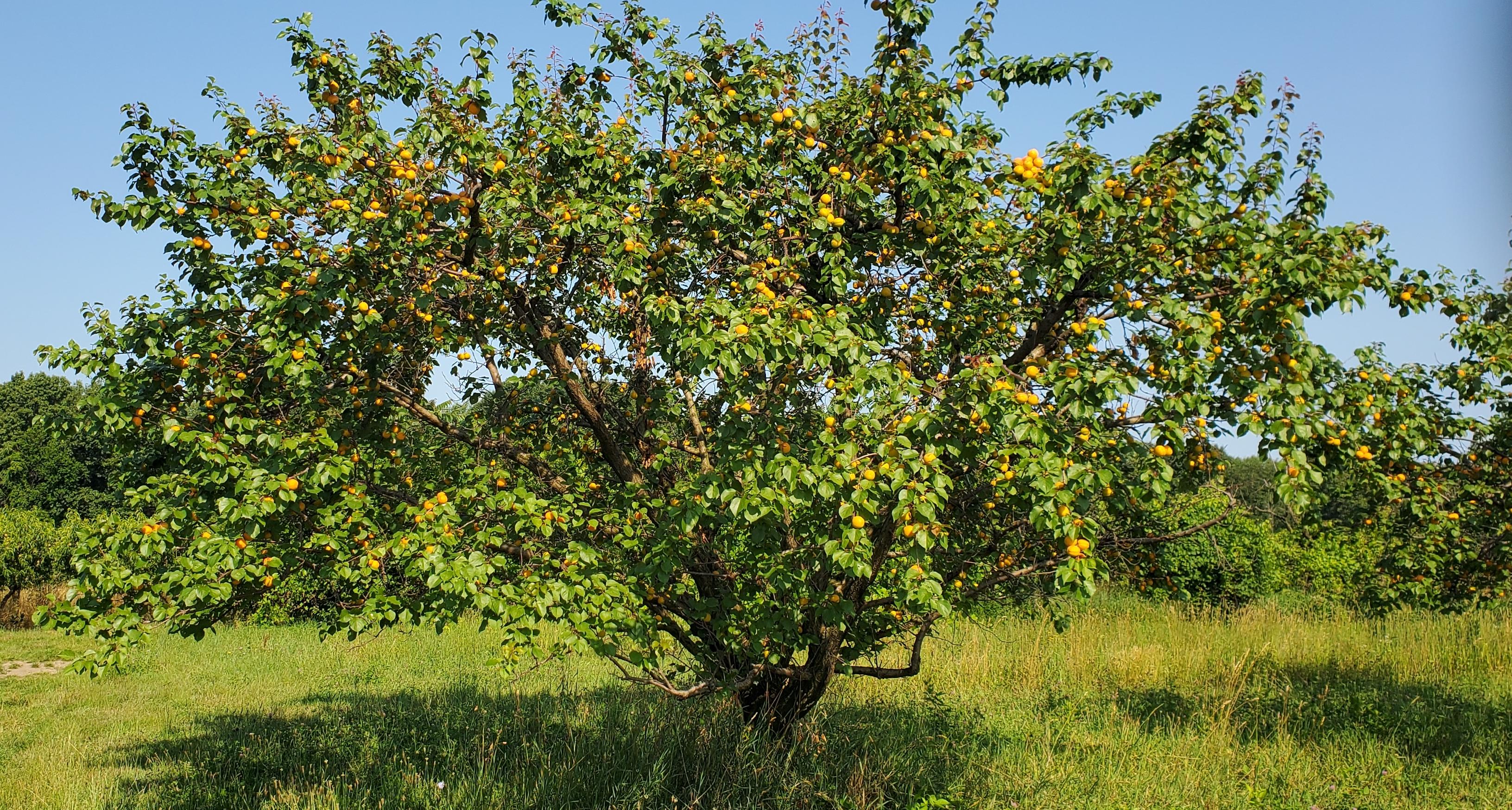 Cherry Montmorency fruit harvest is still ongoing but finished in many area orchards. Brown rot fruit infection is becoming more common. Yellow leaves and some scattered leaf drop caused by cherry leafspot disease can be seen in some orchards. Cool weather favors population growth of the various cherry fruit flies, especially Spotted wing drosophila. Plum curculio fourth stage larvae have been detected in cherries with light spray program.
Plum harvest of Early Magic, Kuban Comet, and Early Golden Japanese plums and Spring Satin pluot are underway in some southwest area orchards. Fruit sunburn is evident on some varieties. Brown rot and codling moth are the major management concerns.
Small fruit
Grapes. Most varieties of grapes are around berry touch including many tight-clustered vinifera varieties. Some growers have begun leaf pulling, shoot thinning, and hedging. Leaf pulling removes the leaves around the clusters to promote better air flow for disease management. Shoot thinning is the removal of excess shoots to help with airflow and reduce overall crop load. Hedging is done to help manage vigor and to promote new leaf growth which is important for producing good nutrient transfer to the developing grapes later in the season.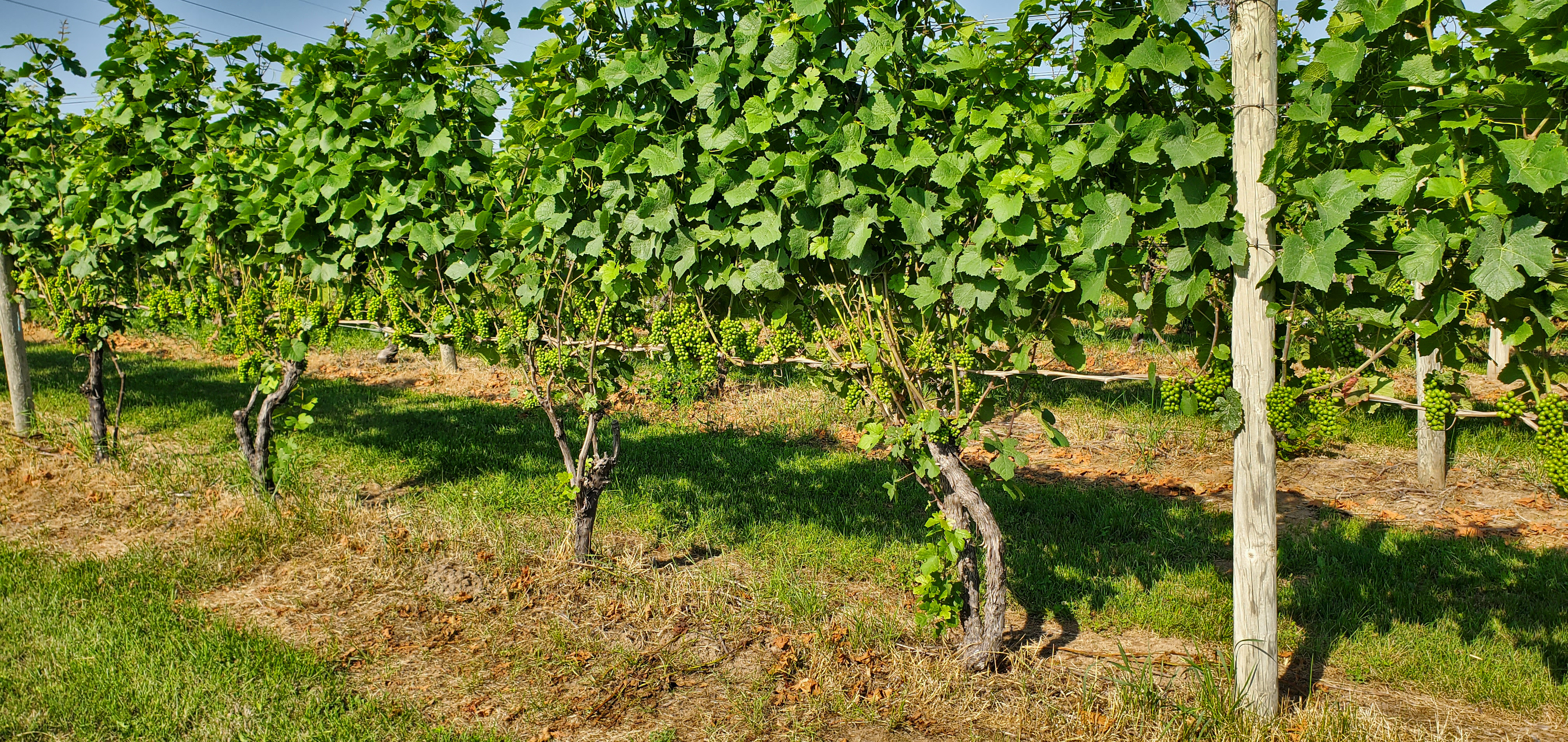 Japanese beetles continue to be seen in low numbers. Minor damage is being seen in unsprayed blocks.
The biofix for the second generation of grape berry moth was July 3 to 4 for most of southwest Michigan. MSU recommends biofix as good timing for application of an insecticide with ovicidal activity to manage grape berry moth populations. These include insect growth regulators like Intrepid and diamides like Altacor and Verdepryn. Other products that have larvicidal activity should be applied 100 GDDbase47 later which was around this Friday, July 7, 2023. Scouting results are indicating berry moth populations are moderate this year.
Black rot and downy mildew continue to be seen in some grape clusters in the area mainly as a result of infections from the last couple of weeks. Juice and early hybrid grape bloom ended around a month ago. This is when developing fruit start becoming resistant to many of the spring diseases. We start focusing on foliar infections of downy mildew and powdery mildew. Treatments for black rot should end soon. Protections against cluster rots like botrytis bunch rot should continue until bunch closure.
For vinifera grapes, fruit infections from all the major diseases should be managed for at least the next couple of weeks until the fruit become resistant. This is especially true around rain events.
Blueberry harvest continues. U-pick locations started over the holiday weekend. Berry rot sprays to control anthracnose and alternaria are going out in early and mid-season varieties. Cranberry and cherry fruitworm flights are ending. Blueberry maggot was caught at an unsprayed site at SWMREC the last couple weeks. Japanese beetles have been seen but damage so far is light.
SWD is expected to be delayed this year due to the hot, dry weather, but scouting is still recommended in crops as they reach susceptible stages. Reports of light catches have started coming in so large increases are expected in the second half of July.
Strawberry harvest is wrapping up for the last locations. It is time to renovate if you have not done so already.
Brambles. Red and black raspberry harvest is increasing. Blackberries are still blooming. Spotted wing drosophila are beginning to be caught in traps in low numbers. The numbers are expected to increase dramatically the last half of July.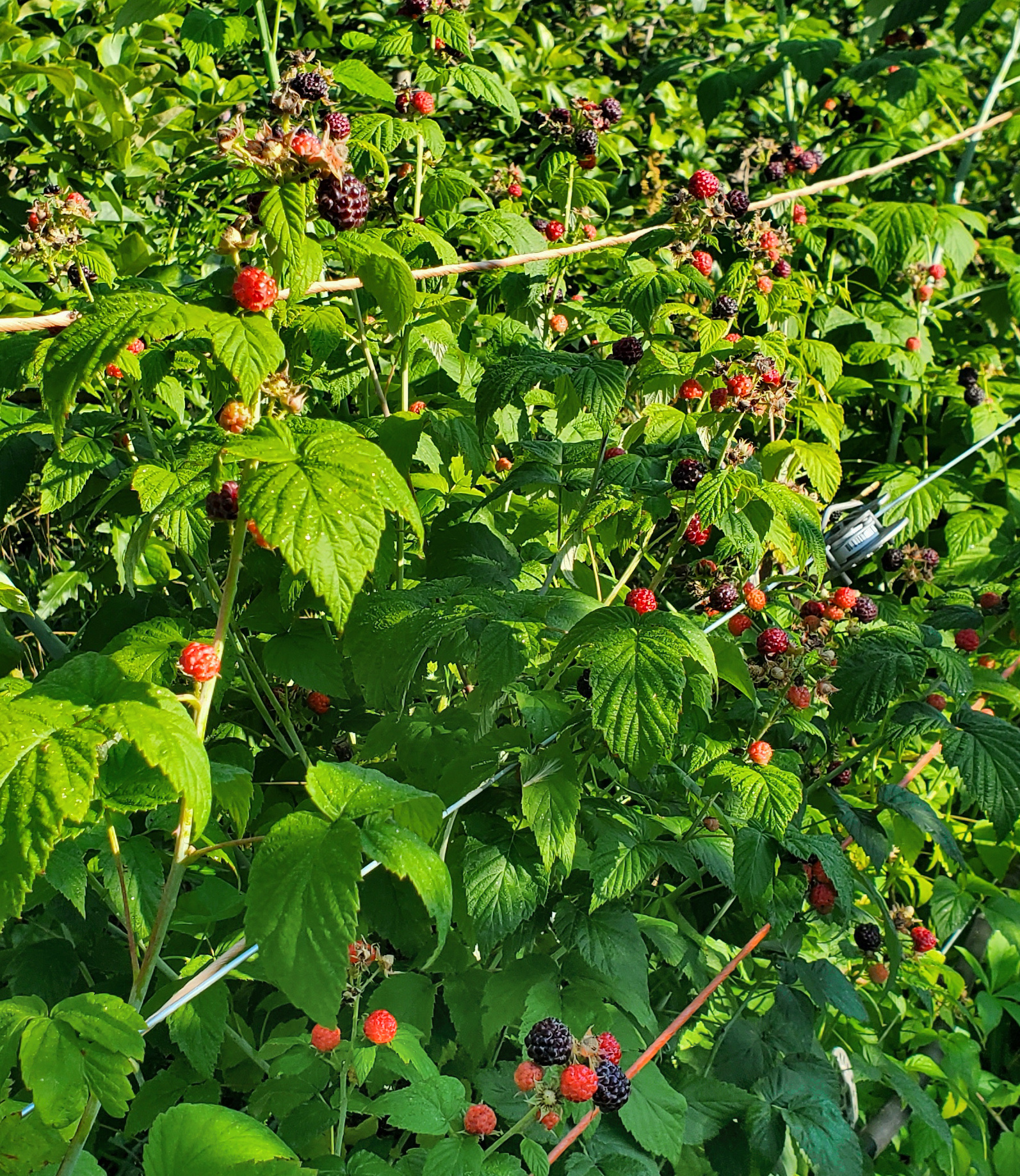 Announcements
The Southwest Michigan Viticulture Field Day is scheduled for July 26. This event is in its 34th year. Education will begin at 9 a.m. and will include a variety of field-based topics including cold hardy variety management, autonomous technologies, pest management and soil health. Lunch and a steak dinner will be provided as will some tasting of local Michigan wines. Register for the Southwest Michigan Viticulture Field Day.
If you'd like more blueberry information in your inbox, sign up for Blueberry Bites! New this year, Blueberry Bites is a blueberry-focused, bite-sized, weekly update from the blueberry team at MSU. A total of 4 RUP credits have just been approved for this event.
This work is supported by the Crop Protection and Pest Management Program [grant no 2021-70006-35450] from the USDA National Institute of Food and Agriculture. Any opinions, findings, conclusions, or recommendations expressed in this publication are those of the author(s) and do not necessarily reflect the view of the U.S. Department of Agriculture.