Southwest Michigan fruit update – July 24, 2018
A wet weekend eases drought worries. Expect an increase in insect activity. Summer fruit harvest continues.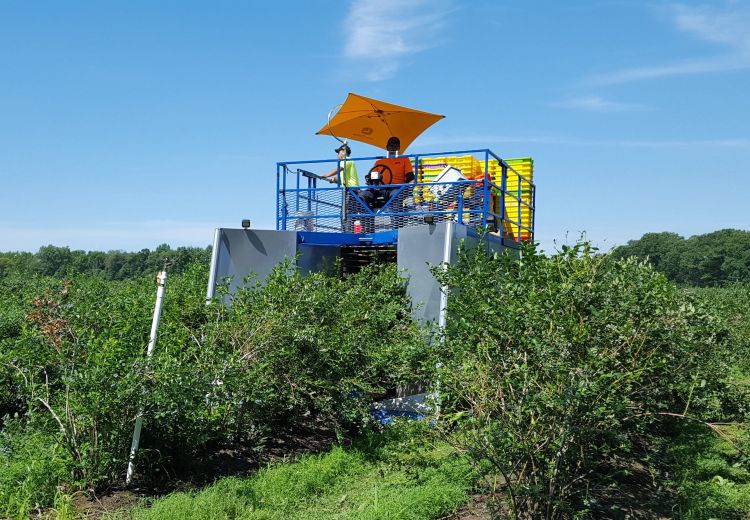 Weather
Last week began hot with highs near 90. A cold front brought cooler but dry conditions until Friday, July 20. Scattered storms crossed the region Friday and became widespread showers on Saturday and Sunday, with the passage of an upper level low. This long-term rain event dropped 1 to 3 inches across the region. This is adequate moisture for about a week and a half without irrigation. The evaporation rate dropped off quite a bit during the cloudy weekend. Cool, cloudy, unsettled weather continued into Tuesday, July 24.
Highs this week will be near 80 with lows in the 60s. There is a chance of thunderstorms on Thursday, July 26, into the weekend. Cooler, more normal conditions should prevail for the next 10 days with little chance of significant rain.
Dry conditions in July have reduced plant disease activity. Our heat accumulation is about 10 days ahead of normal.
Southwest Michigan GDD summary from March 1 – July 22, 2018

Station

GDD 42 F

GDD 45 F

GDD 50 F

Benton Harbor (SWMRC)

2,330

2,043

1,591

Lawton (Lawton)

2,364

2,075

1,620

Fennville (TNRC)

2,201

1,922

1,486

Average for the SW region

2,338

1,867

1,450

Accumulation last week

205

183

148

Tree fruit
San Jose scale male trap catches jumped up at the Trevor Nichols Research Center trapline in Fennville, Michigan. This indicates the second generation is beginning. Crawlers should emerge in early August, approximately 300 to 350 degree-days base 50 degrees Fahrenheit after the start of the flight. Fewer brown marmorated stink bug juveniles can be found. Mature flying adults are scarce, but should be out now.
Apricot harvest is ending.
Peaches and nectarines are moving into the early-season variety harvest window. Estimated peach harvest dates are available on Michigan State University Enviroweather. Harvest of Early Redhaven, Summer Serenade and Garnet Beauty will be starting soon. Redhaven harvest is projected to begin about Aug. 1.
Dry conditions have slowed brown rot activity. Fungicide treatments for brown rot are needed as fruit background color loses its green color. Leaf drop of older leaves due to bacterial spot infection earlier in the season is common on susceptible varieties.
Oriental fruit moth numbers declined in most orchards, indicating the second generation flight has peaked. We are still catching good numbers of this pest at some sites. Oriental fruit moth can still be a problem in young peach trees by injuring shoot tips of developing scaffolds.
Sweet cherry and tart cherry harvest is over. Defoliation in tart cherries caused by cherry leaf spot is common. After harvest, apply a long-lasting protectant fungicide to preserve the remaining leaves. Loss of too many leaves will weaken the tree, affecting winter hardiness and reducing next year's crop.
Plum harvest of Japanese plums continues with Shiro; Vibrant, Vanette and Santa Rosa harvest will start soon. Protect ripening fruit against apple maggot, which we are catching. Codling moth and oriental fruit moth can also attack plums. Spotted wing Drosophila (SWD) can be a problem in plums as they ripened, with their thin skins and soft flesh. Plums become susceptible when they soften to approximately 3 pounds firmness, measured without skin. Use a fruit firmness gauge fitted with a pear tip. Brown rot is also a threat as fruit ripens.
In apples, catches of oriental fruit moth and codling moth adults are continuing. Oriental fruit moth is ending and the second flight of codling moth is just beginning. Obliquebanded leafroller summer generation larvae have been active for weeks, but we have not seen the start of the second generation flight. Apple maggot numbers continue to rise. With the warm temperature and frequent rains, we can expect a large number of mature flies in the orchards. Insecticide choices should include materials effective against apple maggot. Include fungicides for sooty blotch and fly speck in cover sprays.
Pears become attractive to codling moth attack when they soften close to harvest in August. Pear psylla numbers are relatively low. Hand-pulling water sprouts will discourage psylla buildup.
Small fruit
Grapes are at cluster tightening. The hot, dry weather has slowed diseases. Concord and Niagara berries should be resistant to black rot fruit infection. Protect Vinifera and hybrid grape fruit for another few weeks until veraison. Scout for powdery mildew and downy mildew on leaves. Wine grapes seem fairly clean, but some growers report some downy mildew.
The second grape berry moth flight is ending and we are seeing some stings in vineyards. The Enviroweather grape berry moth model indicates the third generation will begin to emerge next week around the end of the month. This model uses wild grape bloom dates to estimate the beginning of egglaying for each generation. Bloom in the Lawton/Paw Paw area was May 26, and egglaying should begin about July 30. In Mattawan, it will be a couple of days later on about Aug. 1. In Berrien County at Baroda and Berrien Springs, wild grape bloom was recorded as May 27, and the model predicts third generation egglaying will start about Aug. 1 and be a day earlier in Scottdale, July 31. In Benton Harbor, we recorded wild grape bloom on May 28 and egglaying should begin about Aug. 2.
If you use an insecticide that needs to be ingested, it is much better to put it on a couple of days early rather than late. We expect at least a partial fourth grape berry moth generation in southwest Michigan, because egglaying in early August will occur when day lengths are longer than 14 hours.
We are seeing more Japanese beetles in vineyards and expect more to emerge after this weekend's rain. Check wine grapes or juice grapes with a light canopy for beetle presence and leaf damage. Decide whether an insecticide is necessary. Typically, juice grape canopies are very dense and can withstand heavy Japanese beetle feeding. Brown marmorated stink bug nymphs, grape leafhoppers and potato leafhoppers are scarce.
Blueberry harvest continues. Harvest of most early varieties has ended. Bluecrop is the main variety harvesting now. Both hand and mechanical harvest are ongoing. Fruit quality has been generally very good with some anthracnose and alternaria. Heat scald is no longer a problem. Cane collapse due to phomopsis is common in some fields. Yields have been quite variable and some growers complain the crop is short and later varieties look worse. Small fruit due to poor pollination looks to be a problem in later varieties. There was some fruit drop earlier in the season, which may have been due to poor pollination or heat stress when our weather turned suddenly hot after a long, cool wet spell.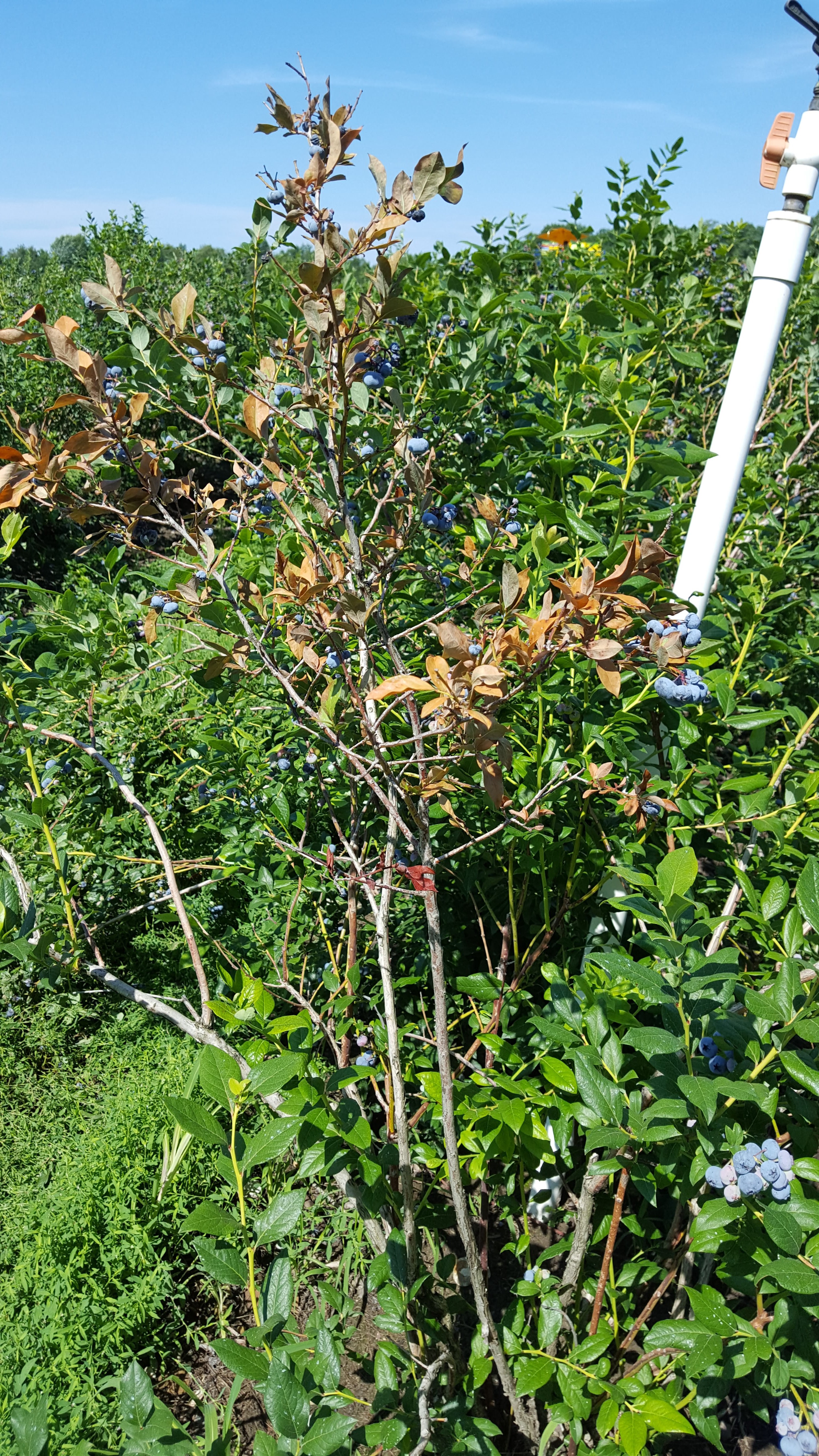 Phomopsis cane collapse in blueberries has become apparent in the last three weeks. The problem seems worse in low spots and where the plants have low vigor. There is no effective treatment at this time of the season.
We are seeing lots of early ripening fruit on Jersey, Elliott and other later ripening varieties. This ripe fruit is attractive to spotted wing Drosophila (SWD). SWD numbers continue to rise. The hot, dry weather has held this pest back, but the abundance of wild berries has allowed numbers to build steadily. The cooler weather will allow numbers to build quickly. Most traps outside sprayed fields are in the double digits. Growers are applying fungicides and insecticides to protect ripening fruit against fruit rots and SWD. During the summer, blueberry fields need an inch of water every three or four days. See "Irrigating Michigan blueberries" from MSU Extension for more information.
Strawberry leaves are emerging after renovation. Irrigate to get strong new growth. Protect new leaves as they emerge from potato leaf hoppers, which stunt strawberry growth.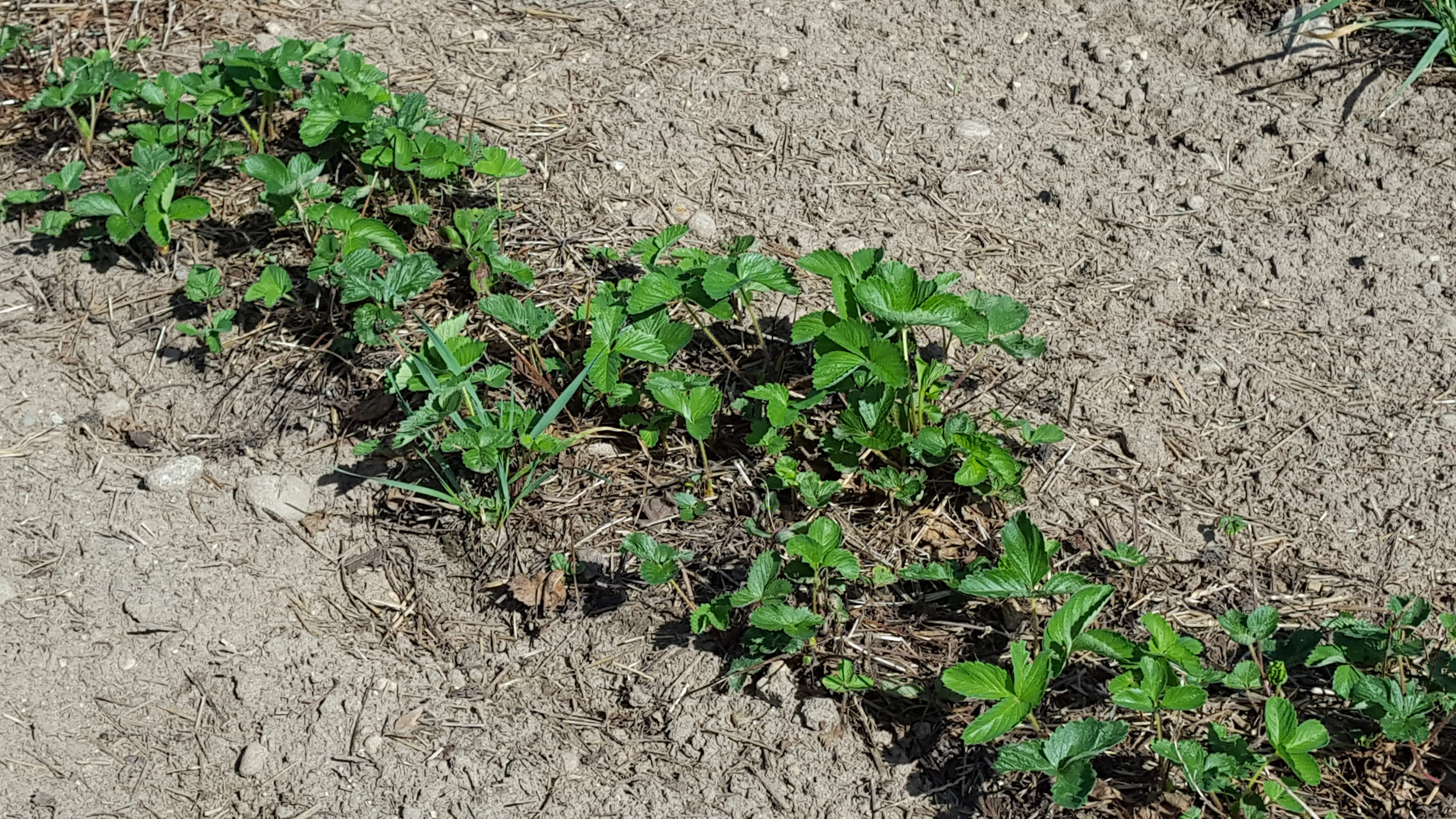 New leaves are emerging after renovation when the field was mowed and fertilized and the rows narrowed. Maintain good irrigation during the dry summer to have good plant growth into fall.
Bramble harvest continues. Red summer raspberries are being picked. Fruit size has been small due to the heat. Raspberries and blackberries are a preferred host for SWD and the fruit needs to be protected. Blackberries are beginning to ripen. Japanese beetles are out. Target Japanese beetles as soon as you see them to prevent this pest from aggregating in your fields.
Cranberries have pea-sized green fruit.
Current berries are ripening and should be protected from SWD.
Upcoming meetings
There is a free, two-day workshop on using drones in bush and tree fruit at the Southwest Michigan Research and Extension Center Aug. 9-10. Space is limited. If you are interested in attending, please register and answer the questions at Project GREEEN Drone Training by July 25. We will confirm your spot by Aug. 1. Contact Erin Bunting at ebunting@msu.edu for more information
The Annual Trevor Nichols Research Center Field Day is Tuesday, Sept. 25, from 1 to 4 p.m. at the Trevor Nichols Research Center west of Fennville, Michigan.
Related articles