Southwest Michigan fruit update – June 25, 2018
A cool wet week.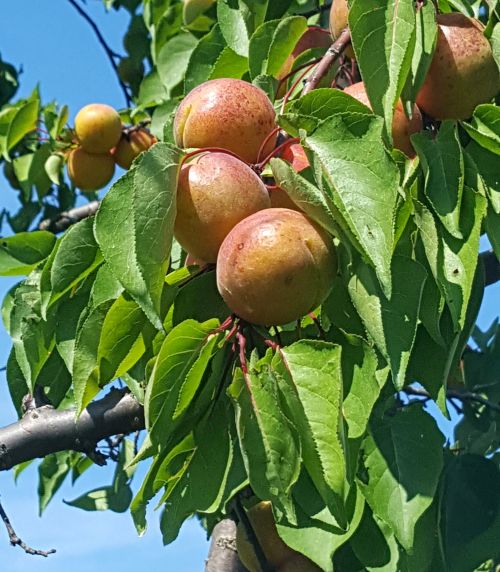 Weather
Last week started hot with highs in the 90s on Monday, following a hot weekend. Highs fell into the 70s with rains on Tuesday. Cool wet rainy weather was the rule for the week. Rainfall totals for the week ranged from less than one to more than three inches. Southern Berrien County received much more rain causing local flooding. Some farm fields are under water. Seasonal rainfall totals starting April 1st are over 15 inches of rain, twice the normal precipitation. (Note: The Scottdale stations rainfall sensor is faulty and is over-reporting rain.)
The weekend was cool. This week will be warmer with highs rising from the 70s into the 80s. Highs will reach the 90s by the end of the week for a hot weekend. There is a good chance of showers through Wednesday and again on Friday. Dry conditions are forecast for Thursday when the Southwest Michigan Research and Extension Center (SWMREC) will host MSU Agriculture Innovation Day: Focus on Fruit and Vegetable Technologies. The 2018 growing season has been a real weather roller coaster with alternating weeks of cold wet weather with hot and dry conditions. We are about a week ahead of our normal heat accumulation according to data at MSU Enviroweather.
Southwest Michigan GDD Summary from March 1 through June 24, 2018
| | | | |
| --- | --- | --- | --- |
| Station | GDD 42 F | GDD 45 F | GDD 50 F |
| Benton Harbor (SWMRC) | 1441 | 1238 | 926 |
| Lawton (Lawton) | 1481 | 1276 | 962 |
| Fennville (TNRC) | 1331 | 1136 | 840 |
| Average for the SW region | 1455 | 1251 | 939 |
| Accumulation last week | 185 | 164 | 129 |

Tree Fruit
Foliage, limb and fruit growth has been good due to abundant rain in the area. San Jose scale crawlers are predicted to be moving now for the past few weeks. This is the treatment window for crawler control. Japanese beetle adults are emerging from now and into July after rain events. Brown marmorated stink bug juveniles have been reported in southeast Michigan feeding on fruit. Their movement will be restricted until they mature into flying adults in late July. Wild berries such as mulberry and bush honeysuckle are ripening providing a nursery for spotted wing Drosophila (SWD). SWD numbers increased in our trapping network. Many traps are still catching no flies, but more traps are catching small numbers of adults. Traps near ripe fruit had dramatically increased numbers into the double digits. See: Plan to change when dealing with spotted wing Drosophila. Also see the Spotted Wing Drosophila website for much more information on SWD
Apricot harvest should begin late this week for the early varieties. Fruit are relatively free of bacterial spot symptoms.
Peach and nectarine pit hardening is complete for many orchards. Hand-thinning continues. Estimated peach harvest dates are available on Enviroweather. Redhaven harvest is projected to begin about August 1. Very early varieties such as Rich May are developing orange blush. Spread of bacterial spot from tree to tree is evident for susceptible varieties. Protect the fruit with oxytetracycline during warm rainy periods in orchards where leaf symptoms are evident. Trap catches for oriental fruit moth continue to decline, but we expect numbers to increase as the second generation flight should begin soon. Branch end flagging and fruit entries by first generation oriental fruit moth larvae are common at some sites. Tarnished plant bug feeding damage is still a threat in some orchards.
In cherries, harvest of early sweet cherry varieties has begun. Recent rains have caused fruit cracking on early and mid-season varieties. There is less damage on later varieties. Montmorency tart cherries are red. Birds are out feeding on colored cherries. SWD traps should be out. SWD trap catches in the Southwest region are increasing especially near wild hosts with ripe fruit. Trap catches in some cherry orchards have also increased. See: Managing Spotted Wing Drosophila in Michigan Cherry.
Montmorency cherries.
Cherry harvest is still scheduled to begin after the fourth of July. Application of ethephon on cherries ease harvest is typically done 7 to 14 days before shaking. Yellow leaves caused by cherry leaf spot or bacterial canker are common in area orchards. Bacterial canker is favored by cool, wet springs similar to the spring we have had in 2018. The treatment is long past for this cool weather disease. The leaf symptoms of bacterial canker are large necrotic spots on the leaves. Most of the symptoms are from cherry leaf spot. The leaf symptoms of cherry leaf spot are small dark spots on the leaves, which have a green halo when the leaves turn yellow. Cherry leaves are always susceptible to cherry leaf spot infection and need to be protected until after harvest to preserve the leaves. Some area orchards have lost significant numbers of leaves and the red fruit is clearly visible from far away. Brown rot symptoms are showing up on fruit in sweet cherry orchards. Ripening cherries are very susceptible to brown rot.
Plum fruit should be protected against codling moth, oriental fruit moth and apple maggot. SWD can also be a problem in ripening summer plums. Brown rot becomes an increased threat as fruit start to ripen, color and soften.
Apple hand-thinning continues. Many orchards only need light hand-thinning, breaking up clusters of fruit. Fruit entries by oriental fruit moth and codling moth larvae began appearing about two weeks ago. Codling moth trap catch numbers are low indicating the end of the first generation flights. The second flight of oriental fruit moth should begin soon. Obliquebanded leafroller first summer moth catch (biofix) was June 8, with egg hatch estimated to have started June 20. Growers should scout for larvae feeding on the foliage. There have been reports of apple maggot catches in the area beginning last week. Apple maggot is a summer pest which emerges following rains.
Fire blight is a problem in only a few area orchards. Apple scab primary infection season is over. New scab infections will come from scab lesions on the leaves. Growers without scab can relax their fungicide programs until they begin to treat for sooty blotch and fly speck. We see big differences in the sooty blotch and fly speck model for weather stations in southwest Michigan.
Scab lesions are becoming visible in apples.
Weather stations such as Hartford and Lawrence are located in lower, less exposed locations with slower drying conditions. These sites have already accumulated enough wetting hours to expect symptoms. Higher, exposed sites such as SWMREC and Keeler have a lot less wetting hours.
Southwest Michigan Sooty Blotch and Flyspeck Model Output as of June 24, 2018.
The model is initiated 10 days past estimated petal fall for the location. Days with a minimum of 4 hours continuous wetness are included. First symptoms are expected at 240 to 290 wet hours.
| | |
| --- | --- |
| Station | Hours of wetting |
| Benton Harbor (SWMREC) | 139 |
| Berrien Springs | 219 |
| Fennville (TNRCS) | 115 |
| Bainbridge | 210 |
| Hartford | 290 |
| Keeler | 210 |
| Lawrence / Teapot Dome | 236 |

Pear fruit are growing rapidly and will become attractive to codling moth attack as they soften close to harvest. Pear psylla numbers are relatively low. Hand-pulling of water sprouts will help to discourage psylla building up. Early season fungicide treatment for pear scab will prevent initial infection by Fabraea. Once the pear scab season has passed, continued fungicide treatment for Fabraea leaf spot may be required in wet seasons if the disease has been established on leaves.
Small Fruit
In grapes, Concord and Niagara have buckshot-sized berries. Vinifera and hybrid bloom is ending. Black rot and phomopsis are easy to find. The immediate post bloom period is critical for controlling diseases on grape berries such as powdery mildew, downy mildew, phomopsis and black rot. Grape berry moth flight continues to decline. Most of the berry moth infestations are webbing in clusters. In sites with larger berries, there are fresh stings. With hot weather expected for this weekend, we will see the predicted start of grape berry moth egg laying earlier than we expected. The start dates from Berrien Springs to Fennville are only two days apart (June 29, July1). So the first and second generation of grape berry moth are going to overlap. See: Using the MSU Enviroweather grape berry moth model in 2018.
According to Enviroweather these are the predicted dates:
| | | |
| --- | --- | --- |
| Site | Wild grape bloom | Predicted start of egg laying |
| Lawton | May 26 | June 29 |
| Paw Paw | May 26 | June 29 |
| Mattawan | May 28 | June 30 |
| Baroda | May 27 | June 29 |
| Berrien Springs | May 27 | June 29 |
| Scottdale | May 27 | June 29 |
| Benton Harbor | May 28 | June 30 |
| Fennville | May 28 | July 1 |

Japanese beetles began to emerge this week. Unusually, there are both rose chafer and Japanese beetles in vineyards at the same time. Grape and potato leafhopper numbers are low. Brown marmorated stink bug numbers remain low. There is no need to spray for SWD in grapes until after veraison. Tumid galls have also been reported. This unusual pest causes red galls on the leaves and stems. There are several different insects which cause galls in grapes.
Black phomopsis lesions are plainly visible on the stems of this Concord vine. The webbing and discolored berry in the right center of the picture are from grape berry moth.
Tumid gall.
Blueberries fruit are sizing well and early varieties are beginning to color. Early harvest could begin in the south by the end of the month. Growers should maintain fungicide protection on ripening fruit against anthracnose. Cherry fruitworm and cranberry fruitworm are still being caught in small numbers. Blueberry maggot are beginning to appear and SWD numbers are starting to build across the region. See: SWD in blueberry recommendations in English. Generally, the frequent sprays required to control SWD are equally effective against blueberry maggot. Blueberry stem galls are becoming easy to find. This is not a major pest in the southern growing region of Michigan.
Bluetta blueberries, June 25, 2018.
Strawberry harvest has ended. Alternating heat and soaking rain frustrated growers. Fruit left in the field will be a breeding ground for SWD. Flies coming off strawberries will move to ripening fruit. It is time to renovate June bearing strawberries. Fields are mowed and weeds sprayed with contact herbicides. The rows are narrowed and soil active herbicides are applied. Then the fields are fertilized and irrigated getting the plants off to a good start for next season. See: Strawberry renovation is due soon. Potato leafhopper are out so new growth should be protected from this pest, which stunts plant growth.
Cracked strawberries.
Brambles fruit are coloring. Early red raspberry harvest has begun and black raspberry harvest will begin soon. Blackberries have small green berries. Japanese beetles are out and more should emerge after summer rains into August. Target Japanese beetles as soon as you see them to prevent this pest from aggregating in your fields. SWD traps should be out to monitor this pest. Raspberries and blackberries are a preferred host for SWD. We are beginning to catch SWD in the Southwest region with a few traps showing a dramatic surge in number near wild hosts with ripe fruit. See: SWD recommendations for raspberries and blackberries. We are seeing floricane collapse. This may be due to winter injury or an anthracnose infection last year. Anthracnose is easy to find in wild black raspberries.
Cranberry bloom continues.
Current berries are ripening and these berries need to be protected from SWD.
Upcoming Meetings
Related Articles: