Southwest Michigan fruit update – Sept. 19, 2018
It's been a warm, dry week as apple harvest gains momentum. Grape harvest is beginning.
Weather
Last week was warm and dry, with highs rising into the upper 80s and overnight lows in the 50s. There is heavy dew and fog most mornings. There was no rain last week. Sandy soils are beginning to dry out. Heavier soil still have good moisture content. Soils with poor drainage are still very wet. We are beginning to see the fall color change in stressed plants and plants which lose their leaves very early.
The upcoming week will be warm with highs in the 80s. The next chance of rain will be Wednesday and Thursday, Sept. 19 and 20.
Southwest Michigan GDD summary from March 1 – Sept.16, 2018

Station

GDD 42 F

GDD 45 F

GDD 50 F

Benton Harbor (SWMRC)

3928

3472

2741

Lawton (Lawton)

3937

3480

2746

Fennville (TNRC)

3767

3320

2604

Average for the SW region

3926

3470

2739

Accumulation last week

172

161

116
Tree fruit
San Jose scale trap catches are up sharply for the start of the third generation flight. A new generation of crawlers are expected in about 375 growing degree-days (GDD) base 51 F after this biofix. This would be just before the end of September. This generation is difficult to manage in apple orchards that still have fruit because of the preharvest intervals for insecticides.
Apple maggot trap numbers are low but may be significant in orchards with past problems. Brown marmorated stink bug (BMSB) adults are showing up in more sites. Hot spots with BMSB damage are reported for peach and apple orchards close to woods and soybeans. BMSB aggregation for fall has started in some sites. Spotted wing drosophila (SWD) numbers remain high.
Peach and nectarine harvest has nearly ended. Oriental fruit moth trap catches are still significant, but are mainly a concern for apple and plum growers now. Remove fruit that are not harvested to reduce carryover brown rot problems for next year. Brown marmorated stink bug can still be found in orchards where fruit is still in the trees. BMSB damage is being found in peaches.
In cherries, serious defoliation by cherry leaf spot is very common. Most growers stopped their fungicide protection programs after Labor Day.
Plum harvest season is nearly complete. Brown rot and bacterial spot were the primary concerns this season. Removing overripe plums can help reduce brown rot carryover to next year.
Apple harvest of Gala and Honeycrisp is coming to an end in central Berrien County. Jonagold and Empire harvest for fresh market is underway. Apple maturity test reports from Michigan State University Extension are available Wednesdays from now until mid-October for the major apple growing regions in Michigan. See the MSU Extension Apples page for more information.
Where apple scab is present on fruit and leaves, consider fungicide coverage before harvest to help prevent pinpoint scab showing up in storage. Reapply fungicides for sooty blotch and fly speck whenever the hours of leaf wetness exceed 250, or 2 inches of rain have occurred since the last fungicide application.
Oriental fruit moth is the primary internal worm problem needing protection at this time. Obliquebanded leafroller has been relatedly uncommon this season. Apple maggot catch numbers are low. San Jose scale trap catches have increased with crawlers expected to emerge beginning in the last week of September.
Pear harvest of Harrow Sweet has begun. The primary insect threats now are codling moth, brown marmorated stink bug and, in about 10 days, San Jose crawlers in sites with this problem. Pear psylla has resulted in sooty leaves and fruit.
Small fruit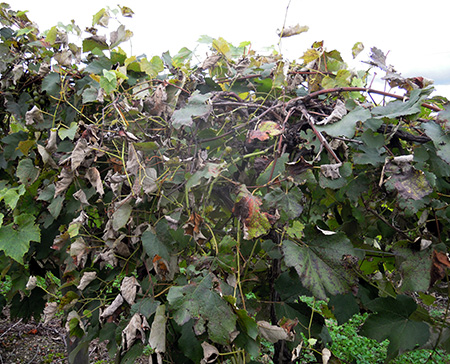 Grape harvest is beginning. Niagara harvest for juice should begin late this week. Early wine grape harvest is underway. Downy mildew on the leaves is a problem. Fruit infections are relatively rare after veraison, but leaf infections can cause serious loss of leaves and stop ripening. Growers are applying fungicides to protect the remaining leaves.
Downy mildew is a problem due to frequent wet and rainy conditions this spring and summer that allowed the disease to get a toe hold early. Significant mildew infections began to show up in July and August. In many vineyards, growers have attempted to burn out downy mildew lesions with some success, but active infections can still be found. Growers who will not harvest for several more weeks should protect the remaining leaves and stop or reduce ongoing infections.
Fourth generation grape berry moth is flying. Growers who will not harvest soon need to check vineyards and consider controls of the fourth generation. Spotted wing Drosophila (SWD) numbers are high. We are seeing split berries, fruit rots and vinegar flies in clusters with damaged berries. Be mindful of SWD and vinegar fly infestation as harvest nears and more split berries occur.
Botrytis and sour rot symptoms are easy to find.
We seeing brown marmorated stink bug (BMSB) in vineyards, but no signs of feeding. Look for this insect until harvest. For all these late season and harvest pests, insecticides with good contact activity and a short preharvest interval are the best option.
Blueberry harvest is over. Next year's flower buds are forming and are becoming visible in many fields. Soil moisture is quite variable. Some fields are dry and growers are irrigating. Other fields are wet with water standing in the field. Many of these wet spots have been wet all season and in these areas growth has been poor. Lush new growth is apparent in wet fields. Some growers are pruning. Many fields are very weedy and growers are planning their fall herbicide applications.
Strawberries look good. June bearing plants are setting flower buds for next year. Day neutral strawberries are being harvested. Ripening strawberry fruit needs to be protected from SWD. Harvest as frequently as possible to minimize the amount of time fruit is available to the fly.
Bramble harvest continues with fall raspberries. Raspberry are a preferred host for SWD and the fruit always needs to be protected.
Upcoming meetings
The annual Trevor Nichols Research Center Field Day is next Tuesday, Sept. 25, 2018 from 1 to 4 p.m. at the Trevor Nichols Research Complex west of Fennville, Michigan.
Related articles