Southwest Michigan field crop regional report – April 25, 2015
Conditions have been variable in southwest Michigan as of last week, resulting in increased spraying, tillage and fertilizer applications in most fields, but acres planted remain relatively low.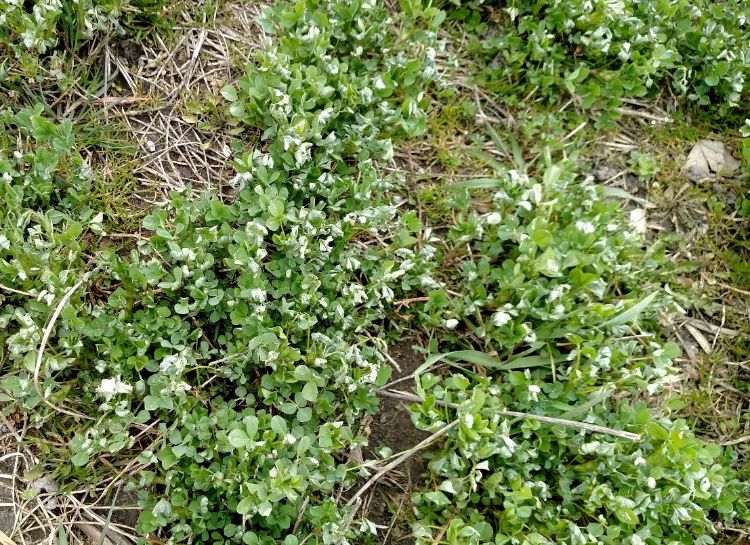 Weather
Air temperatures over the past week have sped up soil drying and have allowed growers to begin field operations in earnest. Warmer daytime and nighttime temperatures provided healthy plant growth and allowed sufficient systemic herbicide uptake and translocation, so there has been increased activities of weed and cover crop burndown.
Soil temperatures are currently in the range for successful corn germination, although very few planters have been seen in fields. The 0.28 inches of rain received Thursday, April 21, has slowed field work, and even halted field work on heavier soils. With precipitation expected this week, it is uncertain whether planting operations will be able to proceed before the end of the month.
Field work
Saturated soils were the story in most of Michigan in March and early April. Field work progress was minimal during this time period, with rainfall and wet snow keeping already wet soils near the saturation point. As the soils dry out with the warmer and drier weather, growers should keep in mind there is still potential for compaction issues below the zone of tillage if those soils are not as dry as the surface layers.
Corn
Fertility
Over the last few seasons, we have seen an increase in the number of fields showing stripping from nutrient deficiencies early in the season. While traditionally these have been associated with magnesium deficiencies in our lighter soils, they can also be an indication of sulfur or zinc deficiencies. Sulfur is the most common. Atmospheric deposition from sulfur has continued to decline across the eastern Corn Belt. Soil tests for sulfur earlier in the growing season are not usually considered to be accurate because, like nitrogen, sulfur is released though mineralization by soil microbes. If you have seen an increase in stripping or yellowing despite adequate levels of magnesium in your soil tests (40 parts per million, 80 pounds per acre), consider applying sulfur to your fields (25-30 pounds actual) on sands to sandy loams to see if you can address this problem earlier in the growing season.
Pests
The potential for challenges from early season pests like black cutworm and armyworm often are depend on the type and amount of green cover that is in the fields when the moths arrive via storm fronts from the south. Cutworm moths tend to lay eggs in winter annuals while armyworms like to lay eggs in grassy covers. Bare fields do not make suitable places for either species to lay eggs. Evaluate the amount and type of green matter that is in the field in relationship to either moth trap catches or the occurrence of warm storm fronts from the south to think about the potential for damage from either of these early season pests. Remember, it is important to know what the condition of the field was at the time of moth arrival rather than when the crop was planted. Tillage or burndown after the eggs are laid often do not eliminate the threat from these pests, but it can make them very hungry when the crop eventually emerges.
Weeds
Common waterhemp is yet another pigweed species that is on the increase across southwest Michigan. A good share of it has tested positive for glyphosate and ALS-inhibitor resistance. If you have pigweed that is very hard to control, you can follow the same herbicide recommendations outlined for controlling Palmer amaranth. These can be found in Michigan State University weed scientist Christy Sprague's excellent fact sheet, "Multiple herbicide-resistant Palmer amaranth and waterhemp in Michigan."
On the subject of Palmer amaranth, we continue to be concerned about evolving resistance. Populations of Palmer in Barry County have been found to be resistant to atrazine as well as glyphosate. If bringing in equipment from this area, please consider power washing it thoroughly before bringing it into the area. To the best of our knowledge, we currently do not have atrazine-resistant populations in St. Joseph County. Because of the plant's ability to cross pollinate, we hope to postpone introduction of this "trait" as long as we can in the seed corn production area.
Soybeans
Planting
With warmer conditions, it may be a great opportunity to plant soybeans earlier this year than normal. However, growers should keep the following in mind. MSU Extension soybean educator Mike Staton has often written about a body of research conducted by Horst Bonner, Ontario Ministry of Agriculture, Food and Rural Affairs soybean specialist, which shows the impact of imbibitional chilling on soybean seedling growth and vigor. The key component of this research measured the impact of cold water initially being imbibed into the soybean seed. When the water that is first taken up by the soybean seed is less than 50 degrees Fahrenheit, the seedling plants often exhibit uneven and slowed growth and development compared to seeds that "swelled" under warmer conditions. This impact seems to be limited to the water that is first taken up into the seed. If the seedlings are subsequently exposed to colder conditions, their growth and development resumes normally when the growing conditions improved.
In short, try to avoid planting soybean seed into ground where the temperatures are anticipated to be colder than 50 F until the seed has had a chance to absorb soil moisture under warmer temperature conditions.
Pests and pathogens
White mold is often a consideration in irrigated soybean production. Often, growers have switched to 30-inch rows and reduced populations, especially in earlier planted soybeans, to help address this situation. Risk is often associated with outbreaks in the field in the past. White mold is an accumulator type disease. Where white mold was heavy in the past, the sclerotia are likely to exist and there is potential for another infection of this fungal disease. Also, be cautious when applying irrigation water to soybeans around the time of flowering. Try to look at the outlook for thunderstorms, which can add significant rainfall, and potentially the irrigation, which can create a period of soil saturation that can trigger the germination of the sclerotia in the soil.
Weeds
Glyphosate and ALS-resistant marestail has really begun to spread across southwest Michigan over the past two years. Especially if you have a "newish" marestail challenge in your field, consider an early season burndown program to control the weed in anticipation that it may be glyphosate- and ALS inhibitor-resistant. Consult the "Controlling Horseweed (Marestail)" fact sheet for the best herbicide options, rates and timing. Also, be aware that there may be some planting waiting times associated with these herbicide options.
Palmer amaranth control needs to be accomplished early and, sadly, often. The key to keeping ahead of Palmer is to identify the weed and use subsequent spray programs to control it before the weed reaches 3 inches in height. If you know there is a likelihood, perhaps even if there is an elevated chance, of Palmer being in the field, Sprague recommends you plant a liberty-resistant soybean variety in the field.
Wheat
Most stands appear to be adequate to reach good yields. Wheat began to break dormancy when we first saw warmer temperatures back in late March. The recent cooler weather has slowed growth. Wheat has somewhat suffered from the extended cool and wet conditions, with many fields exhibiting a purplish or brownish cast from a distance. The color is often associated with the buildup of sugars in the leaves, similar to what we see in some corn hybrids during periods of cold weather. The warmer weather should provide the cure for this, so stay the course on stands with adequate plants and tillers for productive yields.
We have seen some fields that exhibit symptoms of Manganese deficiency. The plants are yellowish and symptoms range from poor growth to stand loss on some of the lightest soils. This condition is often closely related to high soil pH on light soils (7.0 or above). It is often easy to over-apply lime on the lightest portions of mixed textured fields, and these areas are ones that most often have the issue.
Alfalfa
Early warm temperatures got the crop off to a good start, but extreme cold conditions around the middle of April caused some leaves to be discolored, especially in the northern portions of the region. Subsequent warmer conditions have allowed the plants to resume growth. Growers should begin monitoring for alfalfa weevil larval feeding later next week.