Southwest Michigan fruit regional report – June 21, 2016
Sweet cherry harvest has begun. Scattered hail storms have caused some damage.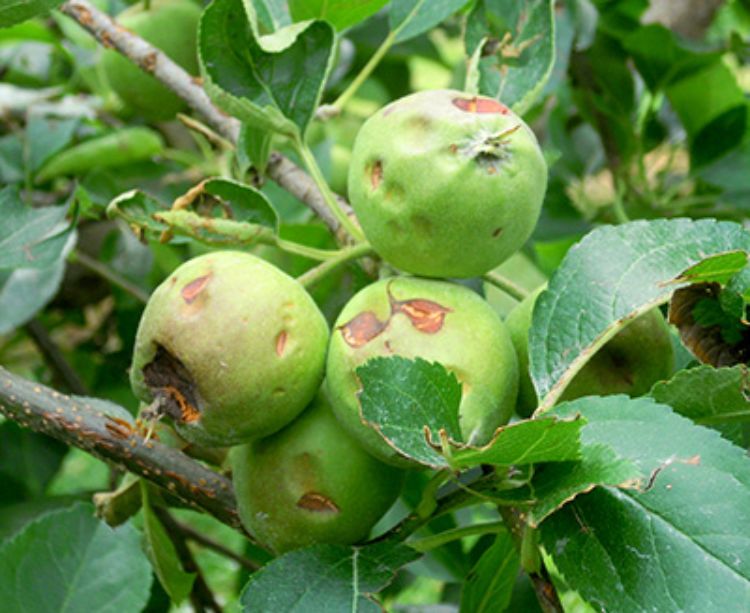 Weather
Last week's temperatures were generally warm and summer-like. High temperatures were in the upper 80s for most of the week. Highs were near 90 degrees Fahrenheit starting on Friday, June 17, and lasting throughout the weekend. Overnight lows were in the 50s and 60s. Storms moved across the area on Wednesday and Thursday morning, June 15-16. A strong hail storm was embedded in the Thursday morning storms. This storm moved southeast from South Haven, Michigan, into central Van Buren County, Michigan and caused significant damage in its path. Another hailstorm hit southeast Van Buren county as well.
Thursday was cool and foggy for most of the day. Wednesday's showers were widespread and dropped about 0.5 inch or more rain across the region. Thursday's storms missed Berrien county and southwest Van Buren County. Rain fall totals for the week varied from 1 to 1.5 inches. This is the first significant rain we have received in June. Growers should be irrigating due to the heat and the fact that soils are drying out quickly. The warm temperatures raised last week's growing degree-day (GDD) totals. Our daily accumulations were 32 GDD base 42, 27 GDD base 45 and 22 GDD base 50. This coming week has the potential to be very similar to last week. High temperatures will be in the mid-80s with lows in the 50s and 60s. There is a good chance of showers or thunderstorms mid-week as the active weather, which moved to our south, advances back to the north. Rainfall totals of 0.5 to more than 1 inch of rain are expected. Some storms may be strong, with high winds and hail.
Station

GDD 42 F

GDD 45 F

GDD 50 F

Benton Harbor (SWMRC)

1,549

1,299

944

Lawton (Lawton)

1,578

1,323

961

Fennville (TNRC)

1,309

1,080

756

Average for the region

1,443

1,200

860

Accumulation last week

224

191

158
Tree fruit
Insects were active last week because of the warm temperatures. Trap catch numbers for oriental fruit moth are down, indicating the end of the first flight of this pest. Codling moth trap catch numbers are declining, but are still significant for some orchards. Oblique banded leafroller catch began a week ago and this week's numbers are high. San Jose scale crawlers should be past their peak based on the Trevor Nichols Research Center biofix of May 30. These crawlers should be settling down and producing their waxy scale, thus reducing insecticide effectiveness. The Trevor Nichols Research Center is catching lesser peach tree borer (May 30) and greater peach tree borer (June 6), and their numbers are increasing. Late June and early July is the time for trunk applications to control borers.
Apricot fruit are over 2 inches in diameter. Early fruit is beginning to color. Harvest is a couple of weeks away.
Peaches are up to 2 inches in diameter, depending on the crop load and variety. The crop looks good. Growers are hand thinning. Pit hardening has occurred in most southwest area orchards. The predicted harvest dates for Redhaven in southwest Michigan range from July 29 to Aug. 2. Estimated harvest dates for some peach varieties are available on the Michigan State University Enviroweather website in the fruit tools section.
Oriental fruit moth numbers are down indicating the end of the first generation flight. Flagging of terminal growth by oriental fruit moth larvae is common in orchards with weak control programs. Bacterial spot symptoms continue to appear on leaves and more recently on fruit of susceptible varieties. Fruit with the roughened, slightly raised, slightly red symptoms of peach leaf curl are being reported. This is different than the more pronounced wart-like symptoms reported last week which are thought to be a physiological disorder.
Sweet cherry harvest has started. Birds eating the fruit is a problem. Sweet cherries are especially susceptible to brown rot as they ripen. Growers need to protect the fruit during this week's rains. Growers should use materials that protect against both cherry leaf spot and brown rot.
Tart cherries are approaching bright red. The crop potential is variable but appears good in many area orchards, but not huge. Last week's storms did not cause a great deal of damage. Few trees were blown down and very little wind-whip has been seen from these storms. Hail damage was localized to only a few areas. Hail did split some fruit and knock fruit from the trees. Sprays to control brown rot and dry up the fruit should follow any intense storm in cherries. Leaves continue to be vulnerable to leaf spot. Growers continue to apply protectant fungicides for cherry leaf spot. The last three weeks have been relatively dry.
Plums' vulnerability to new black knot infection is declining as terminal growth stops. Active black knot growths from last year's infection are actively expanding. Japanese plums are over 1 inch in diameter, depending on the variety. Bacterial spot symptoms can be found on more susceptible varieties. Some varieties are heavily set with fruit and growers are hand thinning. European plums are 20 millimeters in diameter.
Apple fruit sizes range up to 2 inches in diameter. The crop is variable. Fire blight shoot blight symptoms are generally scarce and the hot, dry weather has limited spread. Symptoms are associated with cankers on older trees or where hail and strong winds have occurred. The few orchards that suffered hail should show trauma blight symptoms later this week. Primary apple scab season is over with no new ascospores from dead overwintering leaves. Young leaves are still susceptible to infection from scab lesions on this year's infected leaves. Leaf and fruit scab lesions are easy to find on unsprayed trees. Scab infected leaves are turning yellow and falling off the tree. Growers should scout their orchards for scab lesions to determine if they need to continue their scab program.
Codling moth trap catch number numbers are declining and we are at peak egg hatch. Growers should use insecticides aimed at larvae. We are catching oblique banded leafroller adults and expect that egg hatch of this generation has started. It appears that oblique banded leafroller has recovered from a population collapse during the extreme drought of 2012 (see: "Summer leafroller control"). Relatively dry conditions have limited diseases and slowed the appearance of sooty blotch and flyspeck symptoms which require about 220 hours of leaf wetness following petal fall. We currently have about 90-100 hours of leaf wetness since petal fall.
Pears fruit are over 1 inch in diameter. Removing succulent water sprouts from the inside of the tree helps to reduce sites for pear psylla population growth. Pear scab symptoms can be found on the leaves and fruit of unsprayed trees.
Small fruit
A few spotted wing Drosophila (SWD) are being trapped in some traps in southwest Michigan. These flies will be looking for ripe berries to begin egg laying. Wild berries such as bush honeysuckle, mulberries and saskatoons are ripening. These fruit serve as a host to build SWD populations. This would indicate that in a couple of weeks we should see the first surge in SWD numbers as flies emerge from these fruits.
In grapes, juice grapes are past shatter and are at the buckshot berry stage. Vinifera bloom is ending. The two-four week post-bloom period is the most important time to control black rot, powdery mildew, downy mildew and phomopsis. Dry weather has resulted in very few infection periods for each of these diseases so far. Black rot, downy mildew and powdery mildew have been hard to find in scouting of area vineyards. Phomopsis is the most common disease due to the wet weather during early shoot growth. Due to the dry weather the last three weeks brought on, black rot, downy mildew and powdery mildew have been hard to find.
Many growers applied protectant fungicides and insecticides for rose chafer just before bloom began. Second generation flight of grape berry moth will begin soon. Dates for full bloom in wild grape were May 28 for Berrien County and May 30 for Van Buren County. Using these dates with the grape berry moth Enviroweather model to determine the treatment date of 810 GDD base 50 after biofix, we have accumulated over 500 GDD and it looks like insecticide applications will be timed for the first week in July. Growers planning on applying spirotetramat for control of grape tumid gallmaker or grape mealybug can apply it now.
Blueberry fruit is starting to color in early varieties. Hail in the South Haven, Michigan, area and to the southeast knocked fruit off the bushes, denting and cutting fruit on the bush. The storm was fairly compact and affected growers estimate only light losses (10 percent) in the fields. In the green fruit stage, growers should use fungicides to reduce anthracnose and phomopsis. There is an Anthracnose model in the fruit section of the Enviroweather website. Because of the lack of rain, risk has been low. Blueberry maggot should emerge soon. Soils are very dry and growers with irrigation should be irrigating to maintain fruit growth. Blueberries have a shallow root system and like moist soils that are not too wet or too dry. Growers should pay close attention to soil moisture. Water is especially important when the berries are growing rapidly. Slight water deficits which reduce early fruit growth cannot be made up later.
Strawberry harvest in most of southwest Michigan ended this past weekend. Fruit rots and sap beetles were a problem for many growers. After harvest, growers should renovate their fields as quickly as they can. For more information on strawberry renovation, see the MSU Extension articles "Time to renovate strawberries" for cultural considerations, and "Strawberry renovation is due soon" for herbicide choices. Growers with extended harvests, i.e., day-neutral strawberries, should consider treating for SWD.
Bramble harvest should begin in another week in black raspberries (black caps) and early summer red raspberries. Blackberry bloom has ended. Raspberries and black berries are shallow rooted and benefit from irrigation under these dry conditions. There is no need to spray for SWD until the fruit begins to ripen. Raspberry cane borer will be attacking primocanes.
Cranberries are still blooming.
Upcoming meetings
Our final Monday fruit IPM meeting in southwest Michigan is next week on June 27, 2016, at Fruit Acres Farms, located at 2559 Friday Road, Coloma, MI 49038, on the northeast corner of Friday and Carmody Roads - south of Coloma - at 5 p.m. Two Michigan pesticide applicator recertification credits are available at these meetings.
There are a pair of blueberry pre-harvest meetings in Van Buren and Ottawa counties scheduled for next week. These meetings will be on Tuesday, June 28, in Van Buren County and Wednesday, June 29, in Ottawa County. Both meetings will be from 6 to 8 p.m. and will be eligible for two RUP credits. There is no fee for these meetings and all blueberry growers and consultants are invited to attend. For more information, see "Blueberry pre-harvest meetings June 28-29, 2016."
Tour and discuss organic and conventional fruit production under high tunnels at the 2016 High Tunnel Fruit Production Tour, Tuesday, July 5, from 6:30-8 p.m. at the Horticulture Teaching and Research Center, 3291 College Road, Holt, MI 48842.
See also: