Southwest Michigan grape scouting report for Aug. 8, 2017
Powdery mildew symptoms are increasing. Treat now for third generation grape berry moth.
Development
Early varieties such as Marquette and Foch are undergoing veraison. Other varieties will follow soon. Clusters continue to tighten.
Diseases
We are still not seeing much powdery mildew where we scout, but we're hearing from growers that it's increasing in some vineyards. That in mind, Michigan State University Extension advises treating for powdery mildew now.
The amount of downy mildew we are seeing varies drastically from vineyard to vineyard. In most of them, only 5-10 percent of leaves have any lesions at all, and these lesions do not appear to be expanding. However, there are some farms where downy mildew is rapidly expanding. Monitor vineyards carefully this time of year and treat accordingly.
Growing degree-day (GDD) accumulations

Enviroweather station

Date of wild grape bloom

GDD47 since wild grape bloom

Estimated start of egglaying (1620GDD47)

May 26

1680

Sat, Aug 5

May 27

1669

Sun, Aug 6

May 27

1640

Sun, Aug 6
Grape berry moth
MSU Enviroweather's grape berry moth model estimates that third generation grape berry moth egglaying started Saturday and Sunday of this week, Aug. 5 and 6. This is confirmed in the field, as we are seeing new grape berry moth stings. Most of the vineyards we scout had 15-30 percent of clusters with at least one sting. One vineyard, however, had 65 percent. The amount of damage is increasing rapidly, as is typical for third generation.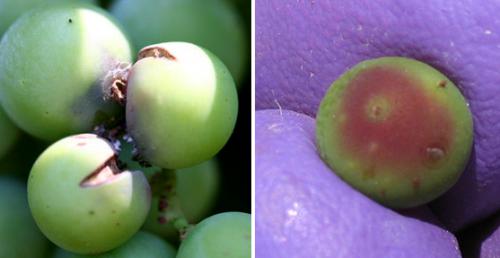 Treat now with insecticides to control grape berry moth. Given that egglaying started this weekend, it's already a little late to use ingestion poisons—those who haven't treated yet should reach for the contact poisons. Know the pre-harvest intervals for whatever you're using. See the table below for pre-harvest intervals of several of the best materials, but MSU Extension bulletin E0154, "Michigan Fruit Management Guide," lists many other options.
Pre-harvest intervals (PHI) for insecticides controlling grape berry moth

Product

Mode

PHI

Altacor

Ingestion

14 days

Intrepid

Ingestion

30 days

Imidan

Contact

7 days for 1.33 pounds per acre rate, 14 days for all higher rates.

Sevin

Contact

7 days

Danitol

Contact

21 days
If you've been carefully monitoring for grape berry moth and seeing very little damage and very few in traps, you may be able to get by with a border spray of insecticide, but most of us will need to apply on the entire vineyard at this time.
The third generation has come relatively early this year. If we have warm weather going forward, we expect a partial fourth generation of grape berry moth to occur around 2,430 GDD47 after wild grape bloom. Continue to monitor GDD using the Grape Berry Moth model on MSU Enviroweather.
Other insects
Feeding damage from Japanese beetles is increasing in some vineyards. Scout for the skeletonized leaves and recognizable adults, who are breeding at this time. Spot-spray with contact materials if needed.
Spotted wing Drosophila (SWD) catch has continued to increase as well—we are catching more SWD right now than we ever have at this time of year. Monitor Niagara and wine grape vineyards for this pest. Grapes are not the preferred host for SWD, but if you have a high population, they can damage berries after veraison, which in turn attracts other harvest time pests.