Southwest Michigan grape scouting report - June 14, 2016
Dry weather bodes well for healthy vines and clusters during bloom; begin monitoring for summer insect pests.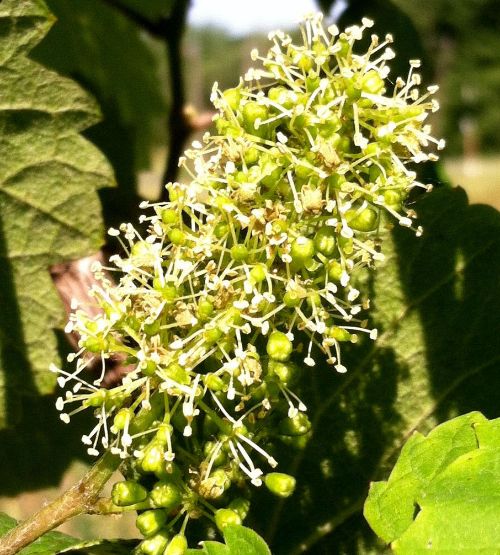 Weather and grape development
We are currently nearing the end of bloom in Concord, Niagara and some hybrid grapes. Some vinifera varieties are in full bloom (e.g. Riesling, Chardonnay), whereas others will begin shortly (e.g. Cabernet Franc). See table at end of article.
Diseases
Incidence of disease symptoms has thus far been very low, probably due to the dry weather. However, in some vineyards Phomopsis lesions are developing on stems. Lesions of black rot and downy mildew on leaves have been observed in some vineyards. No disease symptoms were seen on clusters.
Bloom is fully under way in many of the wine grape varieties this week, and bloom is finishing up in juice grapes. We are currently in the most critical disease control period for the fruit. If sunny conditions and relatively light rainfall continue, fungal disease pressure on fruit will be less this year compared to average. Blossoms and early-developing fruitlets should be covered, especially before rains.
Developing fruit post-bloom should stay covered for Phomopsis, black rot, powdery mildew, and downy mildew. For these sprays, we suggest using Strobilurins, pre-mix materials, an SI tank-mixed with an EDBC and/or a Phosphonate. Sensitive varieties will also benefit from a Botrytis spray after bloom - fungicide mixes in these varieties should include boscalid or cyprodinil.
Insects
Wild grape bloom dates were estimated to be May 28 for Berrien County and May 30 for Van Buren County. Growers and scouts should use these dates in the Enviro-weather grape berry moth model if actual measurements from their farms are not available.
Progress towards 810 GDD base 47.5 accumulation for the Enviro-weather grape berry moth model

Location

Wild grape bloom (approx.)

Jun 13

Jun 20 (projected)

May 28

299

470

May 30

322

502
Grape berry moth males were caught at all the farms we scouted in Van Buren County (12 to 136 moths per trap) and Berrien County (1 to 31 moths per trap). The peak of the first flight has passed, and we are starting to see grape berry moth larvae feeding in clusters (see photo below). The level of damage is still generally very low. Most growers should wait until 810 GDD47 since wild grape bloom to treat for the berry moth (see table above). However, those in vineyards with a history of high first generation pressure should scout for larvae in clusters. If more than 3-5 percent of clusters have larvae, a contact insecticide 10 days after bloom ends should be applied to control first generation feeding.
In some vineyards, grape tumid gallmakers are now feeding on leaves and clusters. Growers should keep an eye out for this pest as we have seen an increase in some vineyards over the past couple of years. The gallmakers tend not to cause sufficient damage to warrant treatment - however, growers with concern can use a systemic chemistry. Grape mealybugs have also increased in some wine grape vineyards, and growers with this insect should protect vinifera varieties from the associated grapevine leafroll virus. Spirotetramat (Movento) is currently the highest-rated treatment available for both of these pests.
Potato leafhopper and grape leafhopper were not seen in any of our sampling, and rose chafers are still very few. Growers and scouts should be monitoring for these pests and be ready to treat if necessary, particularly if they have had problems with these insects in previous years.
Growing degree-day (GDD) base 50 accumulations

Station

Jun 13

Jun 19 (projected)

751

879

847

982