Southwest Michigan grape scouting report – May 3, 2017
There's a risk of frost damage over the coming week. Low rates of flea beetle feeding have been detected, and phomopsis and powdery mildew protection is needed in susceptible varieties.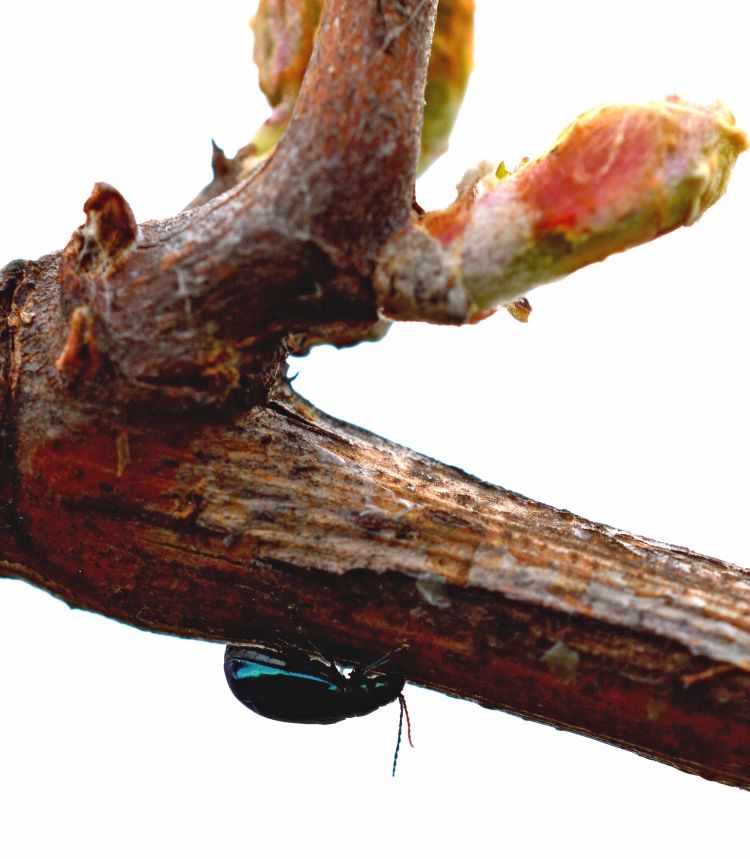 Weather
We are currently about a week ahead of 2016 in heat accumulation and vine development, but the next five days are predicted to be cool. Low temperatures could reach 32 or 33 degrees Fahrenheit in our area Sunday and Monday, May 7-8. There is a risk of shoot damage occurring during this cold period. Vineyards with frost protection measures should prepare to employ them.
Growing degree-day (GDD) accumulations
Enviroweather station
Current GDD50 (May 2)
Projected GDD50 (May 9)
Predicted low temp. next 5 days
Berrien Springs
258
266
33
Benton Harbor
331
339
33
Lawton
234
253
32
Crop development
Concord and Niagara buds have broken and they have 1- to 5-inch shoots, with clusters becoming visible in some location. Early-breaking varieties such as Marquette have also put on several inches of shoot growth. Later hybrids and vinifera range from bud swell to 1-inch shoot growth.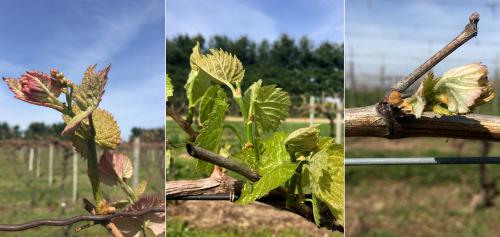 Fungal diseases
Rains over the weekend and Monday, May 1, were an infection period for phomopsis. Cool and shady conditions were also conditions for powdery mildew infection. Juice grape and hybrids should get an application EBDCs to protect from phomopsis and early black rot ahead of the next predicted rains.
The most important time to protect against phomopsis is when flower clusters become visible. Varieties susceptible to powdery mildew should also be treated for powdery mildew to prevent leaf infection. Options include SI materials, sulfur and others (see "2017 Michigan Fruit Management Guide," Michigan State University Extension bulletin E0154).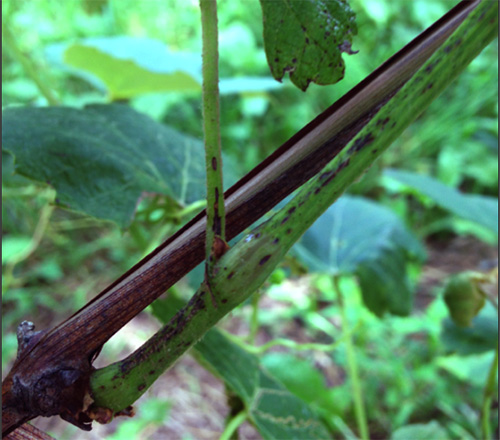 Insect pests
First-generation flight of grape berry moth has started early. We are seeing high trap catches in Van Buren County, with 11-78 moths per trap. Trap catches in Berrien County are still low at zero to two moths per trap). Treatment for grape berry moth at this time is not effective at reducing populations or preventing damage.
Brown marmorated stink bug adults were found at a vineyard in Lawton, Michigan. Flea beetle or cutworm damage was not found in Van Buren County, but less than 1 percent of shoots/buds were damaged in Berrien County. In varieties that have less than 2 inches of shoot growth, more than 2-5 percent of shoot or bud damage is the treatment threshold. Concord and Niagara have grown out of the stage where they can be injured by bud feeders.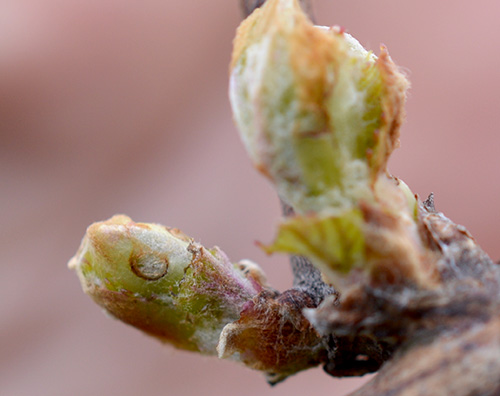 Thank you for reading the first vineyard scouting report of the season! We like being out in your vineyards to watch what's happening with the vines, and we wish everyone the best in bringing a high-quality crop to bear. We hope you find the information in our report useful, and we encourage all grape growers in the state or region to call or email us. We welcome feedback or ask questions at any time. You can contact Brad Baughman at baughm30@msu.edu or 269-927-5674, ext. 4012, or Keith Mason at masonk@msu.edu or 517-353-1397.