Soybean Management and Environmental Stewardship Field Day held July 10, 2018
Weed control plots in LibertyLink soybean will be showcased along with presentations on crop and pest management. Afternoon sessions on environmental protection will be led by local MAEAP staff.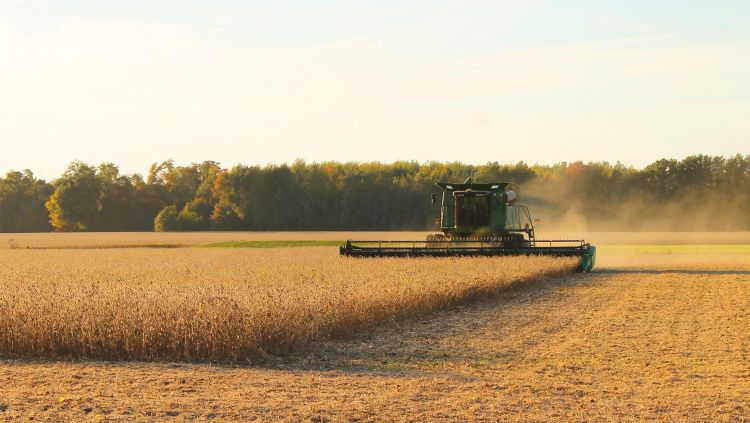 Pest management in soybeans can be challenging as any farmer knows. From controlling herbicide-resistant weeds to identifying and managing diseases and nematode pests, farmers need to have a well-stocked tool belt to grow a successful soybean crop in these times of tight margins.
Marestail in particular is prevalent in many fields that did not receive an application of an herbicide with residual activity this spring. Control in fields with conventional or Roundup-resistant soybean may be difficult if timely applications of effective herbicides are not made, especially if the marestail is glyphosate- and ALS-resistant. See Michigan State University's Christy Sprague's factsheet, "Herbicide-resistant horseweed (marestail) in Michigan: Keys to management in no-till soybean," for more information on controlling this challenging weed.

The Michigan Soybean Promotion Committee is sponsoring a Soybean Management and Environmental Stewardship Field Day in St. Joseph County on July 10, 2018, from 8:30 a.m. to 3 p.m. at the field plots located at the corner of Michigan Avenue and Silver Street in Three Rivers, Michigan (21949 Michigan Ave., Three Rivers, MI). The field day is hosted by the MSU Extension field crops team in southwest Michigan and Michigan Agriculture Environmental Assurance Program (MAEAP) staff.
Morning speakers will include MSU field crops pathology specialist Martin Chilvers addressing sudden death syndrome and white mold, among other diseases. MSU nematode specialist Marisol Quintanilla will address soybean cyst nematode and methods of managing it. MSU Extension educators Mike Staton, Bruce MacKellar and Eric Anderson will discuss crop management and weed control in soybeans.
Demonstration plots in LibertyLink soybeans showing the efficacy of various herbicide programs at different price points will be highlighted. Attendees will tour the weed control plots, and photos of two other fields in the demonstration—one LibertyLink and one Xtend—will also be shared. The morning will conclude with a free lunch.

The afternoon will be led by Mike Censke, the MAEAP technician for St. Joseph and Branch counties. MSU and Purdue Extension irrigation educator Lyndon Kelley will speak about irrigating soybeans and how to ensure environmental safety when irrigating and chemigating/fertigating. Additional speakers include Jay Korson with Michigan Department of Agriculture and Rural Development's Right to Farm Program, who will discuss Pesticide Utilization Generally Accepted Agricultural Management Practices (GAAMPs), and MAEAP Verifier Josh Appleby, who will be giving an introduction to the program.

The cost for the field day is FREE, but registration is required for space and meal planning. Please register online or call the St. Joseph County Extension office at 269-467-5511 by July 6.