SPDC students received first-place at MSU's 21st University Undergraduate Research and Arts Forum
Three students from SPDC received first-place awards in April at MSU's 21st University Undergraduate Research and Arts Forum.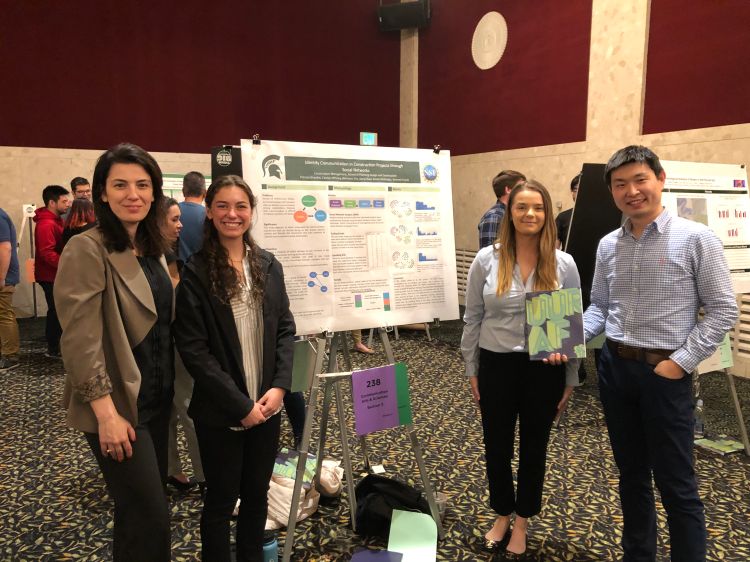 Three students from the School of Planning, Design and Construction, including senior Carolyn Whiting and junior Patty Girardot from the Construction Management program, and junior Rachel Rantanen from the Interior Design program, received first-place awards in April at Michigan State University's 21st University Undergraduate Research and Arts Forum.
This event brings together an intellectual community of highly motivated students to share their work with faculty, peers and external audiences.
The forum provides a unique educational opportunity for aspiring researchers. MSU undergraduates gain experience in presenting their research, answering questions about their work from audience members and guests, and receiving constructive feedback from judges.
Whiting and Girardot were mentored by Dong Zhao, PhD, Construction Management assistant professor, Sinem Mollaoglu, PhD, Construction Management associate professor and program director, and Kenneth Frank, PhD, Counseling, Educational Psychology and Special Education professor, for their poster project titled "Identifying Communications in Construction Projects through Social Networks."
This study attempts to better understand the connections that are formed during the Architecture, Engineering, and Construction project process, and to discover the connections that have potential to improve communication in the organization.
In order to do this, the students collected project meeting and email data from real-world projects and analyzed the data using social network analysis techniques.
"It was extremely fulfilling to see all the hard work that I put into the project pay off," Whiting said.
"Even if we hadn't won, it was a great opportunity to research and share with others what we had found."
This is the first research project that the Construction Management program has received an award for at the forum.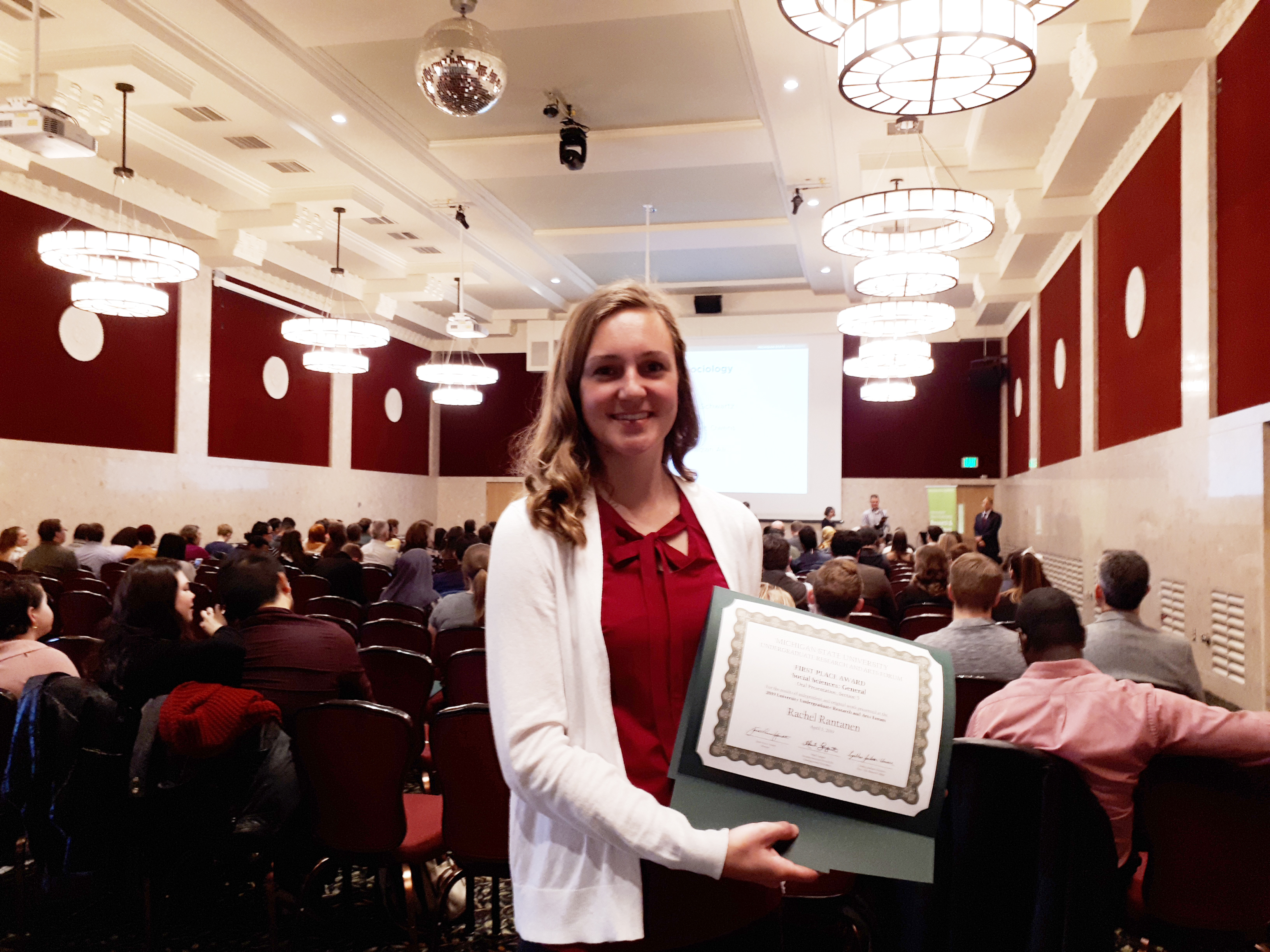 Rantanen was mentored by Suk-Kyung Kim, PhD, Interior Design associate professor and program director, for her project titled "Universal Design in Technology-Learning Environments on Campus: A Case Study Using Behavioral Maps and Observations." She presented her research during the event.
"I sat down with Dr. Kim and she listened to my passions and interests for accessibility, synthesized that with her research background and tools, and then helped me develop a plan for how I could conduct my research project," Rantanen said.
Her research addresses the problem of how technology is made accessible in computer labs at MSU, and focuses on elements of design that lack or contribute to the accessibility of on-campus computer labs. This observation-based research study was designed to collect behavior mapping data, field measurements and interview evidence.
"I totally did not expect to win first place at UURAF. When the email came in Friday after the event, my jaw actually dropped. This was a huge honor and really helped me to realize that this research on physical environments is just as practical and useful as the other great research that is conducted within the university," Rantanen said.
"Four years ago when I came to do a campus visit and was still undecided about where I would attend college, my mom and I walked up to the same floor in the Union where I presented for this conference," she said.
"As we walked into my presentation room for UURAF, we saw parents and their kids walking into the same room we did for that tour, and it reminded me about one of the biggest reasons I eventually chose MSU – the opportunity to be a researcher and get involved with faculty here."
Prior to the forum, Rantanen also presented at the MSU Accessible Learning Conference at the Kellogg Center last December.
"The audience there was much different, but that presentation really helped me prepare for UURAF. I learned how to make a big impact in a short time slot by utilizing creative and visually interesting slides for the audience, and providing the facts and concepts by preparing a script for what I wanted to say," she said.
Rantanen wasn't the only one who was unsure of what to expect before walking into the forum.
"Going into the event I was very intimidated, because of the amount of other students also presenting their work," Whiting said.
"However, as the event progressed, it became easier to talk to those coming up to view our poster, because they had an interest in hearing about what we had researched."
The forum presentations were organized by category and evaluated on delivery, comprehensibility, significance, elements, current status and visual aids.
"Being a part of the research that goes on at this university is such a special experience and has helped me develop skills for my future career in Interior Design," Rantanen said.
"I loved the presentation experience and I hope to be lucky enough to continue researching and presenting the work I'm very proud of and passionate about."
All three students said their mentors played a large role throughout the entire process.
"Dr. Zhao was extremely willing to meet and go over any of my concerns. His insights were helpful and allowed me to work through all of the problems, while also challenging me to see if I could find a more efficient way to accomplish something," Whiting said.
Girardot added that Zhao also showed them creative ways to display their information, and what their information could mean on a much larger scale.
"Dr. Kim helped me throughout the semester to refine the research tools, plan data collections, and develop with my presentation for UURAF," Rantanen said.
"She also connected me with her graduate student who helped me with resources and creating my research tools. Dr. Kim was a great source of assistance, know-how, support, accountability and encouragement throughout the whole process."