Special recognition for a lifelong contributor to international education
Anne Schneller's lifelong commitment to scholars and their programs in higher education has contributed greatly to the success of international study at Michigan State University.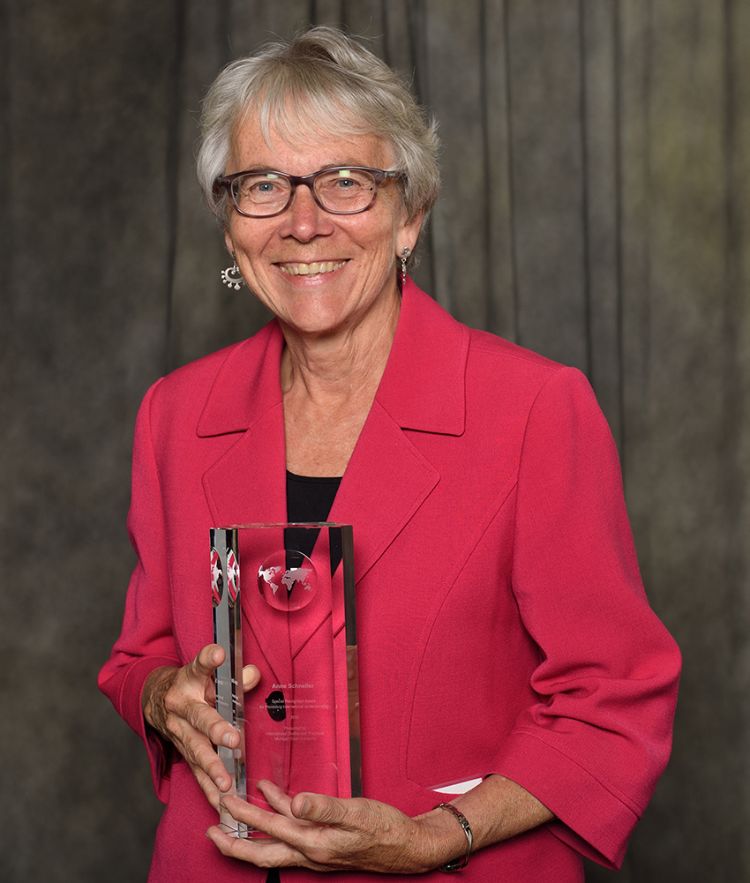 Anne Schneller's lifelong commitment to scholars and their programs in higher education has contributed greatly to the success of international study at Michigan State University.
Her work as an educational ambassador to Africa, Southeast Asia and the Middle East over the past three decades has contributed to MSU earning prestigious recognition (2005 Goldman Sachs Higher Education Prize for Excellence in International Education) and to advancing the work of international programs in the African Studies Center, the College of Education, International Studies and Programs and the Graduate School.
Building on her 14-year career working on educational projects in Zambia, Botswana, Zimbabwe, Kenya and South Africa, Anne has brought this experience to her positions at MSU. As noted by Jack Schwille – professor emeritus and former Assistant Dean for International Studies in Education at MSU – in his recent book, "Internationalizing a School of Education," Anne's leadership in the College of Education was critical in helping to establish a study abroad program in response to university President M. Peter McPherson's call to action.
"Anne knew how to write proposals, to help faculty get approval of new study abroad programs, recruit students effectively for these programs, advise faculty on all aspects of planning a study abroad experience," Schwille writes, "… and (because of her years of running programs in Southern Africa) prepare faculty to deal with all the problems that can arise on these trips."
Schwille goes on to write that "Anne's interventions in study abroad were especially critical at moments when faculty members were either unwilling or unable to do everything that was needed by way of preparation, thereby making possible programs were ultimately successful and to the credit of the faculty member and the college."
For these efforts and many others during her years of service to the university, Anne has been named recipient of the International Studies and Programs' 2016 Special Recognition Award for Promoting International Understanding – an award that is occasionally made to MSU faculty and staff who have contributed to internationalizing the campus and to MSU programs globally.
Anne's nominator, Dr. Fred Derksen, described her work as industrious, efficient, intelligent and well-connected. But perhaps more importantly, her work as a humanitarian has elevated her to a position of respect and admiration.
"One of Anne's most impressive characteristics is her interest in, and empathy for international students," Derksen wrote. "When traveling with Anne, I have personally observed former students, who currently make important contributions to the development of their home institutions and countries, express their gratitude for the support she has provided them during and after their graduate programs."
Derksen added that "in this manner, Anne brings understanding, empathy and a human dimension to her job that results in the best possible international student experience and success."
For the past three-plus years Anne has been co-director of the Borlaug Higher Education for Agricultural Research and Development (BHEARD) program, a $30 million USAID-funded human and institutional capacity development program. One of the goals of the BHEARD program is to enhance research capacity in 11 Feed the Future countries by training agricultural scientists and strengthening scientific institutions in developing countries.
Under Anne's leadership, the BHEARD program has grown from 23 Ph.D. and master's candidates from four countries in 2013 to approximately 170 scholars now studying at 22 U.S. universities and seven institutions in Africa. The project's budget has grown from $7 million in 2012 to $33 million in 2016.
"Anne's work epitomizes the collaborative approach that has made MSU unique," said BHEARD co-director Eric Crawford. "It's one thing to write a good proposal but quite another to implement a successful project. In that respect, Anne has been indispensable. Her extensive knowledge of international training programs, and experience abroad, helped us to see how to launch the program successfully."
This is not Anne's first award at MSU. In 2006 she was honored with an award for outstanding service to study abroad, and she received the MSU Outstanding Academic Specialist Award in 2005.
"MSU's commitment to international work has been a wonderful fit for me, as it has for many others," Anne said. "The international opportunities are limitless, and mentors and colleagues at all levels provide support and challenge. Keeping in touch with our international students after they graduate and return home is a particularly rewarding part of the work I've done."