Spring 4-H Paper Clover Campaign to launch March 27 at local Tractor Supply Company stores
Visit your local Tractor Supply Company (TSC) store March 27 – April 7, 2019 to purchase a paper 4-H clover for $1 at checkout and support 4-H in your community.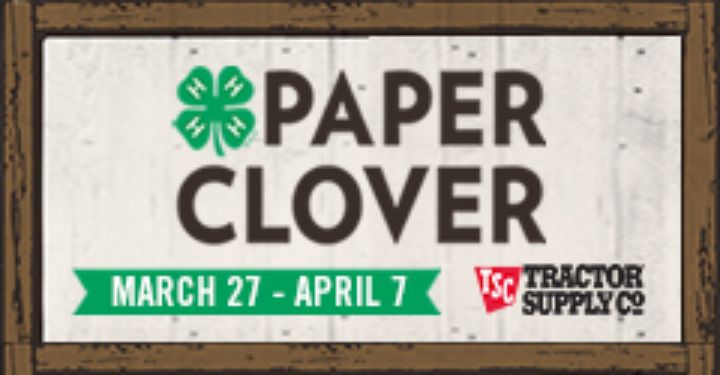 The spring 4-H Paper Clover Campaign begins March 27 at local Tractor Supply Company (TSC) stores. The $1 clovers will be available at checkout until April 7. Funds raised will provide scholarships for 4-H youth camp and leadership experiences.
"For many years, the Paper Clover fundraiser has allowed us to provide thousands of 4-H youth across the country greater access to 4-H programs," said Jennifer Sirangelo, president and CEO, National 4-H Council. "We are thrilled about our continued partnership with Tractor Supply Company as it drives the excitement of local community participation and support for 4-H programs, and therefore the success of the 4-H Paper Clover Campaign."
This national campaign has been held in the spring and fall of each year since 2010 at each of Tractor Supply Company's 1,750 stores. This close partnership between 4-H and TSC allowed Michigan 4-H to raise nearly $55,000 in the spring 2018 campaign – the most ever raised during a Paper Clover Campaign in Michigan.
"The Paper Clover fundraiser is a significant part of Tractor Supply Company's support of 4-H programs throughout the communities we serve," said Christi Korzekwa, vice president, marketing, TSC. "We are proud to be able to provide essential funding to more than 1,000 county 4-H programs. These programs make a positive impact on young people that last a lifetime. The continued success of the Tractor Supply Paper Clover fundraisers demonstrate the importance of our 4-H partnership with our customers, team members and communities."
All funds donated make it possible for more youth to experience 4-H's youth-led, hands-on programming. For every $1 clover purchased, 70 cents support county 4-H programs; 10 cents support 4-H workshops; 5 cents go to state 4-H programs; 5 cents to the Michigan 4-H Foundation and 10 cents to National 4-H Council for underwriting the cost of the program. To learn more about the campaign, visit http://www.tractorsupply.com/4-H.
Did you find this article useful?
---