Streamlining the zoning ordinance: Part 2
Zoning can be confusing and hard to understand. There are several zoning streamlining techniques to make zoning easier to understand and use.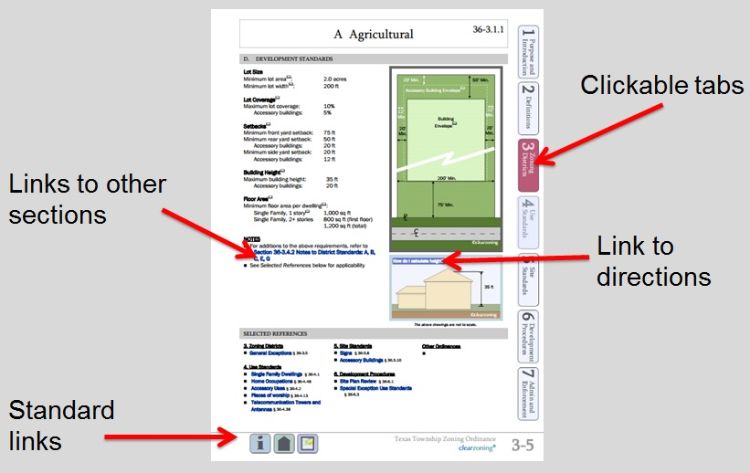 Writing a zoning ordinance or any legal document is hard. First, one wants to be very precise and cover all of the bases. But at the same time, there is a desire to make is easy to understand and to follow, and does not leave various open loopholes.
Accomplishing the first part (precise, covering all the bases, no loopholes) often results in what many people call "legalese." So the challenge is to accomplish writing zoning in an easy-to-understand format. This is the topic of a new training program offered by Michigan State University Extension. Contact your local land use educator to set up this training program in your part of the state.
Part one of this series focused on not over-simplifying ordinance wording too much; avoiding saying the same thing more than once (removing standards from definitions, removing duplicate standards and procedures, separating standards and procedures into separate sections); making sure legal citations are complete using the Michigan Compiled Laws (MCL) and use a descriptive title of the statute; use of lists and indentation to help guide the reader's eye; and presenting procedural steps in the ordinance in the same chronological order in which they should be done.
Part one of this series ended by indicating that there are many more hints and ways to make a zoning ordinance easier to use and understand. They are:
Do not copy standards from another community
Reorganize ordinance to create a more logical document
Revise standards to use clear concise language
Simplify confusing standards
Increase use of illustrations
Create summary tables of permitted uses and dimensional standards
Incorporate flow charts to visualize procedures (within the ordinance or as an additional handout)
Create a guide or chart handout describing how to use the ordinance
Use special formatting for words or phrases defined in definitions section
Use header, footers and tabs to identify chapter, page and version
Reformat the ordinance to provide larger fonts, more white space and greater use of color
Include clickable links on the zoning map to help users navigate to the appropriate zoning district regulations.
Subscribe to an online service such as Municode to house your ordinance
Link your community's GIS system to zoning information
Develop a customized online system that is intuitive and easy to use
Maybe most important hint is to make sure that the entire zoning ordinance is available on the Internet. That has become a basic expectation that simply should be a given. Also make sure the most recent version of the ordinance and zoning map is online – not an out-of-date version or something other than the "official" copy of the ordinance and map. The version on the web should be in a PDF format, not an editable word processor version. With PDF, one protects the integrity of the copy of the ordinance and allows making the online version of the ordinance searchable, with clickable text links within the document.
These techniques are presented and explained in the new Streamlining the Zoning Ordinance training program.
Other articles in this series: