Students honor Election Day with special cafeteria taste test
Students and staff give "presidential potion" local berry smoothie two thumbs up.
On Tuesday, Nov. 8, as millions of Americans were casting their ballots in the 2016 United States National Election, a small group of students in Michigan were casting ballots of their own. The students were not asked to elect a new president, however, but to voice their opinion about a new food.
At Platte River Elementary in Honor, MI, students participated in a special, election- themed taste test of "presidential potion" (a red, white, and blueberry smoothie). Hosted by Michigan State University Extension Foodcorps, the taste test was held in hopes to spur understanding in a younger generation of their right to vote as citizens of a democratic society. After trying the "potion," students were asked to quietly cast a ballot by inserting a piece of paper into one of three slots labeled "Tried it," "Liked it", or "Loved it."
The smoothie, made of Farm to Freezer blueberries and strawberries, bananas, plain yogurt, kale, and orange juice, won the popular vote. Of those who chose to participate, 162 students voted in favor of "presidential potion", the majority of which voting that they "Loved it" and only 11 students voting "Tried it". These results, much like the results of the National Election, were much to the surprise of many adults who thought kids would not even try a smoothie with kale in it.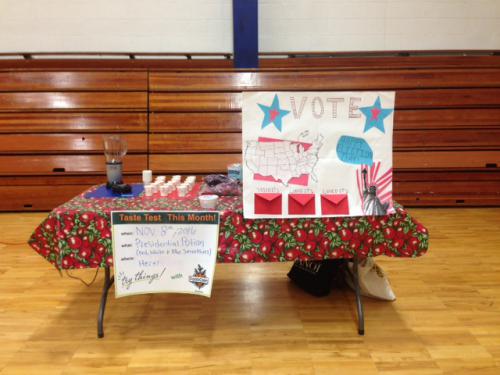 As students lined up to participate in the symbolic "election", the principal of Platte River Elementary, Steve Graetz, made an announcement that summed up a sentiment important for all American citizens to keep in mind: "It doesn't matter what you vote, or what your friends vote, what matters is that you do vote."
Julia Paige, the author of this article, is completing her service with Michigan State University Extension in Grand Traverse and Benzie counties. MSU Extension Grand Traverse County is one of six local service sites for FoodCorps in Michigan. Service sites are FoodCorps'community partners who are responsible for guiding service members as they make measureable differences in supporting school health. Foodcorps partners with school communities to create healthy school food enviornments with staying power by transforming students' experience of food in schools in three key areas: hands-on learning, healthy school meals, and schoolwide culture of health.