Sustainability minor students gain real-world perspectives
Students in the sustainable agriculture and food systems minor (SAFS) through the Department of Plant, Soil and Microbial Sciences gain real-world perspective in agriculture in a diverse classroom.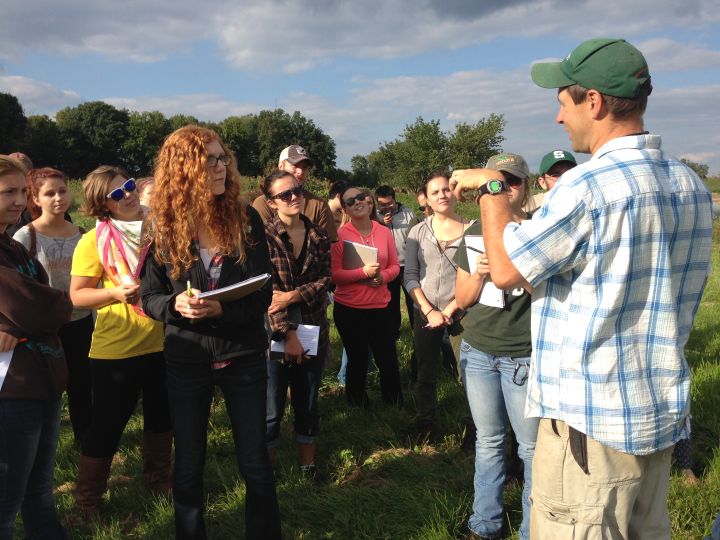 Students in the sustainable agriculture and food systems minor (SAFS) through the Department of Plant, Soil and Microbial Sciences gain real-world perspective in agriculture in a diverse classroom.
The program requires three courses, an Introduction to SAFS topics (CSS 124), a field studies course (CSS 224), and a project-driven capstone course (CSS 424). Three additional electives help students tailor the program to their area of interest.
"We aim to create lifelong learners in sustainable agriculture and food systems," Julie Cotton, program coordinator, said. "We don't say sustainable is organic or sustainable is conventional. We say, 'Here's how farmers are farming. What do you think about that?'"
The program aims to give students tools that help them evaluate different measures of sustainability, understanding there are trade-offs and challenges that must be considered.
Discussion-infused classes allow for students to create an understanding of sustainable agriculture perspectives. From students who grew up on large-scale farms to students from urban areas with no experience in raising food, students exchange ideas about current agriculture and food system issues. With about 80 students in the program and smaller class sizes, the intimate classes allow for students to have illuminating discussions.
The goal of the introductory course is to introduce students to a view of agriculture that expands across multiple contexts including biological, economical, social, and ecological. From introductory soil science to international exchange, students learn all aspects of sustainability.
"We rarely are just talking about agronomy or social sciences," Cotton said. "We interweave all of that throughout so that students get a cohesive view of what agriculture looks like."
The minor welcomes students from all majors and colleges—currently the minor has students from 20 different majors.Topics in SAFS classes can be controversial, which allows students from different social, cultural, and economic backgrounds a chance to discuss and listen to others' viewpoints.
"Its nice to have all of those voices present," Cotton said. "We have students that have had their hands in soil ever since they can remember, and we have students that are new to learning about food production."
Recent graduate Nicole Pinage shared her experience growing up on a large scale farm to students who grew up on a small farm, and vice versa. This exchange helped to create an interesting dialogue, Pinage said.
Students are also required to take a field course to better understand current agriculture. The class of less than 20 students visits eight farms, diverse in scale and management choices, and several food system businesses such as distributors in weekend field trips.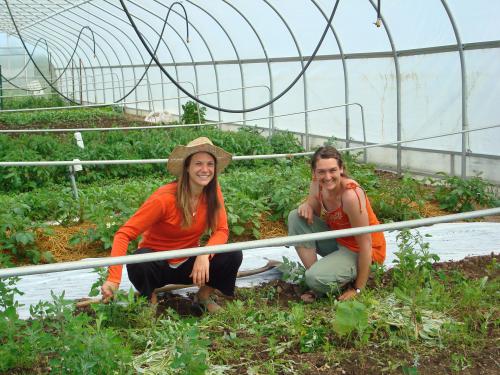 "It was great to get first-hand experience rather than just learn in a classroom," Kairsten Nitsch, 2016 graduate, said.
For sophomore Tatum Kenrick, environmental plant biology and environmental studies dual major, the sustainability minor has offered her a chance to work towards her dream job at an urban farm.
"The most important thing I took away was the idea that until people are willing to work together and make some personal sacrifices, it will be nearly impossible to ensure a sustainable future," Kenrick said.
Kenrick's advice to students thinking about adding the sustainability minor is to reach out to classmates and to make friends in the minor.
"Having people that share your passions and want to discuss the things you're interested in makes all the difference," Kenrick said.
Many students in the minor have found success post-college because of their experience in the minor. For the 2016 graduate, Pinage, it was her capstone experience class that got her a job at a consulting firm.
With her senior project, her group took research on grass-fed range management practices and created a technology tool for farmers to improve their management decision-making ability.
The idea behind the capstone course was to create a program where students could gain hands-on experience in sustainable agriculture and food systems to build confidence and demonstrate their skills to future employers.
The skill sets learned in the minor develops graduates who are able to adapt to a constantly changing world, Cotton said.
"The concept of 'dynamic equilibrium' is used throughout our program - that we need balance in the economic, social and environmental aspects of individual farms, systems, and the larger needs of the planet and population," Cotton said.
Did you find this article useful?
---