The "perfect invader" strikes a favorite Michigan trout stream
The Pere Marquette River is now home to the New Zealand mudsnail - an invader that can live on damp surfaces for nearly a month, clone itself, and even pass through fish and bird guts unharmed.
September 8, 2015 - Author: Dan O'Keefe, Michigan State University Extension, Michigan Sea Grant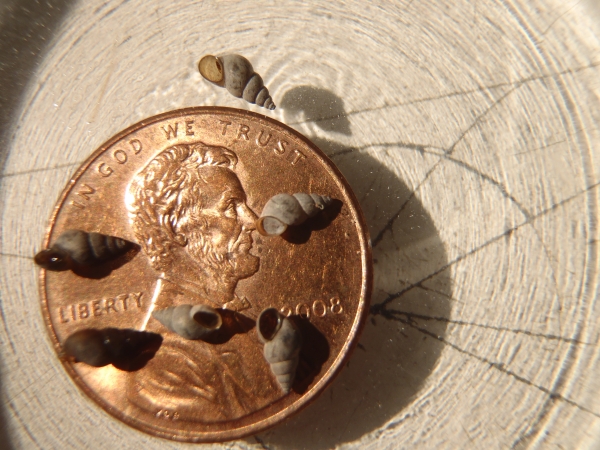 While the threat of high-flying Asian carp may be more obvious, a quarter-inch snail is poised to invade Michigan's best trout waters. The New Zealand mudsnail has already invaded rivers of the western U.S., reaching densities of up to 27,800 per square foot.
The mudsnail was first found in Lake Michigan in 2007, and ballast water introductions were a likely cause of the introduction and spread of snails around the Great Lakes. In August 2015, the New Zealand mudsnail was found in a Great Lakes tributary stream for the first time by Sarah LeSage with Michigan Department of Environmental Quality. This time it did not hitch a ride in a ballast tank.
The "flies-only" water of the Pere Marquette River downstream from Baldwin is a favorite destination for brown trout, Chinook salmon, and steelhead anglers and provides year-round opportunities for fantastic fishing. Thanks to excellent public access, walking trails, and wadable gravel shoals most anglers wade while fishing. Unfortunately, the New Zealand mudsnail can hitchhike on waders, wading boots, or gravel guards as easily as ballast water.
Prevent the spread
Michigan boaters are now required to remove plant material and drain water from bilges and livewells. Whether boating or wading, anglers should inspect all gear (including waders) and remove visible snails, mussels, and even the mud and sand that might harbor microscopic invaders or immature snails. According to Michigan State University Extension, all gear should also be dried for at least five days before moving to another body of water. The New Zealand mudsnail can survive 24 hours in dry conditions and several weeks in damp conditions.
Take precautions even if you can't dry
Washing gear with high-pressure and/or hot water is a good alternative to drying if you plan to fish again soon. A spray bottle with a dilute bleach solution (1:10 ratio) has also been used to disinfect gear before rinsing and reusing. During the fall salmon run, anglers often hop from river to river over the course of a single day or weekend. Wader wash stations may be coming soon to the Pere Marquette and coin-operated car washes are a good option if you are far from home.
In remote areas, even car washes can be hard to find. Consider bringing a second pair of waders or wading boots if you will be fishing two remote rivers over the course of a day. It may seem like a hassle, but prevention is the best option for dealing with invasive species and our most pristine and popular rivers are at stake.
Report new sightings
Report any new sightings to Michigan DEQ or DNR at www.michigan.gov/aquaticinvasives or the Midwest Invasive Species Information Network at www.misin.msu.edu.
What is the risk?
The New Zealand mudsnail may well be the perfect invader. Only one individual is needed to colonize a new environment because they are parthenogenic, or self-cloning. They wreak havoc on clean rivers, but they also tolerate polluted conditions and a wide range of temperatures. They can even spread from place to place in the guts of fish and birds. Once in a new environment, they consume algae growth (peripyhton) that would normally be eaten by the aquatic insects that feed trout and young salmon before they move out the Great Lakes.
Not much is known about exactly how New Zealand mudsnail will affect Great Lakes rivers. Mudsnails have been in the Madison River and other waters of Yellowstone National Park for over two decades. Although one study found that low numbers of native aquatic insects were associated with high densities of New Zealand mudsnail, later experiments found no effect of moderate snail density on growth and diet of brown trout.
While science does not yet have the perfect answer regarding the effects of this invader, we have learned enough from past invasions to know that prevention is job number one.
Michigan Sea Grant helps to foster economic growth and protect Michigan's coastal, Great Lakes resources through education, research and outreach. A collaborative effort of the University of Michigan and Michigan State University, Michigan Sea Grant is part of the NOAA-National Sea Grant network of 33 university-based programs.
---