The Pest and the Quest for an Aromatic, Smooth-Tasting Cup of Brew
Joseph Bigirimana, a Rwandan, is conducting research in his home country in order to improve techniques to manage the Antestia bug and to identify the factors that are responsible for potato taste defect in coffee.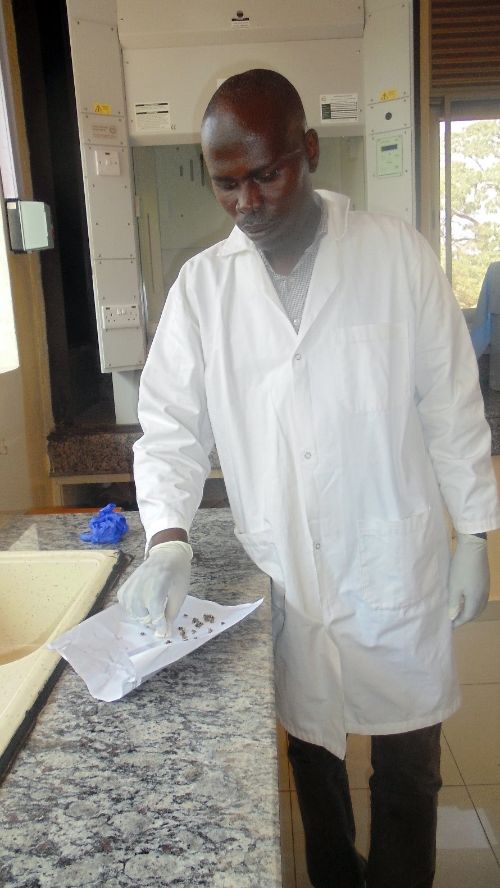 BHEARD scholar Joseph Bigirimana (pictured at right) began his investigation into the causes of potato taste defect in African coffee beans when he won a competitive grant worth $20,000 in 2014. His story was recently featured on the MSU College of Agriculture and Natural Resources website.
The U.S. nonprofit the Global Knowledge Initiative, together with the Alliance for Coffee Excellence and some of its members, created the Potato Taste Challenge Prize to support research into innovative technologies to prevent, detect or cure potato-taste defect -- a foul-smelling aroma that typically can be detected in beans after brewing.
The cause of the smell can be traced to the Antestia bug, a pest that negatively affects up to 40 percent of yields in the African Great Lakes regions of Burundi, Rwanda and the Democratic Republic of Congo. The presence of this insect and its effect on the product has created challenges for both exporters and buyers when measuring coffee quality.
Bigirimana's research two years ago produced two major findings:
First, the use of organic pesticides more effectively eliminated the antestia bug than conventional pesticides. The antestia bug is a pest that can negatively affect up to 40 percent of yields in the African Great Lakes regions of Burundi, Rwanda and the Democratic Republic of Congo. If replicable, this finding has implications for investments in insecticides across the Great Lakes. Pyrethrum-based insecticides, which are locally produced and organic, may in fact be more effective than the toxic insecticides currently imported to Rwanda.
Second, this study found that treating coffee with pyrethroid insecticides reduced PTD relative to traditional insecticides and that insecticides of either type reduced PTD better than the control (plots not treated with pesticides).
Because coffee is among Rwanda's most prominent export commodities, it generates more than 30 percent of the country's total annual value of agricultural exports. It is an important source of direct cash income for about 350,000 households, and provides employment for thousands of Rwandan workers.
Bigirimana, a Rwandan studying for his Ph.D. in entomology at Michigan State University, now is conducting research in his home country in order to develop and improve techniques to manage antestia and to identify the factors that are responsible for the occurrence of PTD in coffee.
"Our research is taking place at four different sites in Rwanda: Kirehe, Gakenke, Rutsiro and Huye," said Bigirimana. "This is a three-year project being coordinated by Feed the Future's Africa Great Lakes Region Coffee Support program.
"We are looking for options or a combination of practices through an integrated pest management approach to reduce the pest population to a level where it doesn't cause economic loss for the farmers. Effective interventions should last for at least one season. To me, that would be considered sustainable management."
Bigirimana is working under the guidance of Dr. Larry Gut, an extension specialist in tree fruit entomology. Another member of his guidance committee is Dr. Dan Clay, whose decades of work on coffee in Rwanda have resulted in several major partnerships to enhance coffee production in Rwanda and neighboring Burundi.
One of those key partnerships that created the specialty coffee industry was PEARL—Partnership to Enhance Agriculture in Rwanda through Linkages. The outcome of this work is the dramatic increase in the value of Rwandan farmers' harvest and substantial increase in profits by upgrading harvesting and processing methods to the higher standards of specialty coffee. In partnership with Michigan's Paramount Coffee company and Rwandan coffee-growing cooperatives, the success of the project has expanded into other areas to increase farmers' income, such as goat-rearing.