Thirsty for research
Malting barley research in Michigan goes from field to glass.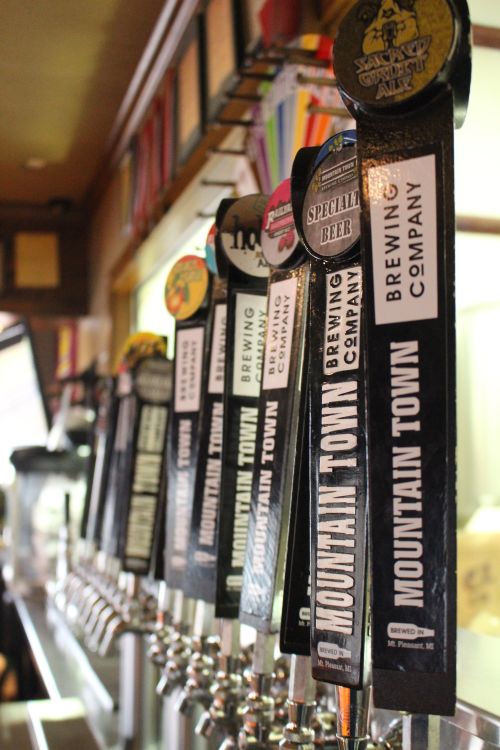 Research efforts led by Michigan State University (MSU) will soon be featured on tap at Mount Pleasant's Mountain Town Brewing Co. Malting barley grown in a variety trial in Isabella County in 2014 was recently malted by the Michigan native Pilot Malt House and destined for a Spartan themed brew. Researchers looking into malting barley production in Michigan over the last few years have always wanted to see some of that work go all the way from field to glass. MSU research has demonstrated that barley can be grown in Michigan, but the real question is; does it make good beer? Scott Graham, from the Michigan Brewers Guild shared, "although local, in-state sourcing of ingredients for the craft beer industry is in high demand, it doesn't matter how local it is. If the quality isn't there, breweries won't use it."
MSU research on malting barley has instilled confidence in farmers throughout the state to try their hand at growing malting barley, which was once widely cultivated across the state. Even if growers had wanted to grow malting barley, it would have been very difficult to sell because of a dearth of malting facilities. With an increasing number of in-state processors, like Pilot Malt House, that convert barley to malt, Michigan barley growers now have a market for their crop. Ryan Hamilton, Pilot's lead Maltster shared, "…MSU is instrumental to the success of Michigan's malting industry and we've always admired Mountain Town Brewing's commitment to sourcing quality local ingredients. We have been looking forward to this collaboration for a long time and we're honored to be a part of it!"
In mid-November, this collaboration consisted of a farmer, a maltster, a brewer, and myself, the research coordinator at the Upper Peninsula Research and Extension Center (UPREC), the epicenter of malting barley research in Michigan. The task at hand: develop a golden ale made with 100 percent Michigan malting barley – celebrating the rebirth of Michigan barley production. Kim Kowalski, the brewmaster involved in the project, decided to showcase the barley flavor by only adding a small amount of Michigan hops, so as to not mask any of the flavor aspects from the barley. "This brew will be a malt forward golden ale, lightly hopped so to accentuate the flavors this barley has to offer," Kim explained. It was my first time witnessing grain being transformed to wort, and I was overwhelmed with a new vocabulary of brewing terms. Kim toasted the day off with what he called brewer's breakfast – some dark wort from their popular Crazy Train Black I.P. A., which at first sight, could have easily been confused with coffee.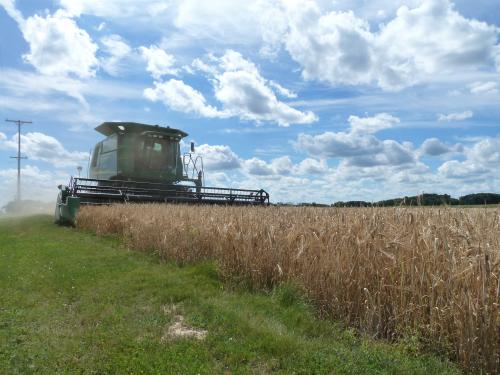 Much wisdom was shared throughout the day over a pint…or two…on the evolution of local procurement of ingredients for craft beer in Mountain Town's Tap Room. Ryan Hamilton, Pilot's lead maltster, has been instrumental in moving Michigan's largest malt house forward, not only in terms of volume, but also in quality. While a handful of new malthouses are just starting-up in the state, Pilot has a few years under their belt, which is why they were chosen for this collaboration. I enjoyed discussing matters on the "nerdier" side of beer production, and was very excited to hear the quality of barley brought in by farmers in 2015 was much higher than 2014. This is can likely be attributed to the weather, but also because farmers are becoming better informed on what management practices are required to produce a high quality grain.
When I left Mountain Town that day, the yet to be named brew was sitting pretty comfortable on the production floor, beginning the conditioning process. It was quite rewarding to know that Michigan State University had a role in bringing malting barley back to the state, and even more exciting to know that now there was something that could be enjoyed while celebrating the fruits of our labor. It takes a village to produce a high quality, all-Michigan craft beer, and this collaboration was a fine example of all the right people and ingredients coming together.
The barley-focused ale, since named the Barnstormer, will be tapped for the first time on Friday, Dec. 11 at the Mountain Town Brewing Company tap room in Mt. Pleasant. Special thanks to Scott Graham and the Michigan Brewers Guild for their support of Michigan malted barley. If you are interested in learning more about malting barley research at MSU, feel free to reach out to me at 906-439-5176 or ashleymc@anr.msu.edu. I am the Coordinator of the Michigan State University Upper Peninsula Research and Extension Center in Chatham, Michigan and a Community Food System educator with Michigan State University Extension.