Tiedje elected Foreign Member of Chinese Academy of Sciences
James Tiedje, a University Distinguished Professor Emeritus at MSU, has been elected a Foreign Member of the Chinese Academy of Sciences.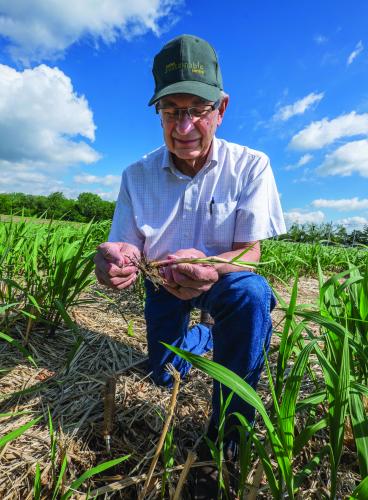 EAST LANSING, Mich. — James Tiedje, a University Distinguished Professor Emeritus in the Michigan State University Departments of Plant, Soil and Microbial Sciences, and Microbiology and Molecular Genetics, has been elected a Foreign Member of the Chinese Academy of Sciences.
The honor is among the highest that China awards to citizens of foreign countries, with only 25 Foreign Members elected annually.
Tiedje, who is the founding director of the MSU Center for Microbial Ecology, is a leading expert in the fields of microbial ecology and antimicrobial resistance. His nominators cited his pioneering work, particularly in developing molecular and genomics tools to understand the impacts of anthropogenic activity on environmental micorbiomes. He is also instrumental in promoting international collaboration in microbial ecology between China and the rest of the world.
"Microbes play huge roles on our planet — cycling nutrients, cleaning our water, changing our atmosphere, and contributing to our health — but some also cause disease," said Tiedje, whose work has also been supported by MSU AgBioResearch. "Understanding and managing these microbial roles require global efforts, which I have done with scientists on all continents, including China. It's a great honor that the Chinese have recognized the importance of this science and my research group's contribution to it."
Throughout his illustrious career that spans five decades, Tiedje has revolutionized microbial community analyses. His work in genomics has paved the way for a greater understanding of the structure and function of these communities. Additionally, his research has helped uncover the role of microbes in the biodegradation of environmental pollutants.
Tiedje has received numerous awards and recognition for his research and teaching. He served as president of both the American Society of Microbiology and the International Society for Microbial Ecology, and was elected to the U.S. National Academy of Sciences in 2003. Tiedje was named a University Distinguished Professor at MSU in 1992 for his national and international achievements.
"Jim is one of the most outstanding scientists ever at MSU, and this is another fitting tribute to his work and impact," said Doug Buhler, assistant vice president of research and innovation at MSU. "In addition, he has been a good citizen of the university, a great mentor and a role model for students and colleagues around the world."
Tiedje joined the MSU faculty in 1968. He officially retired in 2019 but remains active in research.
He earned a bachelor's degree from Iowa State University, and master's and doctoral degrees from Cornell University.