Time to require training and certification of your zoning administrator
Zoning has become more complex. The zoning administrator, responsible for the day-to-day operation of a zoning ordinance, should have a higher degree of skill and training. This article suggests ways to accomplish that.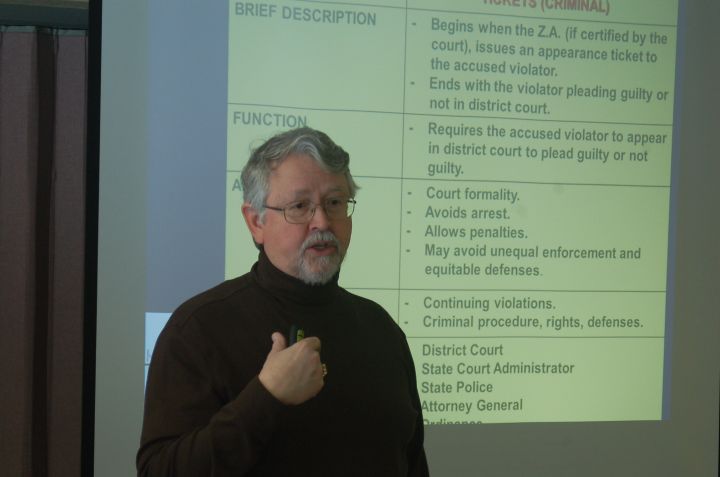 The zoning administrators might be among the most important local officials. They are the front line for new development in a community. How well they do their job has a great effect on the future of their community. However, unlike building inspectors who must pass state exams and take continuing education classes in order to practice, there is no law requiring training for Zoning Administrators.
But there is a Zoning Administrator Certification Program offered by Michigan State University Extension in partnership with the MSU Land Policy Institute every winter/early spring. There are now hundreds of certified zoning administrators working in Michigan. The goal of offering this training is to raise the bar for professionalism and knowledge of the job.
The rigorous training requires a substantial time commitment (24 hours of instruction), which includes completion of eight modules leading to a certificate for those that pass an exam associated with each module. Before one can take the training, they need to have completed the Michigan Citizen Planner, either classroom-based or online, or be AICP (American Institute of Certified Planners)-certified and successfully pass a multiple-choice examination.
Frequently, employment ads for zoning administrator positions include a phrase like "MSU zoning administrator certification required" or "MSU zoning administrator certification preferred." It is a reflection of the importance of training in planning and zoning as an effective risk management strategy, and Michigan training recommendations.
The program also provides techniques for doing zoning administration in ways that reduce legal risks to the Zoning Administrator and their community. Module topics include:
Job Description, Responsibilities and Basic Ethics
Legal Issues
Reviewing Applications: Common Procedures and Use of Forms
Reviewing Plot Plans and Site Plans
Inspections and Violations
Preparing Files, Reports and Record Keeping
Interactions with other Professionals and Agencies, and Departmental Duties
Customer Service and Counter Behavior
Some governments have set up a clever means to attract certified zoning administrators, or bring new-hires up to that level. First, a newly-hired zoning administrator is expected to become certified within the first year of employment (if the certification was not already achieved).
Also, communities have set up the following system for new hires to pay for the certification training so it is relatively cost-neutral for the local government. The training is estimated to cost about $1,000 (registration fees, motel, travel costs combined)
First, the communities decided on, or used a previously established annual salary for their zoning administrator. For this composite example (and to keep math simple), let's say it is a smaller township with a part-time zoning administrator. So the salary is $10,000 a year.
If someone is hired who already has zoning administrator certification, they are paid the full $10,000 (like seen in the second year budget, below). If someone is hired who does not have the certification, then they are paid less. In the example here, they are paid $1,000 less per year. So the first year budget shows a $9,000 salary.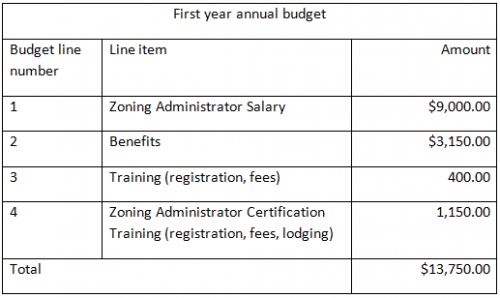 The same two-tear pay scale for those who have and do not have certification and the difference equaling the cost of getting the certification training can also work with larger communities and full time zoning administrators.
The expectation is the new hire will attend and obtain the certification. The savings from the lower salary is put toward that training cost. If the certification is not obtained, the salary is not increased. At the start of the second year, if the certification is obtained, the salary is increased to the original rate of $10,000 per year. So the second year annual budget for the position is: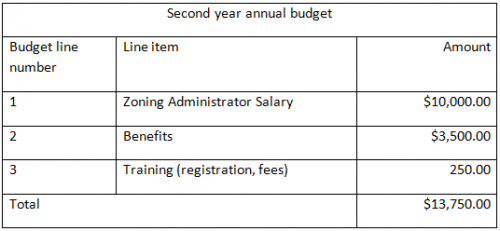 Sign up for MSU Extension digests (select the "planning" email list) for announcements for the coming winter/early spring offerings of zoning administrator certification trainings.
---