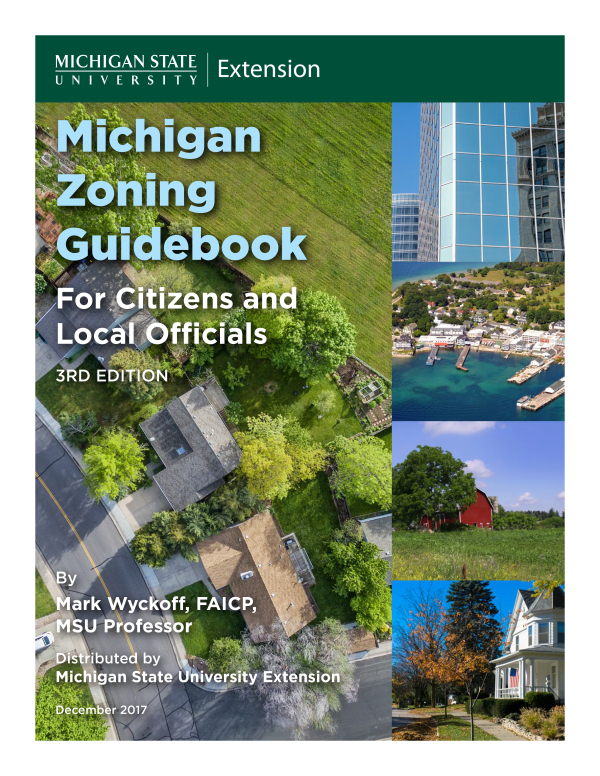 Michigan Zoning Guidebook: For Citizens and Local Officials, 3rd Edition
December 1, 2017 - Author: Mark A. Wyckoff, FAICP, Professor Emeritus, Michigan State University
The Michigan Zoning Guidebook (updated December 2017) is a general overview of zoning in Michigan covering basic zoning activities, the three zoning functions, roles and responsibilities of different boards and officials, procedural elements, special land uses, planned unit developments, site plans, amending and adopting zoning, enforcement, open space zoning, purchase of development rights, and more. It is written to reflect the requirements of the Michigan Zoning Enabling Act, Public Act 110 of 2006, as amended through 2017. 86 pages.
Both the Michigan Zoning Guidebook and the Michigan Planning Guidebook can be ordered by completing the Guidebook Order Form. Cost is $25 per book, plus tax, shipping included.
Questions on the Guidebooks or Ordering Information?
Janean Danca, Citizen Planner Program Coordinator
Michigan State University Extension - Van Buren County
801 Hazen St., Suite D
Paw Paw, MI 49079
Phone: 269-657-8213
cplanner@msu.edu
---