Training for innovative online tools for conservation planning
A look at what is to come for agricultural professionals using new online tools for conservation planning and implementation.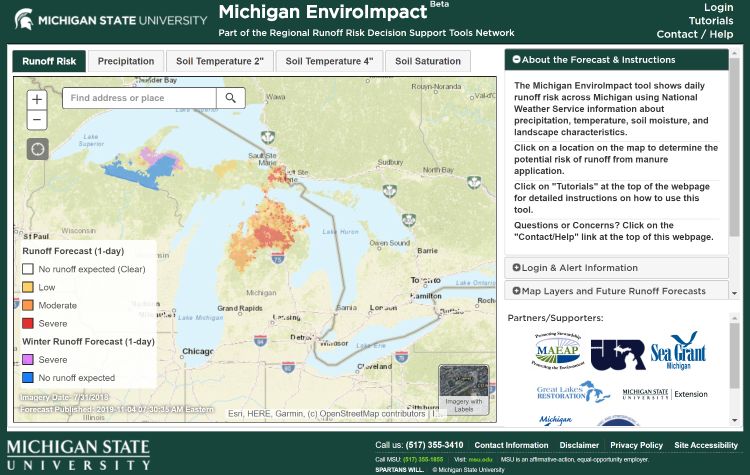 Erica Rogers and Sarah Fronczak, Environmental Educators with Michigan State University Extension have been selected to receive a grant from the North Central Region Sustainable Agriculture Research and Education Program (NCR-SARE) for the project, "Training Agricultural Professionals on Innovative Online Tools for Conservation Planning and Implementation."
The program focuses on providing outreach and training for agricultural professionals on three online tools that contribute to stewardship of Michigan's land and water resources and enhancing quality of life for producers. A suite of support tools that facilitate conservation planning and implementation activities:
The Sensitive Areas Identification System (SAIS),
Michigan EnviroImpact, and
Computer-Assisted Nutrient Management Planning Program (CANMaPP)
These tools help farmers identify resource concerns on their farms, prioritize specific conservation treatments, plan for nutrient applications using real-time weather data, and keep better records of nutrient applications.
The team will be rolling out 4 trainings across Michigan in 2020. Video trainings will also be recorded for availability online. Keep a look out for more information at: https://www.canr.msu.edu/outreach/events .
The project has been named as the 2019 Paula Ford Professional Development Program Proposal of the Year. This grant was awarded as part of NCR-SARE's Professional Development Program, which emphasizes training agricultural educators in extension, the Natural Resources Conservation Service, private, and not-for-profit sectors, using farmers as educators and addressing emerging issues in the farm community. NCR-SARE's Administrative Council (AC) members decide which projects will receive SARE funds. A collection of farm and non-farm citizens, the AC includes a diverse mix of agricultural stakeholders in the region. Council members hail from regional farms and ranches, the Cooperative Extension Service, universities, federal agencies, and nonprofit organizations.