Tropicals heat up summer gardens
Who would have ever thought that Michigan summers could rival the tropics?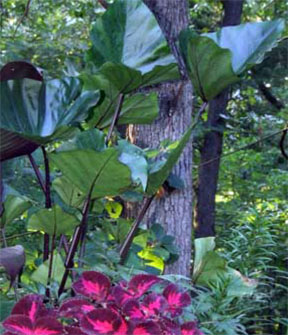 Who would have ever thought that Michigan summers could rival the tropics? Steamy summers bring out the best from tropical plants gracing containers or your garden beds. One of my favorites is the Colocasia or Elephant Ear family. This group of plants grows from a potato-sized tuber, which gives rise to elephant-sized leaves in variety of colors. Several that have been striking this year are the dark forms known under the names 'Black Magic' or 'Coffee Cups.' These plants love moisture, so they can also be planted in a container and completely submerged in a pond or above-ground water feature.
Going bananas!
Bananas are another tropical plant that has benefitted from sultry summer weather. With temperatures soaring into the 90s and humidity to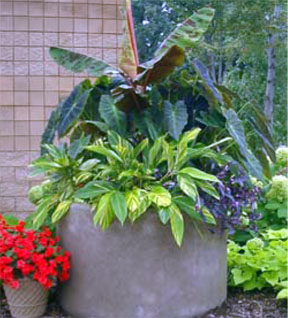 rival any Gulf state, these plants just jump out of their pots. Musa, the Latin name for banana or plantain comes in traditional green but also in beautifully variegated forms with tinges of purple. For the most part, these plants must be shielded from strong winds and they follow their pattern in the natural environment of shedding lower leaves, so be prepared to groom occasionally. Musa is a plant that forms a colony and once plants gain enough maturity, they will fruit. At the MSU Extension office, we have had two plain green bananas for about seven years, being rotated inside in winter and out again in the summer. Each plant has had at least two crops of bananas, which ripen beautifully and are eaten by eager staffers.
Either way, these large leaved tropical perennials, need to be over-wintered indoors or treated as annuals. I usually get the plants out and begin growing them indoors by mid-March when sunlight levels begi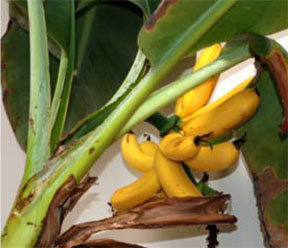 n to increase in Michigan. TheColocasia tend to just sit there in the pot until the soil temperatures are warm enough to replicate tropical growing conditions. My first year with one of these beauties found me lifting it out of the ground every two weeks, thinking it was dead. Nope. It was just waiting until July. Then look out!
If you are wondering how to incorporate leafy tropical plants into your home garden, pay a visit to your local garden retailer, botanic garden or come to the MSU Extension Grand Ideas Garden located at 775 Ball Ave. NE, Grand Rapids, Michigan.