Twelve ways Danish garden centers enhance their consumer's experience
Creating an enjoyable environment and experience will keep customers coming back.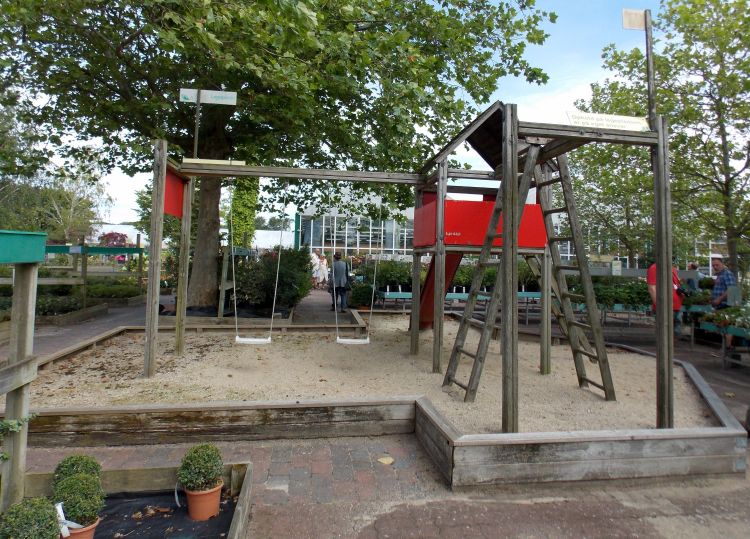 Garden center retailers are always looking for ways to enhance their consumer's experience when shopping at their stores. After all, garden center retailers are not only in competition with those around them, but with other businesses where consumers are spending their discretionary income, like restaurants, coffee shops and movie theaters, to name a few. Therefore, Michigan State University Extension recommends plant retailers diversify their businesses and really aim to enhance their consumer's experience. Where should your consumer go for a cappuccino or an ice cream and enjoy their shopping? Your garden center!
Recently, at the International Garden Center Congress in Denmark, Danish retailers showcased a few of their ways to enhance their consumer's experience.
1. Playgrounds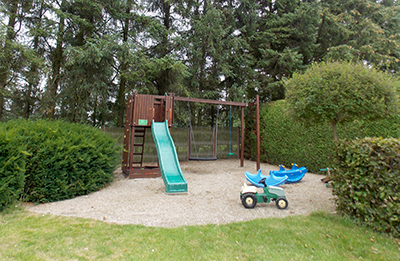 Many of the Danish retailers had playgrounds at their garden centers. Whether they were off to the side of the sales floor or if they were right in the middle of it, keeping the children occupied while their parents shopped was important to them.
2. Pet departments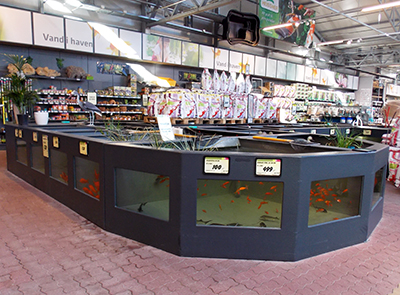 Numerous Danish garden centers had pet departments. While some of the garden centers had a parakeet and a few fish, others had a more extensive selection, such as reptiles, Guinea pigs, rabbits, birds and salt and fresh-water fish. Pet store and aquatic sales accounted for 2-29 percent of the total annual sales at the Danish garden centers we visited.
3. Ice cream
Most Danish garden centers had ice cream available to purchase at their stores. What customer doesn't enjoy a sweet treat? I can tell you that someone was always eating an ice cream cone on the tour of the garden centers.
4. Map of store departments on shopping carts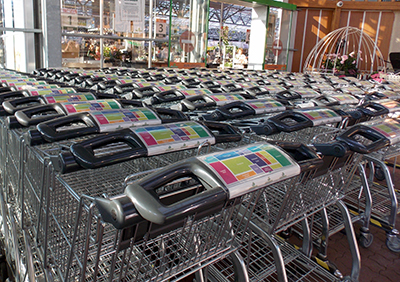 Plantorama Hillerød is the largest garden center in Denmark. To help guide consumers in their 2.5 acre sales area, they provided a garden center map of their departments on their shopping carts.
5. Bells to ring for service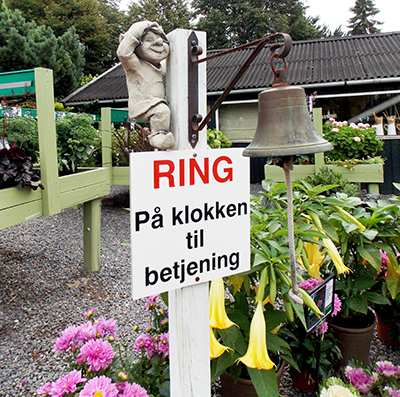 At least two of the garden centers on the International Garden Center Congress tour had bells to ring for service. The attendees of the Congress were split on this idea, as many of them would prefer to have a larger staff ensuring a customer-staff interaction. Other attendees agreed this was a cute way for a customer to request service without having to seek out a staff member.
6. Benches for demonstration and enjoyment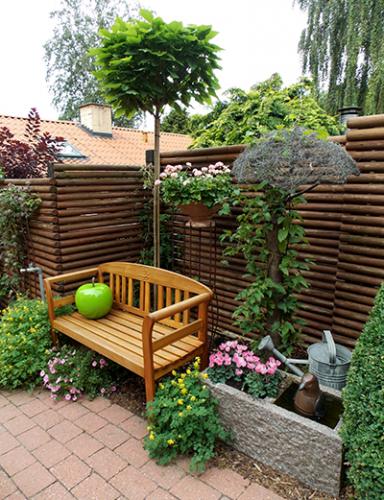 One of the Danish garden centers demonstrated how consumers can garden in small spaces. In addition to inspiring their consumers on how to use their product, it allowed them a place to sit and enjoy the garden center.
7. Cafés and coffee shops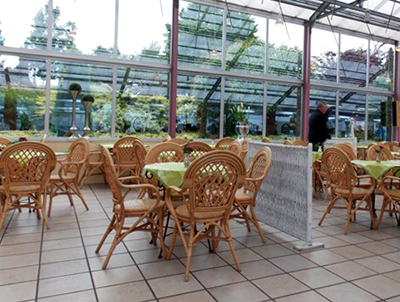 Many of the garden centers offered coffee shops or cafés. One of the participants on the tour, a garden center owner from Yorkshire in the United Kingdom, commented that 40 percent of all sales were in the café at her business. After all, what is more of a repeat purchase than a cappuccino? Before implementing a café, be sure to check with your local health department to verify if you need a license to be serving food and beverages.
8. Ample parking featuring nice landscaping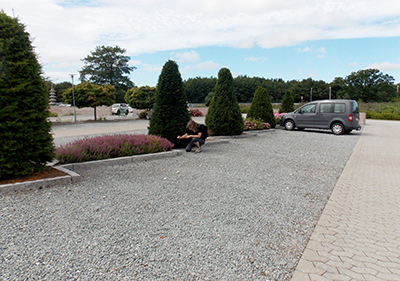 Garden Center retailers should provide ample parking for their customer's convenience. Landscaping the parking lot with low-maintenance plants adds to the curb appeal of your business.
9. Hiring musicians for special events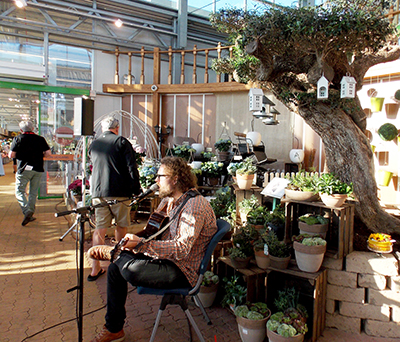 Numerous retailers chose to greet the delegates of the Congress in style with bands featuring Danish music. Garden center retailers could consider hiring a musician to greet consumers at the entrance of their store for special events. Music adds an element of excitement and entertainment when entering the retail space and while shopping in the garden center.
10. Fresh produce when it is in season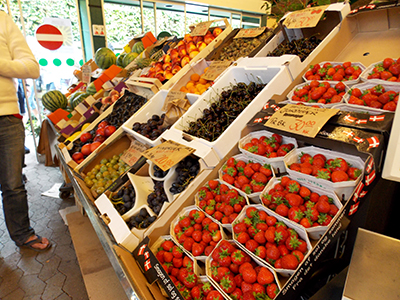 Danish consumers are increasingly interested in local foods similar to consumers in the United States. One of the garden center retailers was offering a limited selection of fresh produce. These quaint displays of fruit would make an excellent addition to any consumers shopping cart. The Gardenshop Høsterkøb reported that the produce department accounted for 2,529,000 DKK or $379,350 in sales (7 percent of total sales).
11. Floral products
A few of the Danish garden center retailers also had floral departments. Retailers reported their floral departments accounted for 2-14 percent of their total sales.
12. Nice restrooms
Lastly, the Danish garden centers that were on the International Garden Center tour all had excellent, clean bathrooms. Retailers could really use that space effectively and decorate their restrooms with décor that consumers could purchase.­
For information on other ways Danish garden centers are attracting customers, check out "Danish garden center trends: Topiaries, training and trellising plants."