Tying Rwanda's cassava and dairy sectors together
Cassava and dairy are two crucial pillars of Rwandan agriculture. BHEARD scholar Herve Mwizerwa wants to tie them together and make each stronger by diversifying both.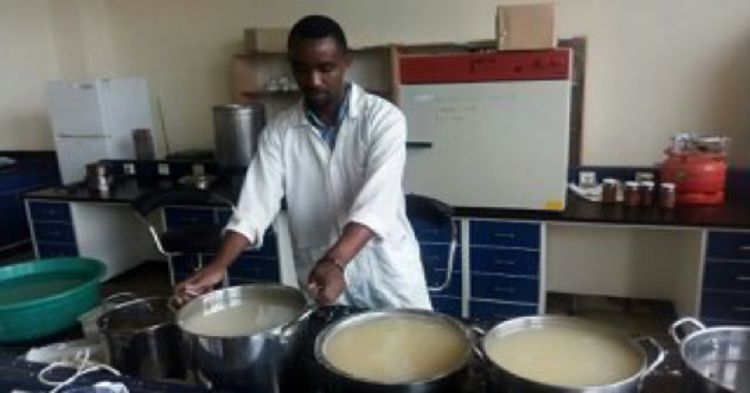 Cassava and dairy are two crucial pillars of Rwandan agriculture. BHEARD scholar Herve Mwizerwa wants to tie them together and make each stronger by diversifying both. More specifically, he wants to make a resistant starch out of cassava, and wants the dairy industry to use it as a yogurt thickener.
Mwizerwa, a tea regulations officer at Rwanda's National Agriculture Export Development Board, is seeking a master's of science in food science and technology at the University of Nairobi in Kenya. His scholarship was provided by the Borlaug Higher Education for Agricultural Research and Development (BHEARD) program. The goal of BHEARD, supported by the U.S. Agency for International Development, is to develop agricultural scientists and increase agricultural research capacity in Feed the Future partner countries. The program is named after Dr. Norman Borlaug, an American biologist, humanitarian and Nobel laureate who has been called "the father of the Green Revolution."
With an annual output of 3.1 million metric tons and an annual growth rate of 7.29% since 2010, cassava – a woody shrub primarily cultivated for its edible root – is the second-most produced crop in Rwanda (after plantains). Turned into flour, cassava is used as an ingredient in ugali – a paste consumed in Rwandan households – but also is consumed raw, boiled, fried or roasted, and its leaves eaten as vegetables.
Cassava is highly perishable, however. One way to preserve the crop – which also would improve food security, increase revenue and decrease postharvest losses – is to turn it into a value-added product like resistant starch.
That brings in Rwanda's dairy sector, which Mwizerwa says is currently undergoing an "extreme revolution." The introduction of new cattle breeds, insemination, active disease eradication and the "One Cow Per Poor Family" program – which has increased ownership of dairy cows – all have led to increased milk production in the country, which grew from 372,619 tons in 2006 to 706,030 tons in 2014. Rwanda's national dairy strategy anticipates a production increase of 13% every year. All of this growth creates an obvious need for product diversification, according to Mwizerwa.
Yogurt is one of Rwanda's most promising dairy products, but the local yogurt industry tends to rely too much on imported thickening agents such as corn starch, gelatin or pectin. This overreliance on imports can be reduced by using resistant starch made from local cassava.
Mwizerwa has found that adding modified cassava starch to yogurt increases its viscosity and total solids while reducing its syneresis (the separation of liquid from a gel) and acidity. At the same time, it does not affect yogurt's lactic acid bacteria count or sensory properties.
Resistant starch has healthful benefits, too, besides being a thickening agent. It's a pre-biotic that, when mixed with pro-biotic yogurt culture, can provide health-enhancing bacteria. It also promotes the growth of naturally occurring microflora, which can prevent the occurrence of gut diseases like colorectal cancer.
As part of his research, Mwizerwa is looking for the cassava varieties and treatments that can best produce large amounts of resistant starch. Of the varieties he's studied so far, one labeled I92/0057 has shown the most promise.
Diversifying the cassava and yogurt industries isn't the only challenge Mwizerwa wants to tackle when he returns to Rwanda with his degree. To help his country establish a strong food industry, he wants to promote research related to food science, to train agricultural stakeholders about ways to prevent postharvest losses, to advocate for investment in value addition of fresh produce (especially exportable crops), and to teach small producers how to meet the food-safety regulations and standards that would permit them to enter international niche markets.
– Matt Milkovich