U.S. Ambassador Meets BHEARD Students at KNUST
A summary of U.S. Ambassador to Ghana Stephanie S. Sullivan's meeting with Seed Science students at KNUST.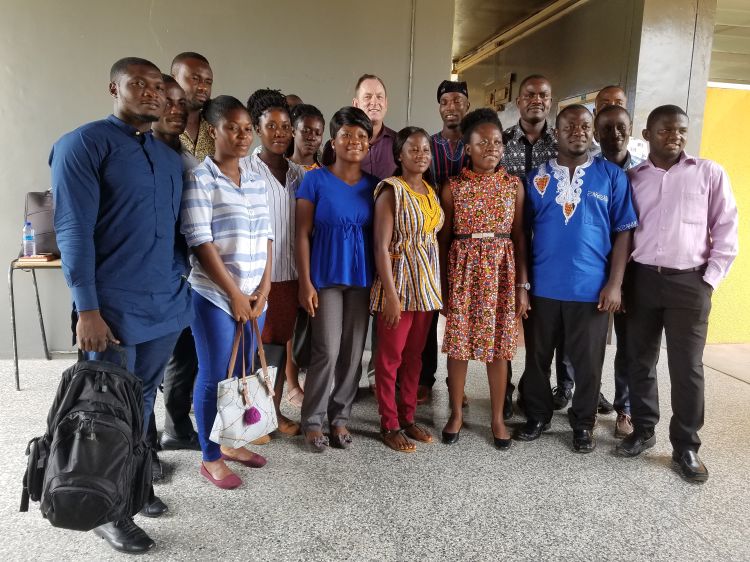 The U.S. Ambassador to Ghana Stephanie S. Sullivan met with BHEARD students in the Master's of Philosophy (MPhil) in Seed Science at Kwame Nkrumah University of Science and Technology (KNUST) in the Business School Auditorium last Monday. The purpose of the visit was to interact with the seed science students who are doing a specialized course designed towards improving food security in Ghana.
Present at the meeting were four faculty members including the Head of the College of Agriculture Professor Bafoe, the head of the Horticulture Department Dr. Laura Atuah, and 15 BHEARD students including 5 who are currently completing their final research. Dr. Bafor welcomed Ambassador Sullivan warmly with a short talk on how useful the program was to Ghana in solving food insecurity and how grateful KNUST was that their students were part of the beneficiaries of the BHEARD program.
Dr. Kwoseh introduced all the students present. Three students were given opportunity to speak on the three aspects of the specialized seed science program that KNUST designed; how good and beneficial these aspects are to the community and the country in solving the problem of food insecurity.
Gerald Mantey, a first year BHEARD student in the Seed Science program spoke on Seed Science technology, its new features, and how beneficial it is to solving the current challenges of the seed industry in Ghana. Priscilla Obeng spoke about the Seed Business aspect of the program, how unique it is and how relevant it is to the current demand in the seed industry. Finally, Francis Appiah spoke about the Seed Systems aspect of the program, how relevant it is in sensitizing the farmers about the use of quality seed and its effect on yield and nutrient content of the seeds.
All the other students were given a chance to ask questions or make additional contributions to what their colleagues spoke about. Ambassador Sullivan encouraged them to own their studies and champion the fight against food insecurity in Ghana. She urged them to find lasting solutions to the problems and the challenges the food and seed industry in Ghana is facing. She specifically advised and encouraged all the students never to give up in the face of adversity or challenges but rather persevere because they are the future solutions to the current problems of food insecurity in Ghana.
- Savior Badohu is the Regional Student Coordinator for BHEARD student in Ghana