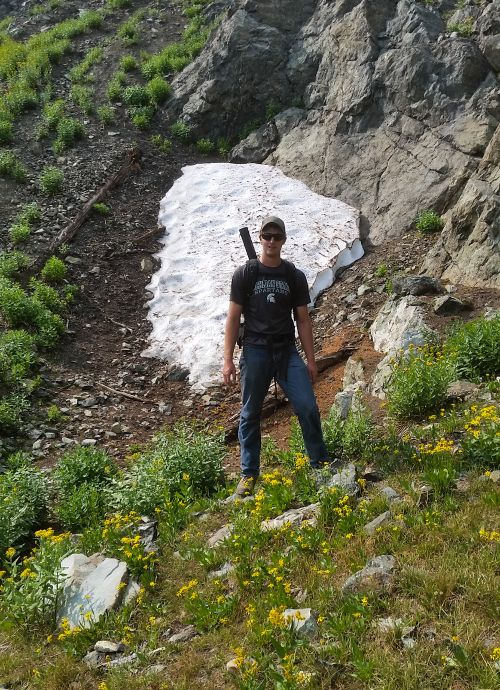 College wasn't always a given for Hunter Stanke. His parents are small business owners in Sturgis, Michigan, and Stanke assumed he would do much the same thing. He had already started his own small businesses in high school, after all, although he was curious about other opportunities.
"I knew that the world was bigger than St. Joe County where I grew up," he said.
Stanke reached out to an advisor in the Michigan State University (MSU) College of Agriculture and Natural Resources (CANR) while he was still in high school. Through that interaction, Stanke discovered landscape ecology and conservation. Today the senior is majoring in forestry in the CANR and environmental geosciences in the College of Natural Science and is in the Honors College.
"Being here today is a product of the opportunities in the college and MSU," he said. "Ag and Natural Resources feels like home to me. The people in ANR make it feel like home."
Leading the way
Stanke was nominated in 2018 to two of the nation's most prestigious undergraduate scholarships: the Barry Goldwater Scholarship and Excellence in Education and the Udall Undergraduate Scholarship. He was also honored with a 2018 Goldwater Honorable Mention.
The Barry Goldwater Scholarship and Excellence in Education Foundation yearly provides undergraduate scholarships to candidates across the United States to support natural sciences, mathematics and engineering. The Udall Foundation awards scholarships to sophomores and juniors for leadership, public service and commitment to issues related to Native American nations or to the environment.
As an incoming freshman at MSU, Stanke became a research assistant with the Boone and Crockett Quantitative Wildlife Center as part of the Department of Fisheries and Wildlife. Stanke has also been a research assistant with the Walters Silvicultural Research Laboratory, which is part of the Department of Forestry.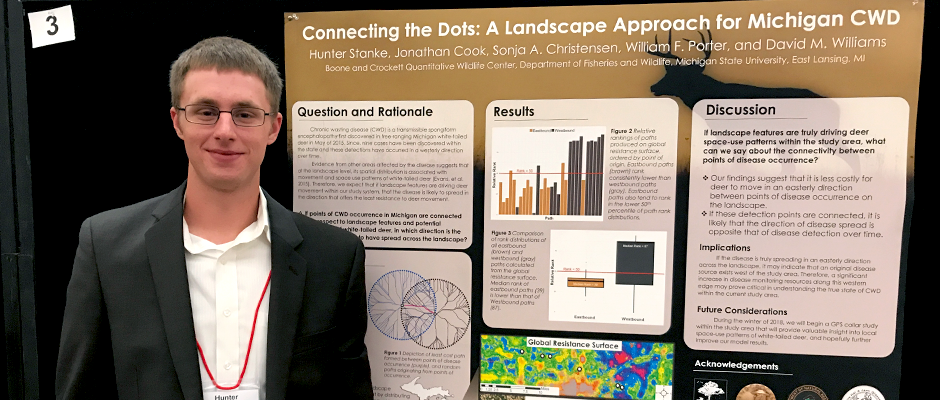 "If I wasn't learning and being challenged every day, I wouldn't be here," Stanke said. "That's how I learn best, just jump in and struggle with it."
He has designed and implemented experimental procedures to assess chronic wasting disease detection in Michigan white-tailed deer populations, and is currently developing an agent-based deer movement model.
"If you find something that scares you a little bit and excites you, those are the golden opportunities," he said. "If you never fail, you never grow. Failure is an agent of change."
As president of the student Forestry Club, Stanke has and organized a Christmas tree sale fundraiser and done service work at the Fenner Nature Center in Lansing. His advisor, Justin Kunkle, said he's seen few students who are as driven as Stanke.
"I'm amazed at his commitment to so many different things," said Kunkle, CANR advisor in the Department of Forestry. "He's not afraid to take the lead on anything. He takes the initiative."
Working in the field
In summer 2017, Stanke was as a forestry intern with the federal Bureau of Land Management in Cottonwood, Idaho, where he worked on timber sale preparation and reforestation projects, and served as a wildland firefighter.
"I spent almost every day in the mountains," he said," The experience definitely change the way I view the world."
"If we can help inspire the next generation of conservation leaders, that's what we're here for. We're solving problems. We're actually making a difference in the world. There are no boundaries."
In summer 2018, Stanke will do field work and develop modeling approaches in the HJ Andrews Experimental Forest on the west slope of the Oregon Cascades. His work will be part of the Eco-Informatics Summer Institute coordinated by Oregon State University. (Eco-informatics is the application of mathematics, computer science, statistics and engineering to study and manage ecosystems.)
"I'll work as a member of a research team assessing the river corridor exchange," Stanke said. "We will essentially work to improve our ability to predict the transport and fate of contaminants in river corridors, enabling more effective management of water resources in the Pacific Northwest and beyond."
Stanke says traveling, internships and seeing different locations and environments have given him a broader perspective on the world and helped him find different and new ways to approach ecology and conservation as integrated systems with socioeconomic components.
Stanke embodies MSU's history while at the same time working to make a difference today.
"If we can help inspire the next generation of conservation leaders, that's what we're here for," he said. "We're solving problems. We're actually making a difference in the world. There are no boundaries."