Undergraduate Student Spotlight
The undergraduate animal science program at Michigan State University provides a vibrant and rigorous foundation for students interested in the many aspects of animal sciences.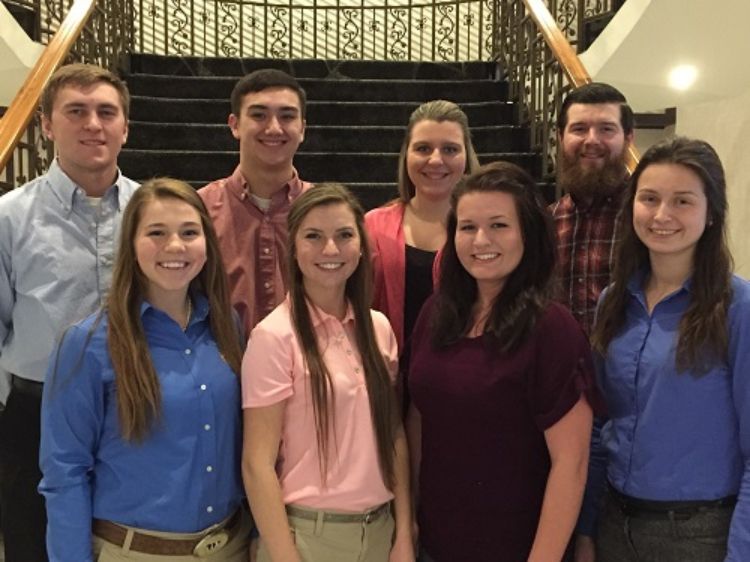 Student activities span the realms of research to the fun and challenges of clubs and evaluation teams. In this article we'll introduce you to some aspects of the undergraduate program.
The number of undergraduate students rose in 2016. As of fall 2016, undergraduate students serviced by the Department of Animal Science numbered 578. This was up from 551 the same time in 2015. Animal science majors comprised 437 of the 578, with a breakdown of 78 male and 359 female students. Incoming freshman were at 100, with 87 in-state and 13 out-of-state students, 2 of which were international.
ADSA
Students are able to participate in the American Dairy Science Association (ADSA) annual meeting in June. This year, two MSU students were honored.
Danielle M. Andreen received first place in the original research, oral, category for her presentation "Estimating urinary nitrogen using creatinine in cows fed adequate and protein deficient diets." D. M. Andreen, E. Liu, and M. J. VandeHaar, Michigan State University, East Lansing, MI.
Emily L. Middleton received third place for her Original Research Poster "Relationship of body condition changes during the first 30 d of lactation and pregnancy rate per AI at 75 to 81 DIM. E. L. Middleton* and J. R. Pursley, Michigan State University, East Lansing, MI.
ASAS Midwest
Students are able to participate in the American Society of Animal Science (ASAS) Midwest meeting in March each year. This year, two MSU students were honored.
Kaylee Copeland won the undergraduate poster competition at the event: "Effects of vitamins E and D on performance and antioxidant enzymes in nursery pigs," by K. R. Copeland (MSU), D. B. Scales (MSU), G. M. Hill (MSU), J. E. Link (MSU), K. C. Turner (MSU), C. J. Rozeboom (MSU), R. L. Stuart (Stuart Products Inc., Bedford, TX).
Joe Lutz was second in the undergraduate poster competition: "Feeding liquid sweet whey to growing swine," by J. M. Lutz (MSU), N. Ernst (MSU), A. R. Brummit (MSU), J. C. Hofman (MSU), J. P. Schweihofer (MSUE), S. Cho (MSU), D. W. Rozeboom (MSU). Mr. Lutz, who is majoring in agribusiness management, is an undergraduate researcher with Dr. Dale Rozeboom of the Department of Animal Science.
Equine Science Society Symposium
At the Equine Science Society Symposium, May 30-June 2, in Minneapolis, Rhiannon Sehl, Animal Science student and professorial assistant working in Dr. Brian Nielsen's lab, won the undergraduate student competition out of 19 undergraduates with her presentation "Stalling mature idle horses has only a minor impact on skeletal health".
Also at the Equine Science Society Symposium, Chelsea Nowlin took 3rd place in the Exercise Science Graduate Student Competition with her presentation "Acute and prolonged effects of vibrating platform treatment on horses: a pilot study". Chelsea performed the research while working as an undergraduate in Dr. Nielsen's lab last year but had to compete in the graduate competition as she is now in vet school
Students Spotlighted
Kellie Rizzolo, a 2017 graduate of the department, received the Outstanding Senior / Leadership Award from the American Pre-Veterinary Medical Association.
Students have the opportunity to work at the different animal teaching and research centers on campus. The State News recently focused on these student workers with an article and video about Emmy Schuurmans and the Sheep Teaching and Research Center.
You can read about the Dairy, Swine, and Sheep Teaching and Research Centers in this newsletter.
Undergraduate Research
The MSU Animal Science Undergraduate Research Student Association oversaw the 8th Annual Animal Science Undergraduate Research Forum (ASURF) April 28, 2017, in 1310 Anthony Hall. This event allows undergraduate researchers to present the results of their research projects and to interact with members of the department.
Prior to AFURF, students could showcase their research in the annual University Undergraduate Research and Arts Forum (UURAF) on April 7. Undergraduate research is an experiential learning opportunity for students that allows them experience in the laboratory and field as well as credits toward their degree. Approximately 950 undergraduate students participated in the 2017 Forum. Animal Science student Olivia Child was first place in the Agriculture & Animal Science-Section 3 category in the Agriculture, Food & Environmental Sciences grouping with her poster "The Effects of Porcine Zona Pellucida Contraceptive Vaccine on Equid Ovarian Activity." Dalen Agnew of MSU's Diagnostic Center for Population and Animal Health was the mentor. Subsequently, Olivia was recommended to receive the 2017 University Undergraduate Research and Arts Forum Grand Prize Award for the Science, Technology, Engineering, and Mathematics division, which was one of two grand prizes given. Nine faculty members and one staff member from Animal Science were research mentors for students: Dan Buskirk, Chen Chen, Gretchen Hill, Jason Knott, Brian Nielsen, Dale Rozeboom, Janice Siegford, Nathalie Trottier, Almudena Veiga-Lopez, and Jane Link.
Dairy Activities
The Michigan State University Team won the 2017 Collegiate Division in Hoard's Dairyman annual cow judging contest. Members of the winning team were Alycia Burch, Madison Smith, Micole Chase, Michael Herman, Ethan Haywood, Madeline Meyer, Leta Larsen, TJ Frahm, Lance Frahm, and Bryce Frahm. Members of all 3 teams were enrolled in Dr. Joe Domecq's dairy evaluation course or past members of the MSU Dairy Judging Teams.
If you are interested in keeping up with dairy activities in the department, then consider bookmarking the Dairy Cattle Judging site. On this site you can find information about past and present judging teams as well as future activities.
The 2016 collegiate dairy cattle judging team members included Suzanna Hull of North Adams, TJ Frahm of Frankenmuth, Bryce Frahm of Frankenmuth, Natalie Horning of Manchester, assistant coach Sarah Black, and coach Joe Domecq.
Check out the 2016 Year in Review, available on the Dairy Cattle Judging site, where you can review the Collegiate Division, Ag Tech Division, and 4-H Division schedules and results from 2016 and prior years. Another way to stay in tune with the program is to follow the Dairy Youth Facebook page.
Dairy Challenge is another type of dairy evaluation contest that focuses on evaluating dairy farm management in a fun and educational setting. Participants in the MSU Dairy Challenge have the opportunity to be invited to attend the Midwest Regional Dairy Challenge, the Dairy Challenge Academy, and the North American Intercollegiate Dairy Challenge.
Ninety undergraduate, Ag Tech and veterinary students participated in the MSU Dairy Challenge held at Spitzley Dairy Farm, owned by Chris and Ryan Spitzley of Portland, on November 30 and December 7, 2016. Learn more about the contest and participants in the article on the department website: MSU Dairy Challenge.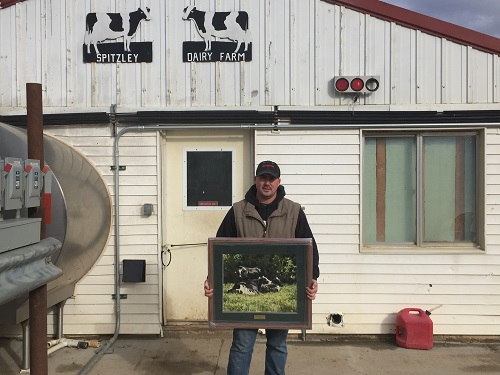 Eight MSU students went on to compete in the 13th Annual Midwest Dairy Challenge on February 8-10 in Madison, Wisconsin. The event was hosted by University of Wisconsin-Madison and attracted 112 students from 12 universities and 6 technical schools from across the Midwest.
Students representing MSU included Emily Butler, freshman in Animal Science from Roseville; Cameron Cook, freshman in Agricultural Technology from Pewamo; Jesse Govea, junior in Animal Science from Morgan Hill, CA; Austin Haywood, freshman in Animal Science from Hastings; Leta Larsen, freshman in Agribusiness Management from Scottville; Madeline Meyer, freshman in Animal Science from Ionia; Jared Sanderson, sophomore in Animal Science from Sandusky; and Riley Smith, junior in Animal Science from St. Johns. Dr. Miriam Weber Nielsen traveled with the students. Find the news release about this event on the department website.
Dr. Miriam Weber Nielsen coordinated student participation in the MSU and Midwest regional events, and Dr. Joe Domecq and Dr. Roger Thomson assisted with student participation in the national contest.
The MSU Ag Tech Dairy Judging Team earned an invitation to participate in several international dairy judging competitions this summer. The team will participate in contests and other educational activities in Scotland, Belgium, and Luxembourg and will spend three days working on farms in Luxembourg. To help offset their travel expenses, the group held a bake sale and silent auction bake sale in early March. Additional fundraisers are planned. See the 2016 Year in Review on the Michigan Dairy Cattle Judging site to read more.
Equine Activities
Horse judging is a popular evaluation activity in the department. The 2016 MSU Horse Judging team consisted of (L-R) Tyler Cappaert, Heidi Terry, Kimberly Jodoin, Mackinzie Whaley, Zach Ferris, and Desirae Pawlowski. Taylor Fabus is coach and Cassandra Wade served as a teaching assistant.
The team competed at the All American Quarter Horse Congress in Columbus, Ohio, and U.S. Arabian/Half-Arabian Nationals in Tulsa, Oklahoma. The team annually puts on several successful fundraisers throughout the year to help offset travel costs; events included a 5K Run/Walk (April), Mum plant sale (September), and YETI tumbler sale (December).
On a slightly different horse topic, the Hunt Seat Equestrian Team, advised by Taylor Fabus, Instructor in the Department of Animal Science, was recently featured in The State News article "MSU Hunt Seat Equestrian Team uses luck, skill to compete".
Livestock Activities
The search for a coach for the Livestock Judging Team is over, and Mr. Chastin Leggett will be joining the department as an academic specialist - teaching continuing systems. He will assume coordination of the Institute of Agricultural Technology Livestock Industries certificate program, instruct and advise students, teach the livestock evaluation and selection courses and coach the intercollegiate livestock judging team. He will be officially joining the department August 1. Chastin comes to MSU from Oklahoma State where he recently completed a MS degree. He has a BS degree from OSU, too, in animal science with a minor in agricultural economics. He was an OSU Otis Grimes Memorial Scholar and a member of the 2012 OSU National Champion Livestock Judging Team. He served as an assistant coach at Northeastern A&M College in OK. Chastin is a native Kansan.