Using native plants in landscape design projects: what contractors need to know
A series of three tours of Michigan native plant and seed production facilities increases understanding of this 'growing' industry.
Interest in more natural shoreline (and upland) landscapes is helping grow Michigan's relatively small native plant industry. From corporate properties to residential shorelines, landowners are seeking to increase the ecosystem services their properties can provide. These services include food, cover and habitat for birds, butterflies and other pollinators, filtering polluted runoff and stabilizing eroding upland or shoreline soils. This growing interest is beginning to translate into work for Michigan's landscape industry which has historically sourced plant material from traditional nurseries. But are there differences in the way native plants and seeds are produced, marketed, sold and shipped? According to members of the Michigan Native Plant Producers Association (MNPPA), the answer is "Yes" and the better a contractor understands this industry, the more successful they will be in servicing customers.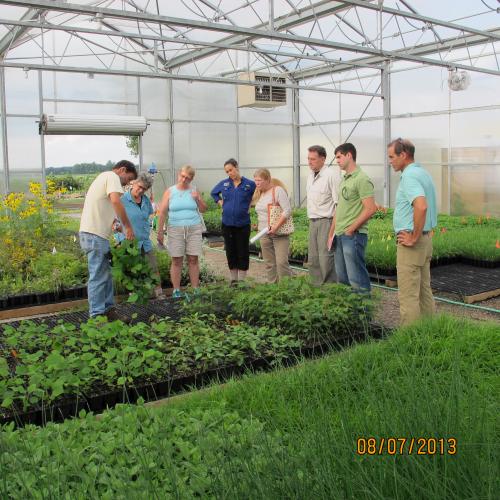 Michigan State University Extension, in cooperation with three MNPPA members (who are also active in the Michigan Natural Shoreline Partnership), recently hosted a series of three tours during which landscape contractors, and others, could learn more about Michigan native plant and seed production practices. The tours were attended by twenty participants representing eight counties. Seventeen of those in attendance were Certified Natural Shoreline Professionals who earned continuing education units towards maintaining their CNSP certification.
Photo: Bill Schneider, owner of Wildtype Nursery near Mason, explains his process for growing native plants in containers in a greenhouse. Photo by Jane Herbert.
Participants saw firsthand how native plant seed is collected, cleaned and stored. They learned that it is sold by the ounce of Pure Live Seed (PLS) and that custom seed mixes are created using 'recipes' that can be scaled up from a few square feet to large scale acreage. Also, the seed of most native plants require a cold period (cold stratification) before they will germinate which insures the seed does not germinate prematurely once planted. This means that processed and stored seed for sale will germinate best if cold stratified either in the field or under refrigeration.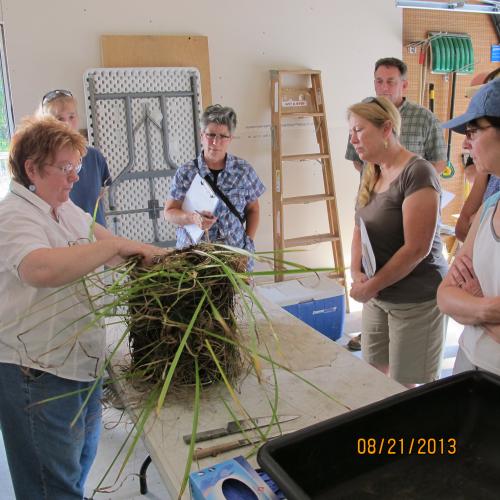 Participants also saw how nursery-grown native plants may be grown in containers similar to traditional nursery stock but may also be grown bare root. Some aquatic and wetland plants can be seeded into small ponds and later harvested for pick-up or shipment. The window for shipping bare root plants is shorter than that of container-raised stock – a consideration for contractors ordering plants for a shoreline project. In fact, the big take home message of the tour series seemed to be "Order as far in advance as possible" since native plants are grown for a local market. This means sourcing native plants can be limited, unlike horticultural varieties which are grown and sourced over much larger region.
Photo: Jewel Richardson, owner of Wetlands Nursery near Manistee, explains the rooting power of wetland and aquatic plants. Photo by Jane Herbert.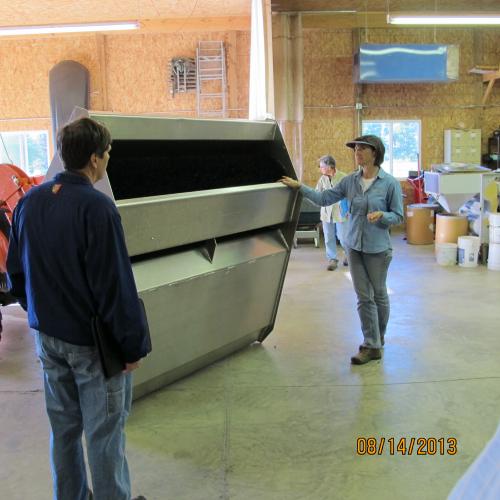 Marie Muehlenbein, owner of Global Garden, Inc. in Northville, attended all three tours and made the following observation: "This year's MNSP tours of native species nurseries gave me a clear picture of what plants and seeds are available, where to purchase them and the time sensitive manner in which to order the plants for optimal planting success."
MSU Extension would like to thank Wildtype Nursery in Ingham County, Michigan Wildflower Farm in Ionia County and Wetlands Nursery in Manistee County for their generosity in hosting these tours.
Photo: Esther Durnwald, owner of Michigan Wildflower Farm near Portland, explains how some native plant seeds must be hand-harvested while others are harvested mechanically with a specially designed combine (shown). Photo by Jane Herbert