Warfare on the Waterfront – education, not geopolitics!
A new Summer Discovery Cruise takes a different kind of look at Detroit River history.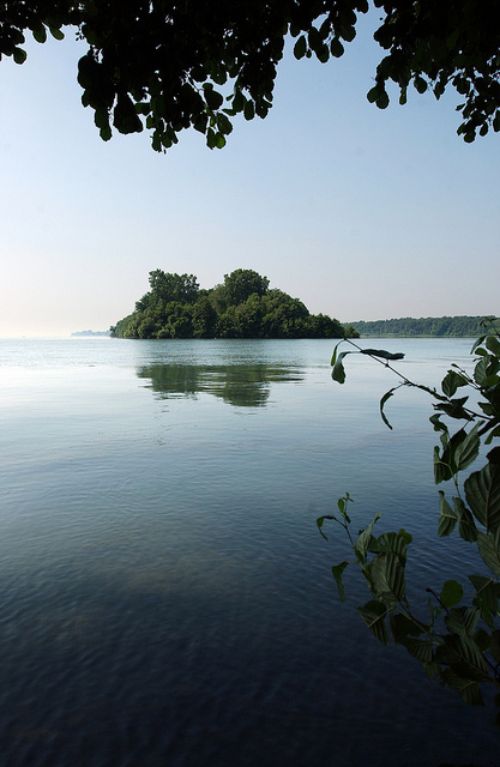 Those familiar with Summer Discovery Cruises – presented by Michigan State University Extension and Michigan Sea Grant in collaboration with the Huron-Clinton Metroparks – know you can learn about the Great Lakes by being on the Great Lakes. Discovery Cruises have a variety of educational themes from which to choose. More than 20, in fact!
One of the new cruise options is "Warfare on the Waterfront." Given the tremendous interest in recent years in supporting the military, the "Warfare on the Waterfront" cruise made perfect sense as it highlights multiple military stories on the now-peaceful lower Detroit River.
Yes, that's right. Multiple stories.
Perhaps it's the botched rescue attempt that occurred during the American Civil War. With the plan to rescue Confederate Prisoners of War from Johnson's Island, the result was a few captured spies, a sunken ship and the only time in world history when the Confederate flag flew over the Detroit River. We sail the very same route.
Maybe it's the Patriot War and the "Masters of Gibraltar." Barely a blip on the world history radar, chapters of this regional conflict occurred literally within a few miles of the shores of Lake Erie Metropark. Sugar Island. Bois Blanc. We'll be just feet away.
The War of 1812 has a huge presence in southeast Michigan. Western Lake Erie and the Detroit River were a major theatre of operation in what is considered by some to be the United States' second war of independence. Ambushes, forts, and alliances are just some of stories of this important chapter in American history.
Perhaps one of the largest untold military stories of the region would be Naval Air Station-Grosse Ile. Now known as the Grosse Ile Municipal Airport, thousands of pilots trained there during much of the 20th century. The world's only all-metal dirigible flew from here, too.
There's certainly more to tell, but we wouldn't want to give it all away here, would we? Why not consider the "Warfare on the Waterfront" cruise the next time you want to learn more about our incredible Great Lakes!There's still time to catch a cruise this weekend, too. Check out the schedule at the Summer Discovery Cruises website.
Michigan Sea Grant helps to foster economic growth and protect Michigan's coastal, Great Lakes resources through education, research and outreach. A collaborative effort of the University of Michigan and Michigan State University and its MSU Extension, Michigan Sea Grant is part of the NOAA-National Sea Grant network of 33 university-based programs.
Did you find this article useful?
---