West central Michigan small fruit update - April 12, 2022
Michigan's 2022 blueberry season is already in progress. Check the conditions of your fields in preparation.
As of April 12, all blueberry varieties are still in the dormant stage. Early blueberry varieties in counties south of Allegan County started coming out of dormancy and we are already seeing some bud swell stages. However, prevalent cold temperatures are slowing down plant growth and development around west Michigan. Currently, average minimum temperatures for the past seven days have remained around 33 degrees Fahrenheit and the average maximum around 70 F. These temperatures are allowing for only a small degree day accumulation.
Growing degree days (GDD) accumulated for plant development around west central Michigan are between 125 and 177 GDD base 42 F. No GDD base 50 F accumulation for insect growth and development has occurred yet. On the other hand, there is plenty of moisture in the ground resulting from rain and snow falling during the past seven days. The amount of precipitation accumulated since Jan. 1, 2022, is 8.46 inches.
According to our last observations, there is no fruit bud damage in most blueberry fields. Winter temperatures, with some exceptions, have remained in the low 20s, which is not a problem for dormant blueberries.
However, a survey of blueberry fields conducted in Ionia, Ottawa and Allegan counties during the first part of March 2022 showed blueberry fields with considerable damage caused by the spring and summer drought of 2021 (Photo 1). Observed damage occurred mainly at fields that did not have enough supplemental irrigation to compensate for the lack of precipitation that occurred from early spring to mid-summer in west central Michigan (Photo 1).
Climate change is becoming a major issue for Michigan's blueberry growers. Over the past five years, the critical times for fruit production coincided with a recurrent spring-summer drought. For example, according to my west central Michigan small fruit update from June 8, 2021, precipitation in west central Michigan between Jan. 1, 2021, and June 8, 2021, ranged from 5.6 to 5.9 inches, an almost 10-inch water deficit for this time of the year. This water deficit occurred at the time when more water is demanded by the blueberry plant because of the competition between fruit development and canopy development.
As of April 11, 2022, a survey conducted in Ottawa, Allegan and Van Buren counties showed that there are many fields that need to be pruned to eliminate the wood that is already dead or is with a few or without fruit buds at all (Photo 2). White shoots are no longer productive wood. They should be removed to give a chance for new growth to develop from the crown.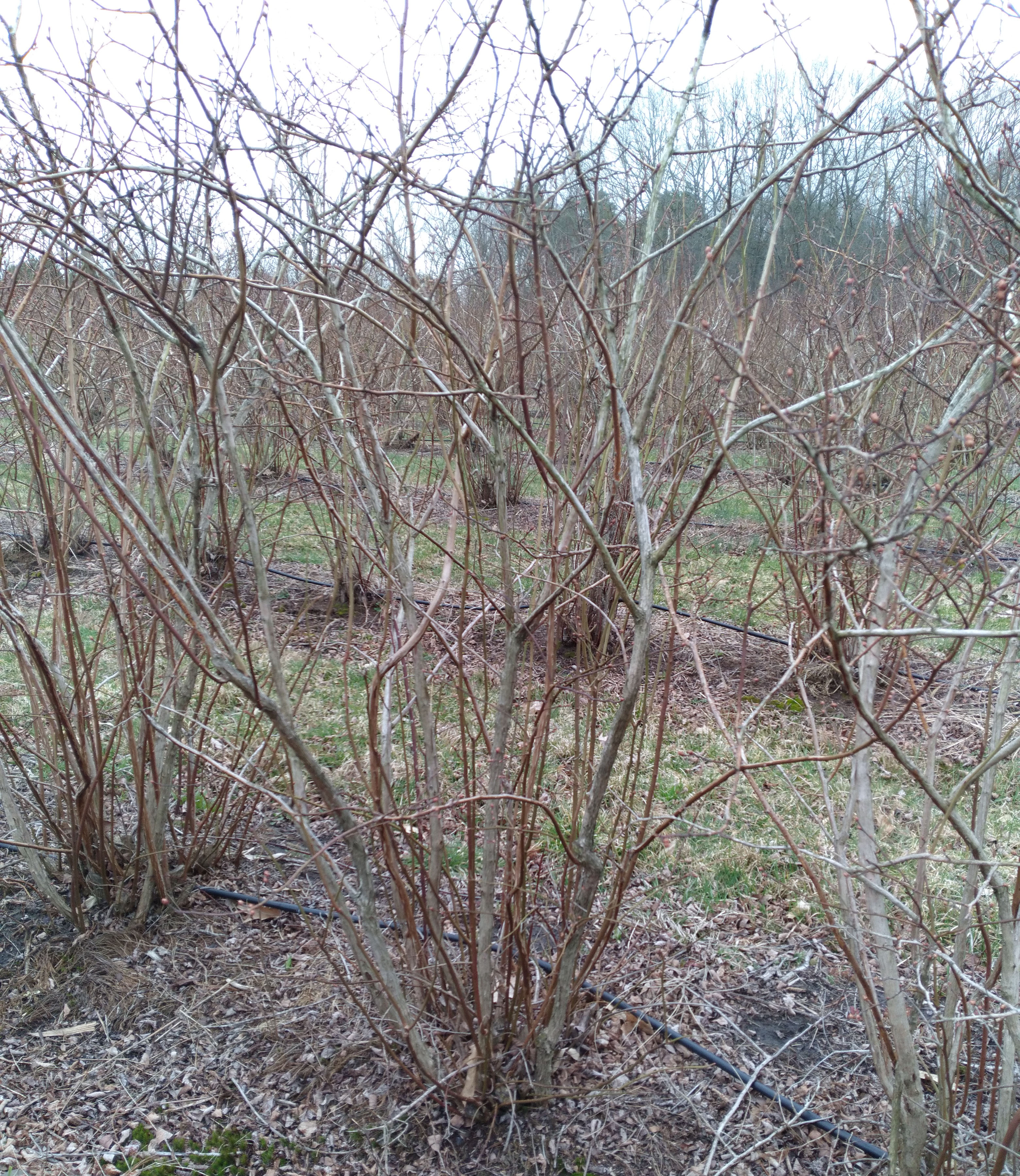 Do not hesitate to remove old or winter/drought damaged shoots (Photo 3). It is in your best interest to save money by not wasting resources such as fungicides, insecticides and fertilizers in plants that are not going to pay for those inputs.
Although the winter/drought is not a generalized problem, affected blueberry fields should be pruned, and in some cases where there are not enough fruit buds, the fields should be renovated.