West central Michigan small fruit update - April 26, 2022
Rain and cold weather halted plant development in all berry crops but allowed more time for pruning and integrated pest management training.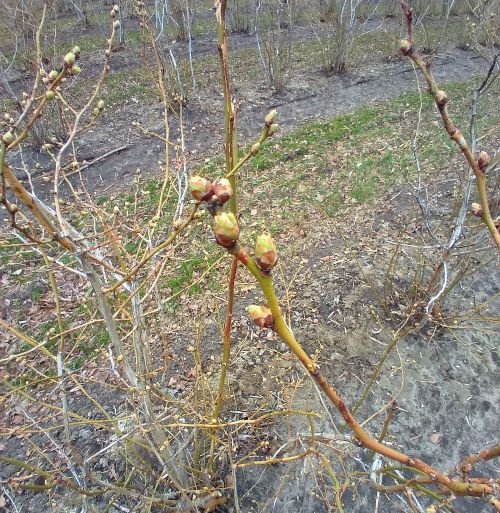 West Michigan remains under weather conditions characterized by rain showers, drizzle and scattered snow showers. For the past seven days, the average minimum and maximum daily temperatures remained around 38 and 57 degrees Fahrenheit, respectively. Those temperatures allowed for a growing degree day (GDD) accumulation of approximately 80 GDD base 50 F calculated since March 1.
Despite these unseasonably conditions, there were two to three days when daily maximum temperatures reached 80 F. That promoted the initiation of flower bud development in blueberries. Most blueberry varieties in west central Michigan are already in bud break or tight cluster stages (see pictures). Further south, like Van Buren County, early season varieties are already entering the green tip stage.
The seven-day weather forecast indicates that the abovementioned conditions will remain until next week when warmer temperatures will be prevalent. Although we are expecting below freezing temperatures during the coming days, these will have a minimum effect on blueberries. At the present growth stages, blueberries can tolerate temperature of 18-20 degrees Fahrenheit without suffering significant damage.
Because of the cold and rainy conditions observed during this period, there are some recommendations growers need to follow to prevent mummy berry shoot strike and Botrytis blossom and leaf blight. These include scouting fields for disease symptoms and applying timely applications of recommended fungicides. For a good review of symptoms, see "Blossom blight in blueberries" from Michigan State University Extension. Some recommended fungicides include Indar, Tilt and Elevate, among others. For more fungicide recommendations and doses, please consult the 2022 Michigan Fruit Management Guide (Extension Bulletin E-154).
Michigan Pesticide Applicator Certification Training in Spanish
On Thursday, April 28, and Friday, April 29, MSU Extension and the Michigan Food and Farming Systems are inviting Spanish-speaking berry growers and farm workers to attend a workshop in Spanish to prepare for the Michigan Private Pesticide Applicator Certification test. The training will be offered at the MSU Trevor Nichols Research Center, Conference Room 6237, 124th Avenue, Fennville, MI 49408. Training will be from 9 a.m. to 1 p.m.
For growers that need RUPs for the renewal of their pesticide applicator license, this workshop will provide 8 RUPs after completing the two days of training.
There is a recuperation fee for attending this training. The fee will be $35 per person to cover handouts and refreshments. Attending this event will require online pre-registration:
Register for the Pesticide Applicator Certification Training in Spanish
Agenda
April 28
9:00 – 9:40 a.m. – Integrated Pest Management
9:40 – 10:20 a.m. –Planning Pesticide Applications
10:20 – 11:00 a.m. – The Pesticide Label
11:00 – 11:40 a.m. – Pesticide Formulation
11:40 a.m. – 12:20 p.m. – Pesticide Risks
12:20 – 1:00 p.m. – Personal Protection Equipment
April 29
9:00 – 9:40 a.m. – The Environment
9:40 – 10:20 a.m. – Transport and Storage
10:20 – 11::00 a.m. – Emergency Response
11:00 – 11:40 a.m. – Application Procedures
11:40 a.m. – 12:20 p.m. – The Law
12:20 – 1:00 p.m. – Questions