West central Michigan small fruit update - July 12, 2022
Michigan blueberry harvest is already in progress. So far, there are no reports of problems or situations that may hamper the fruit quality or yield.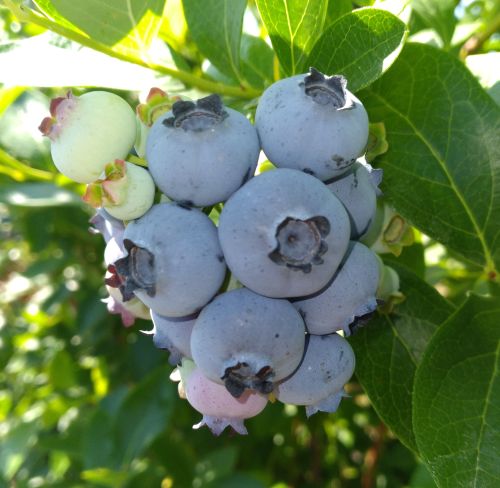 Harvest time is Michigan's fruit growers most bussies period and keeping high fruit quality and yield are their top priorities. Currently, blueberries are harvested in all west Michigan Counties where blueberries are the main fruit crop Ionia, Kent, Muskegon, Ottawa, Allegan, Van Buren, and Berrien. For the past two week, main blueberry varieties being harvested are Bluetta, Duke and Bluecrop, among others. Prevailing dry weather conditions with limited rain showers in most of the Michigan's Lower Peninsula has allowed for a non-interrupted harvest process with fruit of excellent quality (Photos 1 and 2).
Furthermore, high temperatures from the past weeks accelerated blueberry fruit ripening. That allows pickers to harvest large volumes of fruit in a short period of time. Weather conditions over the past seven days were dry for the most part with scattered rain showers. Average daily minimum and maximum temperatures observed during the past seven days were 62 and 82 degree Fahrenheit, respectively. During the same period, rain showers in the region left a precipitation accumulation that varied from 0.5 to 0.9 inches of rain. The highest accumulation occurred around Grand Junction, Michigan, and the smallest around West Olive, Michigan.
Some problems already showing up in blueberry fields are related to the presence of Anthracnose fruit rot and the beginning of the arrival of the spotted wing Drosophila (SWD). Regarding Anthracnose problems the dry weather conditions favor the propagation of the disease. Therefore, growers need to monitor their fields before starting harvesting and apply the recommended fungicides to stop the spread of the disease. For recommended fungicides and doses for controlling Anthracnose consult the 2022 Michigan Fruit Management Guide (MSU Extension Bulletin E-154).
The SWD on the other hand started showing up in small numbers at Ionia, Ottawa, and Allegan Counties. In our MSU Extension monitoring network the numbers of SWD trapped over the past week goes from 1 to 5 flies per trap/week. We recommend growers to install SWD monitoring traps and initiate the SWD control as soon as the flies start arriving in fields being harvested or ready to be harvested. For recommendations on insecticides and measures to be taken when selecting and applying insecticides against the SWD please check Rufus Isaacs' recommendations from June 28, 2022. You may also request assistance with your SWD IPM program by calling your nearest MSU Extension office or emailing to garcias4@msu.edu.