West central Michigan small fruit update – June 23, 2020
Strawberry harvest is underway with excellent fruit quality thanks to good weather conditions. However, cold and limited rain during the early part of the growing period reduced yields in many fields.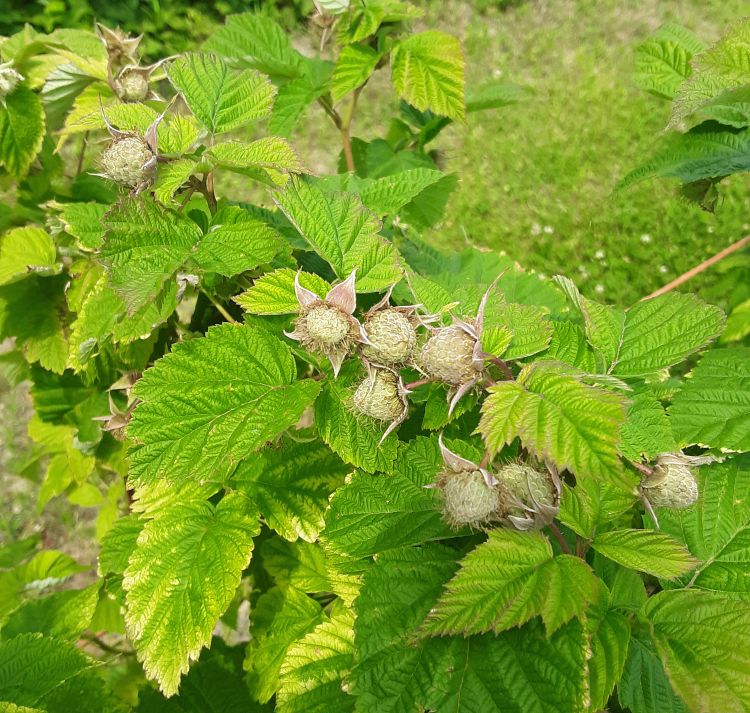 Current weather conditions in west central Michigan remained below the low 80s under very dry conditions. No rain or substantial rain has been recorded for the past seven days. Average daily minimum temperatures during the past seven days were 58 degrees Fahrenheit and the daily maximum averaged 83 F. There was not significant precipitation during the same period, only isolated rain showers that left less than 1/10 of an inch of precipitation.
Those weather conditions favored a rapid plant growth and development in most small fruit crops but also increased the need for supplemental irrigation, especially in blueberries. At this time, berries are growing and water is essential to produce a healthy crop.
As of June 23, strawberries are in full harvest, U-pick operations have seen a good amount of customers and in some cases, growers are closing during the afternoons because they ran out of berries, especially in places where the crops are light. So far, few problems are affecting strawberry production and fruit rots are at minimum thanks to prevalent dry weather conditions.
There are some issues with insect pests related to sap beetles. Ripe and overripe fruit are attracting this pest. Be vigilant to avoid problems related to this pest. Controlling sap beetles is very important. Initiate control as soon as they start showing up in the field to prevent their establishment. Once sap beetles are established in a strawberry field, the best alternative is rotate the crop to a clean field.
Recommended insecticides for sap beetle control are Brigade, Danitol and Assail. Please check the 2020 Michigan Fruit Management Guide (Michigan State University Extension Bulletin E154) for doses and other product options.
Regarding other small fruit crops, summer raspberries are in the green fruit stage and so far, no problems are reported by growers (see photo).
Blueberries, on the other hand, are in the green fruit stage. Fruit growth has been accelerated by hot weather conditions from past weeks and in some early season varieties like Weymouth, fruit coloring just started in southern fields. However, due to dry conditions from the past week, supplemental irrigation is needed to maintain fruit quality.
Insect and disease problems remain at a minimum. Cherry fruitworm and cranberry fruitworm are done with their overwinter emergence. Some cranberry fruitworm moths are still captured in pheromone traps, but the population is rapidly declining. There are two insect pests that require attention at this time: blueberry maggot and the spotted wing Drosophila (SWD). John Wise from the MSU Trevor Nichols Research Complex in Fennville, Michigan, reported the emergence of the first blueberry maggot flies. So, deployment of blueberry maggot traps is recommended at this time to maintain a good monitoring program of this pest.
Concerning SWD, during the past two weeks we have been detecting the presence of the overwintering generation of SWD flies both in strawberry and blueberry fields. Growers are encouraged to initiate the deployment of monitoring traps and prepare their pest management program to confront this pest.
Finally, MSU Extension is hosting a Blueberry Pre-Harvest Webinar on Monday, June 29, from 1-4 p.m. with updates on issues related to the pre-harvest season. The webinar agenda is as follows:
Harvest-time blueberry insect management, Rufus Isaacs, MSU Entomology
Pre-harvest blueberry disease management, Timothy Miles, MSU Plant Pathology
Monitoring nematode vectored viruses and management, Marisol Quintanilla-Tornel and Emilie Cole, MSU Entomology
Pre-harvest weed management— Sushila Chaudhari, MSU Horticulture
Monitoring blueberry nutrients—Carlos Garcia-Salazar, MSU Extension
Growers attending this webinar will receive three Restricted Use Pesticide credit s. This webinar is free but you must register online to receive the RUP credits. Upon registration, you will receive a zoom meeting link and password to access the webinar meeting.