West central Michigan small fruit update – May 17, 2023
The 2023 blueberry season is already in progress. In Van Buren, Allegan and Ottawa counties, varieties like Wayman, Bluetta, Bluecrop and Elliott are going from full bloom to 75%, 75%, 50% and 25% bloom, respectively.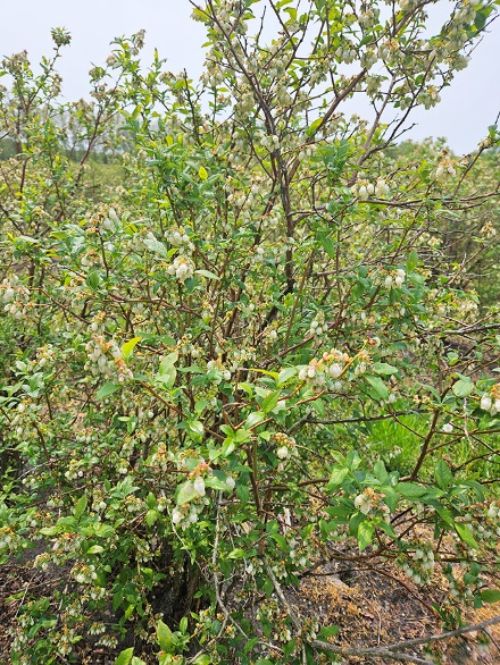 The fruit growing season in west central Michigan is proceeding without incidents that could affect small fruit crops like strawberries, raspberries and blueberries. Different from the 2022 season that was seriously affected by a spring drought and high temperatures during the bloom period, current weather conditions have remained close to historical average temperatures. In addition, abundant spring precipitation has allowed enough moisture in the ground to favor blueberry pollination to proceed without problems.
As of May 16, 2023, the amount of precipitation accumulated in West Olive, Michigan, is 13.29 inches of rain since Jan. 1. Likewise, growing degree day (GDD) base 50 degrees Fahrenheit accumulation since March 1 reached 273 GDD. For Allegan County, around Fennville, Michigan, the amount of rain accumulated since Jan. 1 is 13.47 inches and the degree day accumulation is 262 GDD. The area around Grand Junction, Michigan, accumulated precipitation until May 16 is 16.97 inches and the degree day accumulation is 333 GDD.
Regarding plant growth and development, most blueberry cultivars are in full bloom in Allegan and Van Buren counties. North of Allegan County, all blueberry varieties are at 50% and 25% bloom (Photos 1 and 2). All varieties seem to have a heavy fruit buds load and no spring frost or other weather associated problems have been reported by growers.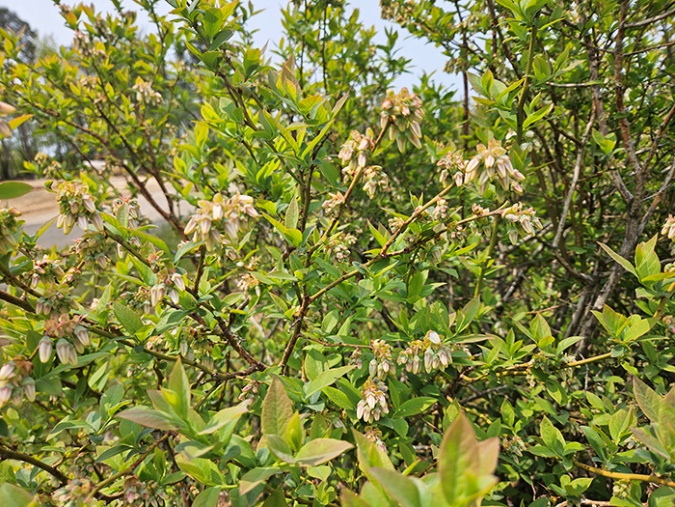 Integrated pest management (IPM) activities are in progress and most growers have already applied the first fungicide application against mummy berry, canker shoot and twig blight caused by Phomopsis. Although the weather has been cold with some localized light freeze/frost events, no mummy berry shoot strikes or twig blight has been observed. Bees are already out and we are expecting that pollination will proceed without problems.
Regarding early insect pest problems, cherry fruitworm and cranberry fruitworm are not present. The good weather conditions from the past seven days allowed a rapid degree day accumulation that will bring the cherry fruitworm and cranberry fruitworm out of their winter diapause. In order to initiate the pest management of these two insects, pheromone traps for monitoring the beginning of the adult flight and setting the biofix to program the first insecticide applications need to be already deployed in the field. The table below provides a forecast for the main fruitworm phenology events based on the phenology models for both cherry fruitworm and cranberry fruitworm, and on the current weather conditions. Check Michigan State University Enviroweather for a more precise forecast for your location.
Insect

First adults

First eggs

Current GDD accumulation as of May 16, 2023)

Grand Junction

Fennville

West Olive

Cherry Fruit Worm (CFW)

238±30

432 ± 15

333*

262*

273*

Cranberry Fruit Worm (CBFW)

375±20

460±20

333

262

273
* Adults are already emerging. Check your traps to establish your biofix to initiate the GDD accumulation for applying the first insecticide application against the first batch of fruitworm eggs.