West central Michigan small fruit update – May 23, 2023
Michigan blueberries are in full bloom with excellent weather conditions, which should hopefully ensure good pollination for an abundant and excellent fruit crop.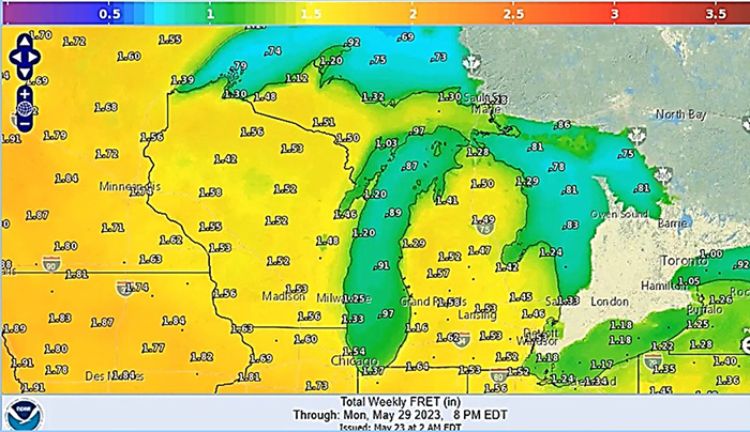 All blueberry varieties are in full bloom with some early varieties entering the petal fall stage, especially at fields around Van Buren County (Grand Junction, Michigan) and south Allegan County. Although daily temperatures have remained around the upper 70s and low 80s, there has been a daily growing degree day accumulation averaging 9.5 GDD per day, which allowed a rapid completion of the bloom period in most varieties. Average minimum and maximum daily temperatures around west central Michigan are 44 and 71 degrees Fahrenheit, respectively. However, there have been a few days in south Allegan and Van Buren counties when the maximum temperatures reached the low 80s.
One important issue is the current dry weather conditions. There has not been any significant precipitation over the past 15 days. There were only localized rain showers that produced less than 0.25 inches of rain. According to Jeff Andresen, state climatologist at Michigan State University, the current weather forecast does not indicate the presence of any substantial rain during the next seven days. These weather conditions in the middle of the bloom period may affect the pollination in some blueberry varieties and it may result in significant June drop after petal fall. Accordingly, the forecasted potential evapotranspiration (PET) for west Michigan is very high for this time of the season, 1.52 to 1.58 (see map), and the application of supplemental irrigation is recommended to prevent potential crops losses.
Another important issue is the presence of insect pests that affect the fruit. Cherry fruitworm and cranberry fruitworm adults just began emerging in Allegan and Van Buren counties. Good weather conditions over the past seven days have allowed a rapid degree day accumulation that favored the termination of fruitworm winter diapause. Check pheromone traps for the beginning of adult flight in order to program the application of recommended insecticides to control fruitworm larvae emerging from eggs. For cherry fruitworm, apply the first insecticide spray at 190 ± 5 GDD (base 50 F) after the sustained moth catch in monitoring pheromone traps. For cranberry fruitworm, apply the spray at 80 to 100 GDD (base 50 F) after the beginning of adult emergence reported by the pheromone traps.
The table below provides a forecast for the main fruitworm phenology events based on the phenology models for both cherry fruitworm and cranberry fruitworm, and on the current weather conditions. Check Michigan State University's Enviroweather for a more precise forecast for your location.
Insect

First adults

First eggs

Current degree day accumulation (May 23, 2023)

Grand Junction

Fennville

West Olive

Cherry Fruit Worm (CFW)

238±30

432 ± 15

402*

316*

333*

Cranberry Fruit Worm (CBFW)

375±20

460±20

402

316

333
(*) Adults are already emerging. Check your traps to establish your bioxif to initiate the GDD accumulation for applying the first insecticide application against the first batch of fruitworm eggs.