West central Michigan vegetable update – June 10, 2020
Be on guard for an earlier than normal foliar disease season and migratory insects.
Weather
Tropical Storm Cristobal may have several impacts on disease and pest control this season. The track of this storm after landfall may be one of the furthest west on record. What does this mean for us?
First, the remnants of Cristobal brought extremely high dewpoints and warm overnight temperatures. Even prior to Cristobal, we saw some warmer than normal nights and high dewpoints. This all suggests being on the lookout for foliar disease earlier than normal this year.
Second, Cristobal originated in the Gulf states and Central America. Cristobal may have transported insect pests from further south than is normal. Be on the lookout for migratory pests this year.
A cold front will pass through this afternoon, bringing a significant risk of severe weather, including high winds and thunderstorms. Large hail and tornadoes are possible with risks highest in southeastern Michigan. After this, fair and dry weather is expected through next Tuesday, June 16. Rainfall totals of 0.25-0.75 inches are predicted through next Wednesday, with most of this falling today, June 10.
The medium range forecast predicts above-normal temperatures (33-50% chance) and below-normal precipitation (33-60% chance) for June 15-19. The forecast for June 17-23 calls for above-normal temperatures (40-50% chance) and near-normal precipitation.
Crop updates
Asparagus that was laid early (e.g., fields planted last year) is now ferning out at some west Michigan locations. Asparagus rust was visible last Friday, June 5, on harvest stubble, suggesting conditions have been favorable for this disease. Given this and our recent weather, it may make sense to cover ferned out fields with a protectant like chlorothalonil or mancozeb plus tebuconazole.
Carrot fields I sampled had aster leafhoppers again this week at relatively high levels. Infectivity from a sample last week was 1%. At this infectivity, the threshold for carrots is 22 leafhoppers per 100 sweeps. A sample taken Monday, June 8, had 0% infectivity.
Celery growers can learn more about using Zidua in celery. This herbicide can be used one to six days after transplanting. It has good preemergence activity against common purslane, pigweeds and smartweeds. Though it has good crabgrass activity, it may not improve control since crabgrass will likely germinate after these or other herbicides wear off. There is a risk of stunting with Zidua if it is applied too late.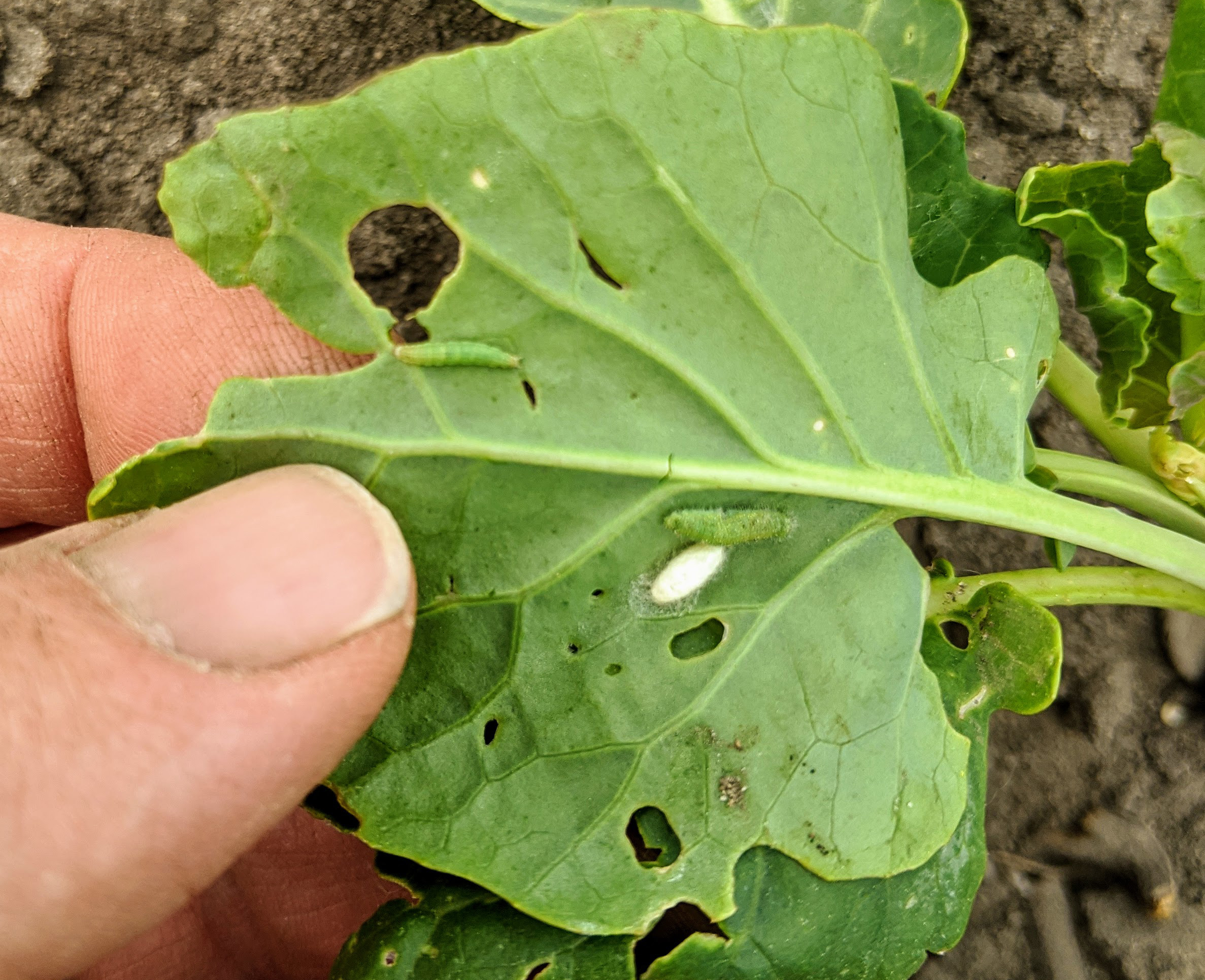 Cole crop growers can look out for diamondback moth. This pest was active on one farm I visited this week but beneficials were also active. Two strategies could be used for control based on the crop stage. For early planted crops that are heading or producing florets, it may make sense to use a highly effective product such as Besiege (pre-mix of the actives from Warrior and Coragen). The tolerance for this pest decreases as harvest draws near, especially in broccoli, where it can contaminate product. Besiege is an affordable option. It will kill beneficials because it contains a pyrethroid, but this is of less concern for crops nearing harvest.
For younger plantings, Bt products may be a good choice. These will provide some control, while conserving beneficials that will help lower the intensity of pest problems down the line.
Cabbage maggot damage has been especially severe in eastern Michigan. It may be a good idea to check turnips and radishes ahead of harvest to assess the extent of damage. Damage by the first generation should be coming to an end, so it is a good time to check. This will allow you to assess whether investing in harvest labor later is worthwhile. Hopefully problems will be minimal!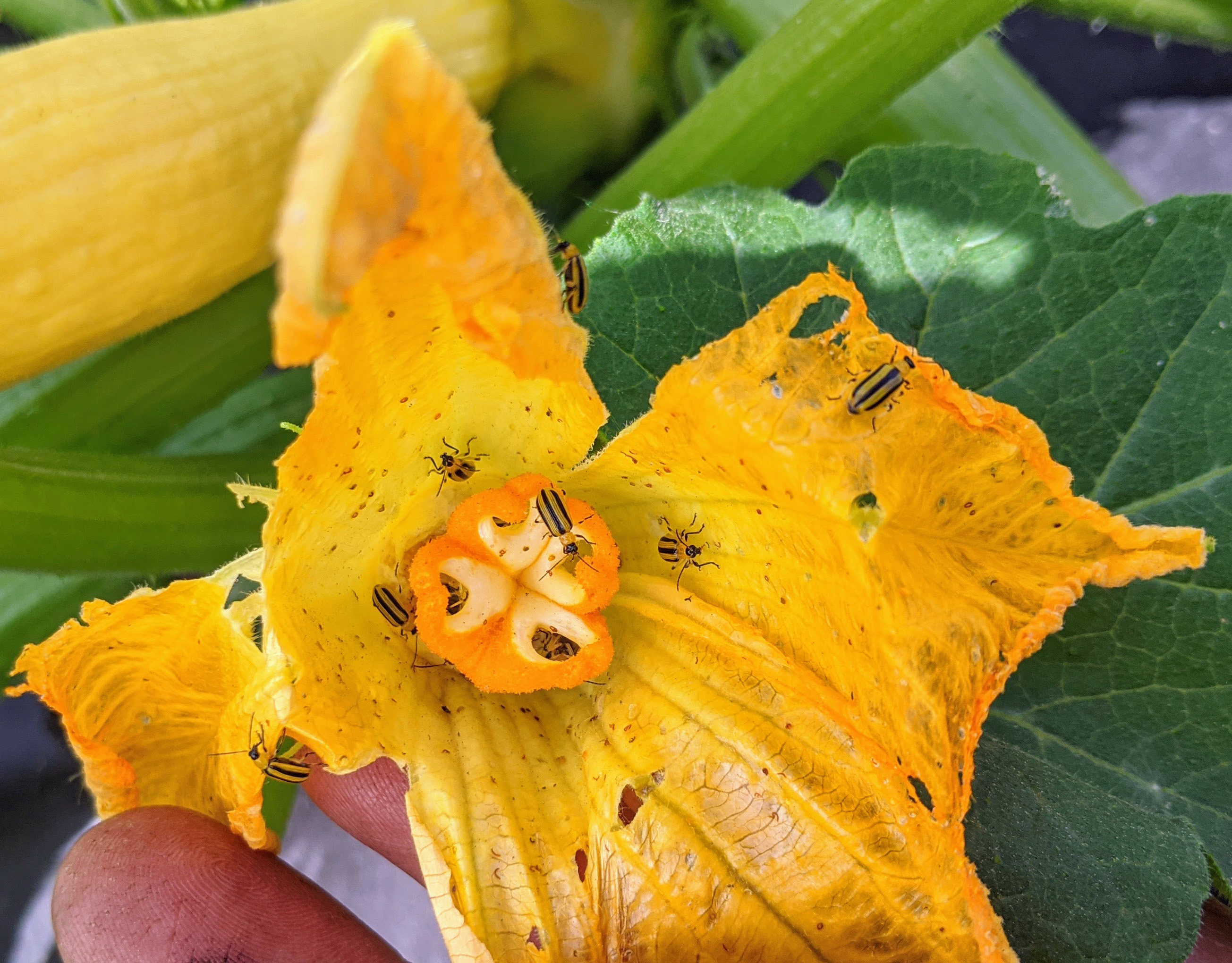 Cucurbit growers should be on the lookout for striped cucumber beetle, especially for organics or specialty varieties not treated with FarMore FI400. Now is an important time to detect and treat high populations, as plants are less tolerant to beetle feeding and bacterial wilt when they are young. High numbers were present at one location I visited yesterday, and I have heard reports of high pressure from market growers and gardeners.
For conventional growers, carbaryl or a pyrethroid (e.g., Baythroid, Brigade, Warrior) could be an effective choice now. Most cucurbits are not in bloom, so pollinator conservation is not an issue, and knocking back populations with these materials could make sense. The Sevin XLR Plus version could be considered if a longer residual is desired.
For organic growers, experience in west Michigan suggests a high rate of Pyganic EC 5.0 in spray water with a pH of 5.5-7 can be effective. It is important to use a spray tank acidifier if you have hard water. Affordable, organic acidifiers are available. It's not worth spraying this expensive material if it's going to degrade in alkaline spray water.
Michigan State University entomologist Zsofia Szendrei suggests keeping an eye out for viruses in susceptible cucurbit varieties. Cristobal likely transported insects to our region from further south than is normal, and it's possible some of these may carry viruses along with them (e.g., aphids).
Onion thrips were present in one transplanted and direct-sown field I scouted over the last week. Research in New York suggests that Movento can be timed differently in transplanted versus direct-sown onions. In transplanted onions, timing should be based on crop stage, not thrips populations. This is because Movento is less likely to move to new growth once onions start bulbing. Movento should be applied in two back-to-back applications if thrips are present before bulbing (even at below-threshold levels). If an application is not made, populations can be worse down the line, and migrate to direct-sown onions later in the season. For direct-sown onions, Brian Nault of Cornell University recommends waiting until populations reach at least 0.6 thrips per leaf. This threshold allows for a lag time between scouting and Movento application.
Why is this important? There is a longer window when control is for direct sown onions. Applying Movento too early may mean the "momentum of Movento" will not carry onions as far into the spray season. This could be especially important this year given we have had very hot weather and high populations may occur later this summer. The direct sown field I visited had a population of 0.01 thrips per leaf last week, so it makes good sense to recheck this field weekly and apply Movento when populations increase. The short version is wait, but don't wait too long!
Organic onion growers could consider using spinosad for thrips control. Note, Pyganic may not be a good choice in this case. In onion growing areas, most populations of onion thrips are resistant to this class of insecticides.
Larger onions could be covered with a good Stemphylium material. Good products for rotation, in rank order of efficacy, include:
Luna Tranquility or Miravis Prime
Tilt plus mancozeb
Bravo
Volunteer potatoes had Colorado potato beetle egg masses on them yesterday. Most conventional growers still get good protection from seed piece treatments. If you are an organic grower, spinosad is a good option. Applications should be targeted at smaller larvae. One option could be to flag some egg masses, check them every two days, and make an application when most of them have just hatched. Large larvae and adults are much harder to kill with organic materials.