What is that big purple ball growing in the garden?
Ball-shaped Allium and other spring and summer flowering bulbs are planted in the fall. Learn about bulbs in this article and at upcoming events.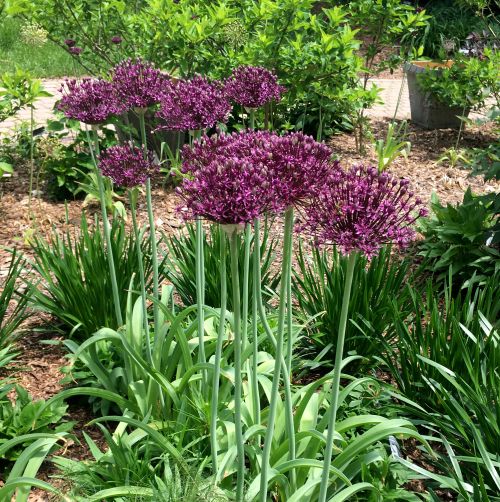 Known as "ornamental onions," dozens of species of Allium perk up a spring garden right through late summer. Allium flowers are generally ball-shaped in appearance and can range in size from a marble to a small grapefruit. Purple is the dominant color, however various shades of violet, pink and white are also common. Allium 'Miami' has a striking 3-inch bloom of violet, enhanced with the sweet scent of lilacs.
Others like Allium siculum spp. Bulgaricum show off their plumage on graceful nodding prongs held atop sturdy stems above the foliage. This allium is an elegant addition to cut flower arrangements as well as in the garden.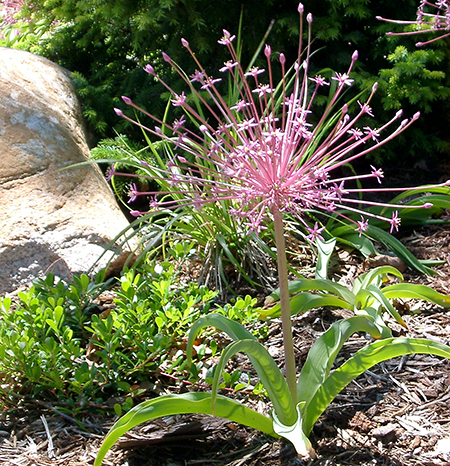 The craziest looking Allium has to be Allium schubertii. Tiny purple florets are borne on long stalks that jut away from the central stem. The "explosion" of flowers looks like sparklers in the garden. Each bloom can easily be 10 inches across and throughout the summer the seed structure fades to a pale wheat color, extending interest well past bloom time and making this a great companion plant. Known for their stalwart pest resistance, Allium will thrive in most garden soils.
Gardening with bulbs
Fall is the season to start thinking about planting bulbs like Allium for color and form that will adorn your garden at the first breath of spring. Staggering bloom time by planting bulbs will extend enjoyment of seasonal color. The tulip is still the crown jewel of most spring landscapes, however other bulbs are often overlooked with equally as spectacular colors.
With their roots found from Europe to North Africa, daffodils will naturalize on most sites and grace your landscape for many years. With a reputation of being able to "weather the storm" when it comes to deer browsing, gardeners can enjoy color from daffodils from when the snow recedes in April through late spring.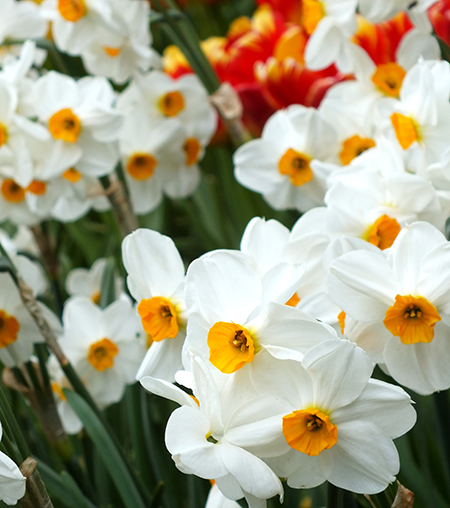 Fragrance is one of the noted benefits of using certain types of daffodils. Those in the Jonquil group generally have fragrance that will wake up your senses coupled with bright colors and strong stems. 'Pipit' and 'Hillstar' are small-cupped varieties that sport multiple yellow blooms on one stem. 'Geranium' is a very fragrant narcissus, which has a bright orange cup with clear white petals that is a certain stand out in the garden.
If you would like to learn more about growing bulbs in the home landscape, attend one or more of Michigan State University Extension's free bulb classes offered in two locations in Michigan: Saturday, Oct. 20 in Grand Rapids and Saturday, Oct. 27 in Novi. Register online for the session closest to you where you can also peruse the online bulb sale: