What's in your medicine cabinet? How unused and unwanted medications can affect the Great Lakes
Consumption of pharmaceuticals is on the rise in this country. This means that the probability of pharmaceuticals showing up in our waters increases as people improperly dispose of unused and unwanted medications.
Have you inventoried your medicine cabinet lately? If you are like many people, you might find some unfinished antibiotic from the last sinus infection you experienced. There may be some left over medication from a previous prescription your doctor no longer wants you to take. Tucked away in the back of that cabinet, you might find some expired over-the-counter pain reliever and that medicine the dog took when he was a puppy. Since you no longer have any need for these medications, you might decide to dispose of them by dropping them in the trash. Then again, you might decide on dumping them down the drain with running water or flushing them down the toilet. That's what mom always did, right?
Before you decide to dispose of those outdated or unused medications by trashcan, or by flushing them down the drain or toilet—STOP! Have you ever considered just where pharmaceuticals go beyond your drain? Do you know what environmental effects many pharmaceuticals may have on your local water supply or even the water in our Great Lakes?
How do pharmaceuticals get into our water supply?
As we pay more attention to our health and seek more medical treatments, people consume more and more pharmaceuticals. Because of this, it makes sense that there is a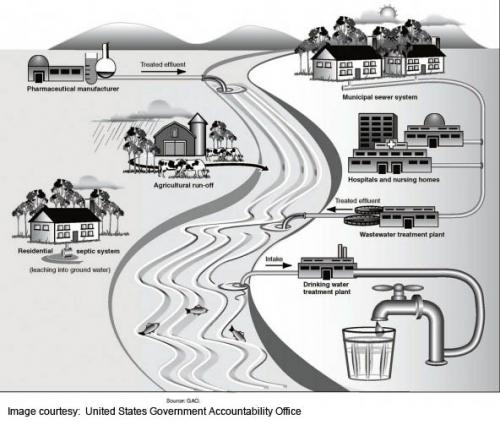 strong likelihood of pharmaceuticals showing up in higher concentrations in wastewater over time. Pharmaceuticals make their way into wastewater (used water from our showers, toilet flushes, dishwashers, and more) through elimination from the human body because the body does not absorb all the medication it consumes. They also make their way into wastewater through improper disposal of unwanted medications by dumping them down the drain or flushing them down the toilet. That may not seem like anything to worry about because wastewater is treated; but wastewater treatment processes cannot handle the presence of pharmaceuticals.
According to the Michigan Department of Environmental Quality, most septic systems and water treatment plants in this state are not properly equipped to remove pharmaceuticals from wastewater. Collection and disposal of unused pharmaceuticals by more sustainable approaches is, therefore, an important prevention measure to safeguard reducing contamination of the environment, well beyond your personal water supply. In fact, in a 2011 study conducted by the Alliance for Great Lakes, pharmaceutical byproducts in Lake Michigan and surrounding waters raise health concerns for more than 40 million people who rely on the Great Lakes and connected waterways as a source for drinking water. Additionally, a number of scientific studies show pharmaceuticals in the water can have significant ill effects on fish and wildlife populations.
What can we do to keep pharmaceuticals out of the environment?
The most important action we can take is really quite simple – DO NOT DUMP your unused and unwanted medications in your trash, down the drain or in the toilet.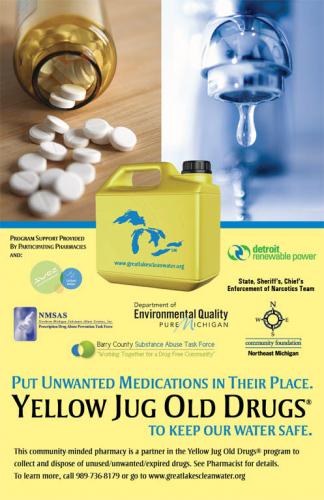 The most positive step we all can take is properly disposing of unused and unwanted pharmaceuticals. Some examples of proper disposal include:
---