Workshops reveal small-town placemaking strategies
It's not just a big city thing; participants from small towns at placemaking strategy development Workshops produced many project ideas for improving the quality of life and economy of their communities.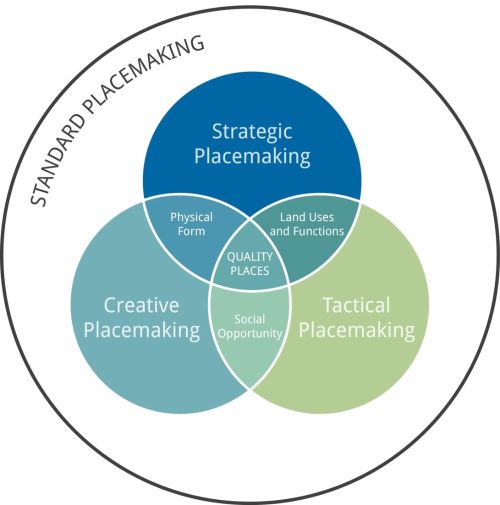 In the spring of 2015, Michigan State University Extension, the MSU Land Policy Institute, the Michigan Municipal League, and other trained instructors through the MIplace Initiative conducted a series of Placemaking Strategy Development workshops around the state. In total, nearly 30 workshops were conducted from Detroit to Ironwood. The majority of the workshops consisted of classroom instruction plus hands-on, table-top exercises in which workshop participants applied the concepts learned to their own communities. By the end of the workshops, teams of participants developed and prioritized a variety of placemaking projects for their communities.
Project ideas from the workshops can be categorized into four different types of placemaking. "Standard placemaking," or just placemaking in general, is about creating or transforming places into locations that people want to be in to enjoy the amenities of the space, whether those are social (e.g. visiting with others), physical (e.g. experiencing nature, art, design, etc.), or economic (e.g. shopping, dining, etc.). Other, specialized types of placemaking are:
"Creative placemaking" - placemaking around arts and cultural experiences, activities, or installations.
"Tactical placemaking" (or lighter, quicker, cheaper placemaking) - testing ideas to create place through temporary, low-cost projects and installations.
"Strategic placemaking" - aims to create places that are uniquely attractive to talented workers, so that they want to be in the community and live there, and by so doing, they create the circumstances for substantial job creation and income growth. This type of placemaking also has potential for state funding assistance.
For a better understanding of these concepts, actual projects examples conceived by small-town, community teams at the placemaking strategy development workshops in northern Michigan are organized across the various placemaking types below:
Standard placemaking project examples
Improve a key gateway to downtown at an intersection with a heavily traveled highway.
Create and install wayfinding signage downtown with walking times to local businesses and attractions.
Preserve historic buildings downtown and enhance the historic character of the downtown district to reinforce place.
Administer a downtown façade improvement project.
Build a pocket park on the site of an obsolete building in a downtown location where greenspace and pedestrian seating is needed.
Develop a branding and signage strategy to create a unified sense of place for downtown.
Improve visibility and safety of a pedestrian alley connecting parking to downtown shops.
Establish a covered marketplace for the artisan and farmers market to keep vendors and patrons out of bad weather.
Reconstruct streetscape to be more pedestrian and bike friendly.
Creative placemaking project examples
Start a mural program honoring the area's heritage for blank walls of downtown buildings
Organize regular events downtown to bring in residents and visitors alike.
Develop a 'cultural garden' outside the historical museum to create needed green space and reinforce area's history/culture in a public space.
Develop an annual festival celebrating the unique 'up north' heritage and identity of the community.
Tactical placemaking project examples
Turn an empty lot on a popular tourist street into a pop-retail space. Allow merchants, artists and even food vendors to sell their products.
Add low-cost café seating at summer's farmers market.
Work with city police department to provide a community bike share with unclaimed/lost bicycles. All bikes to be painted by local artists (also a creative placemaking project).
Strategic placemaking project examples
Assemble land and demolish of an obsolete building to market a larger lakefront property for Missing Middle Housing development proposals.
Renovate and reuse of a historic civic building situated between downtown and the waterfront into a multi-use building with retail and live-work space.
Market a city-owned, waterfront, old industrial site for redevelopment while maintaining public access along the water.
Renovate a vacant, historic downtown structure into a multi-use building.
Develop a key multi-use, recreational trail connecting multiple places (downtowns, nodes, and rural special and unique areas) in the region.
Establish a community vocational training institute tailored to the community's historic assets.
Other excellent ideas that emerged that are not placemaking projects, but elements necessary for creating quality places include:
Wi-Fi at a central park downtown.
Improved bike and pedestrian connectivity across a major highway that bisects the community.
A multi-use path connection from downtown to a key community organization.
If you missed the opportunity to participate in one of the Placemaking Strategy Development workshops, or if you would like to host a similar workshop in your community, contact a Michigan State University Extension land use educator today.