World Food Prize 2016 - Reflections (Part II)
The World Food Prize experience has made Liberia native Cheryl Williams more determined than ever to continue working with youth and women in agriculture and to advocate for gender equality and women's empowerment in the sector.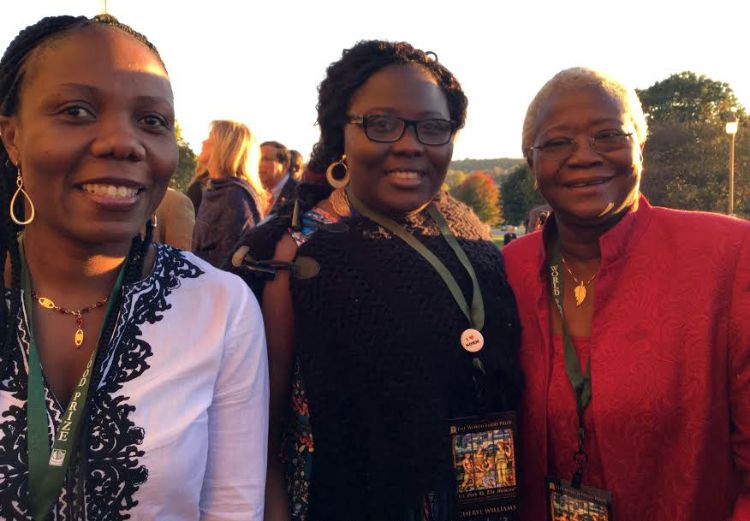 A native of Liberia, Cheryl Williams is a second-year Ph.D. candidate in the Department of Agricultural Education and Communications at Texas Tech University in Lubbock, Texas. In the accompanying photo, taken prior to the World Food Prize Laureate Ceremony in Des Moines, Iowa, Cheryl is pictured with fellow BHEARD scholar Afia Karikari (left) and former Liberian Minister of Agriculture Dr. Florence Chenoweth.
The World Food Prize gathering taught me the true meaning of courage, perseverance and hope. I was especially motivated by the collective effort to fight global hunger and food and nutrition insecurity, and it was with great anticipation that I watched, listened and learned from pioneers in the agriculture sector.
Making my way through the array of exhibitions, meetings and other social gatherings, learning about the work of various institutions and individuals in the fight against hunger and malnutrition, I felt energized more than ever to continue working with farmers in rural areas. I chatted and exchanged business cards with agriculture leaders worldwide who all expressed their optimism that global food security and nutrition will be enhanced as the world approaches 2050.
One of the speakers who truly moved me was Ms. Soukeyna Cisse Diop, a Senegalese youth who started her own poultry business after returning from studies in the United Kingdom at the age of 26. During the USDA/USAID Food Assistance and Food Security panel discussion, "Moving women up the value chain in agricultural market systems," Diop affirmed the struggles of women in agriculture: burdened by family responsibilities on one hand and gender discrimination on the other. She suggested that educational centers in rural areas will go a long way in teaching women and youth new technologies and innovations in the world to help in the challenges they experience.
Prof. Ruth Oniang'o caught my attention when she said, "I want to solve hunger and nutrition in Africa. I am 70 years old and still fighting to do that."
I recalled working with female farmers in Liberia who strive daily despite their aging bodies to put food on the table and sustain their families through agriculture. The two speakers, one a millennial, lifted my spirits and made me realize that the message among people of all ages is the same: defeat global hunger and food insecurity.
My most awe-inspiring moment was during the Laureate Prize ceremony at the Iowa State Capitol. With goosebumps on my skin, I watched past and present laureates march to their seats and listened to 2016 Laureates tell the world how they persevered from undergraduate level, left their families and worked to leave indelible marks in the history of global agriculture.
This experience has made me more determined than ever to continue working with youth and women in agriculture and to advocate for gender equality and women's empowerment in the sector.
Like H. E. Ameenah Gurib-Fakim, President of Mauritus said, "To address women's rights in Africa we need to address stereotypes and their environments at home."
I'll never forget the words of Dr. Lindiwe Sibanda: "Change cannot be complete without women leading women. Women hold the key to better solutions."
I am confident that my contribution to agriculture is going to make needed changes, and I am grateful to BHEARD for the opportunity to attend such a life-changing event.