World Food Prize Reflections (Part III): I will do my part, whatever it takes
BHEARD scholar Regina Enninful, a second-year Ph.D. candidate at Kansas State University, actively participated in last month's World Food Prize in Des Moines, Iowa, and was inspired by the people she met and the conversations she shared.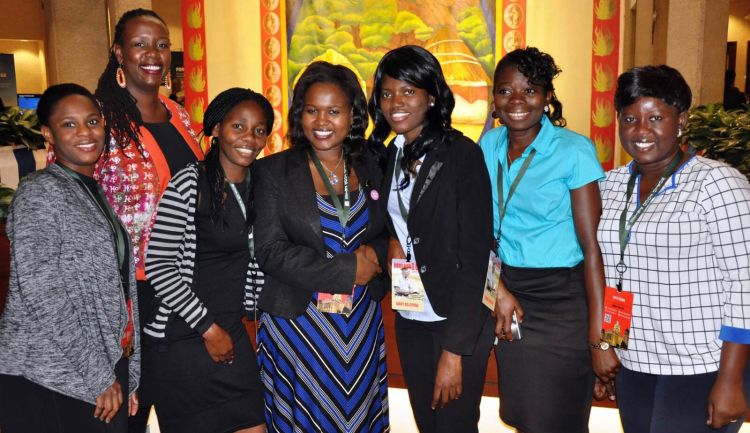 World Food Prize colleagues take time out for a group photo (from left): Jemima Adepehin, Borlaug LEAP fellow; Wanjiru Kamau-Rutenberg, director of African Women in Agricultural Research and Development; Florence Anagbogu, Borlaug LEAP fellow; Caroline Kamanga, Borlaug LEAP fellow; Mary Adjepong, BHEARD; Regina Enninful, BHEARD; and Gifty Sienso, BHEARD.
As one of 12 BHEARD scholars chosen to attend the 2015 World Food Prize Dialogue, Regina Enninful arrived in Des Moines, Iowa, in high spirits and with great expectations. She was poised for action – to observe and to learn, to listen and to be heard, to interact and connect, to align perspective and to deepen commitments. Here is some of what she saw and heard, and how it has inspired her to advance the work of Dr. Norman Borlaug:
I knew a great moment had arrived and I was determined to live it out memorably.
Without pausing to attend to my craving for lunch, I headed straight for the conference center. I was ready to "summon all powers there be" so I could be of help to others who craved not only lunch for the day, but meals for the rest of their lives.
It was a great start at the DuPont Seed Security for Food Security's side event where I began connecting with colleagues and other important personalities; a fine moment for making friends for future collaborations and it felt promising as we exchanged business cards. I gathered from the presentation by the executive director of the Global Crop Diversity Trust that one strategy to deal with food security was to exploit diversity of crops; this could be achieved through securing the seeds and storing in gene banks if not to be used by farmers immediately.
A representative of USAID's Feed the Future initiative told us how high-yielding corn seeds and technique transfer in an Ethiopia development program helped transform a female backyard subsistence farmer into a bumper producer and community leader – even to the point of meeting President Obama. It was all the more exciting to learn about the intent to replicate this project in my home country of Ghana!
The Borlaug Fellows Honor Luncheon topic, Bridging the Gap between Nutrition and Agriculture, blended the perspectives of agronomist, food scientist and economist in order to integrate different facets of thought into the discussion. There was a need for a volunteer to present on behalf of my group, so I accepted the challenge and used it as an opportunity to develop my communication skills. The compliments that followed were encouraging.
With so many important activities running concurrently, I tried to take in as much as possible. For example, a presentation by the New Partnership for Africa's Development (NEPAD) focused on ensuring sustainable food production through technological innovations. The Food and Agricultural Organization of the United Nations (FAO) side event emphasized the importance of making farming attractive to the youth so as to generate interest and increase their involvement in the field.
Prior to the conference, I had envisioned the Borlaug Dialogue as an excellent opportunity to nurture my world view of agricultural productivity and broaden my perspective on solving food insecurity. This was the case when the topic of the Ebola crisis came up, as my outlook expanded from viewing it principally as a health issue to a blight on agricultural productivity and potential accelerant of malnutrition.
Nevertheless, it was heartwarming to learn of efforts mustered to salvage the situation, particularly the investments in good seeds for farmers by the Liberian government. The major emphasis on female empowerment and the importance of girls' education in science and technology has motivated me to seek mentoring opportunities in the lives of girls and other young women.
From the two breathtaking awards nights, I can confidently conclude that any compassionate effort, passionately geared towards combating hunger and ensuring global food security is graciously rewarding irrespective of gender or age – and I am ready to contribute my part.