Wyrick receives 2023 CANR Distinguished Service Award
David Wyrick will receive the 2023 CANR Distinguished Service Award during ANR Week.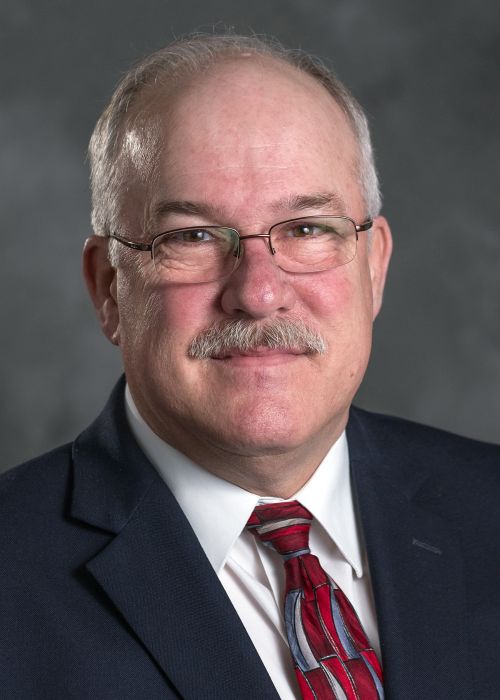 David Wyrick, of Byron, Michigan, will receive a Michigan State University (MSU) College of Agriculture and Natural Resources (CANR) Distinguished Service Award at the March 10 ANR Awards Program.
The award honors individuals or partners who have made outstanding contributions to Michigan's agriculture and natural resources industries, and who possess high standards of integrity and character to positively reflect and enhance the prestige of the college.
Wyrick retired in 2021 as an outreach specialist in the Department of Community Sustainability and Michigan FFA State Executive Secretary, a position he held for 16 years. Among other responsibilities as State FFA Executive Secretary, he worked closely with the state FFA officer team, directed the planning of the annual FFA State Convention, and coordinated the many career development and skills contests that occur throughout the year. Prior to his Michigan FFA service, Wyrick was principal of Byron High School in Byron, Michigan, from 1998 to 2005, and an agriscience teacher from 1976 to 1998 at Byron High School. Under his leadership, the Byron agriscience program and FFA chapter were recognized as being among the most active in the state, guiding students to five different state officer positions, 21 students earning American FFA degrees, 133 earning State FFA Degrees and five of his former students becoming AFNRE teachers.
Wyrick was instrumental in increasing the number of students attending MSU, especially in the Agriculture, Food and Natural Resource Education (AFNRE) major within the Department of Community Sustainability, thus increasing the number of AFNRE teachers. He created the Challenge 24 program and the AFNRE Career Development, two programs for college students to gain exposure to teaching careers in AFRNE. He also helped secure student scholarship funding for these programs and to recognize the winner in the CDE.
Under Wyrick's leadership, the Michigan FFA membership nearly doubled, from 4,857 to 8,856 members. The Michigan FFA financial position also grew during his tenure. He was the driving force for Michigan becoming an affiliated state and worked with the Michigan FFA Foundation to make AET available to all students in the AFNRE program, at no cost to the district or student.
Wyrick also gave his time to many boards at local, state and national levels. He was an active member of the National Association of Agriscience Educators, serving on many committees which guide the association of teachers. In addition to being an instrumental member of the Michigan FFA Board of Directors, he also served on the Michigan FFA Foundation Board, State FFA Alumni Board and is a member of the MSU AFNRE team. Locally, he has served on the township planning board and has been active on many committees for Burns township.
He earned a bachelor's degree in agribusiness and natural resources education from MSU in 1976 and a master's degree in agricultural and extension education in 1984, also from MSU.